British Banks Face Potential Rise in Loan Insurance Claims
(Bloomberg) -- U.K. banks face the prospect of having to put more money aside to compensate customers for improperly sold loan insurance after the Financial Conduct Authority proposed changes in the way claims are handled.
The FCA said earlier Wednesday that customers who previously had a complaint about "regular premium" payment protection insurance rejected, may be able to make a fresh complaint. Consumers should consider whether to act before an Aug. 29 deadline next year, the FCA said.
PPI has been the most costly scandal to affect U.K. banks since the financial crisis, with lenders paying almost 40 billion pounds ($53 billion) in compensation to customers who were wrongly sold the coverage. The new guidance comes days after a court ruling on PPI that some lawyers said could add billions of pounds more to the total.
The FCA proposals should limit new liabilities to the "hundreds of millions," according to analysts at Keefe, Bruyette & Woods in a note to clients. "The last thing the sector needs around PPI is any more uncertainty."
The FCA declined to comment beyond the statement, but said the new guidance was unrelated to recent court cases.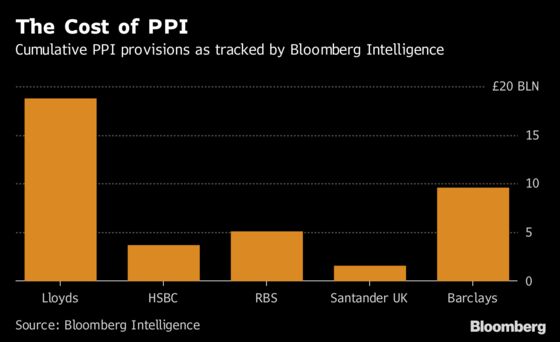 KBW said in the note that CYBG Plc and Lloyds Banking Group Plc are the most at risk from additional liabilities. Lloyds, the U.K.'s biggest mortgage lender, has already set aside more than 18 billion pounds ($24 billion) for redress.
"This consultation provides guidance on how to ensure fair and consistent outcomes for regular premium PPI complaints," said Jonathan Davidson, executive director of supervision for retail at the FCA. "It supports our aim of bringing the PPI issue to an orderly conclusion in a way that secures appropriate protection for consumers and enhances the integrity of the U.K. financial system."