British Airways Owner Subdued on Impact of U.K. Travel Restart
British Airways parent IAG SA reported mounting losses and said it's expecting only a gradual recovery in travel from the coronavirus pandemic as the U.K. prepares to reopen its border.
IAG, which also owns Spain's Iberia and Aer Lingus of Ireland, will deploy just 25% of its 2019 capacity this quarter, given "limited progress" in restoring markets, it said in a statement Friday. The group provided no further guidance and said a rebound to pre-virus demand levels will take until "at least" 2023.
With the U.K. poised to announce which countries will feature on a "green list" for the resumption of leisure travel from mid-May and the European Union planning a reopening from June, IAG said it's hopeful for a restart. Long-haul specialists like British Airways and Iberia have suffered the worst of the crisis and are likely to take longer to return to health. The carrier's tone was more subdued than rival Air-France-KLM, which is bringing capacity back faster.
"We are flying only the flights that can be cash generative," Chief Executive Officer Luis Gallego said in a phone briefing. "We're absolutely confident that a safe re-start to travel can happen as shown by the scientific data. But government action is needed."
Part of the reason the carrier group hasn't given a forecast for the rest of the year is uncertainty about which countries will be on the U.K. green list, Chief Financial Officer Steve Gunning said on the call.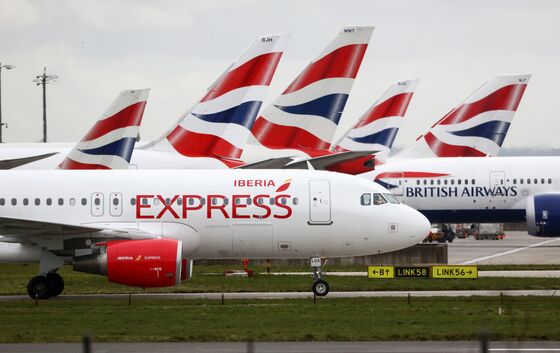 The shares traded 1% lower at 205 pence as of 8:13 a.m. in London, paring gains this year to 27%.
IAG reported an adjusted operating loss of 1.14 billion euros ($1.4 billion) in the first three months amid new Covid lockdowns, following the first annual loss in almost a decade in 2020. It's the last of the three large European airline groups to post quarterly results.
On Thursday, Air-France-KLM said it would raise more capital after posting an operating loss of 1.2 billion euros. Still, the Franco-Dutch airline group said it plans to offer about 50% of network capacity this quarter and as much as 65% in the July-September period.
Deutsche Lufthansa AG last week trimmed its schedule for the year after a 1.1 billion-euro loss, though still expects to offer 40% of pre-pandemic capacity for 2021 and said that could quickly be raised to 70%. Shareholders on Tuesday approved raising up to 5.5 billion euros in fresh capital.
IAG is awaiting word from the U.K. government, expected later Friday, on the planned reopening of leisure travel from May 17. However, the number of approved destinations is likely to be minimal as Prime Minister Boris Johnson seeks to protect gains from a rapid vaccine rollout.
The London-based airline particularly needs a return of the long-haul flights that are the main driver of profits at British Airways, its biggest division.
While the U.S. may not be included in the initial U.K. list of countries with the lowest restrictions for arriving passengers, its successful jabs program and falling Covid-19 infection rate means prospects are positive for an early return. Gallego called for a travel corridor without restrictions between the countries to allow a prompt reopening.
IAG had been forecast to report a quarterly operating loss of 1.13 billion euros, according to a Bloomberg survey of analysts. It suffered a 7.43 billion-euro loss last year.