Airlines Feel Virus Pain With Travel Suspended, Events Canceled
Europe's travel industry is headed for its worst stock rout since the financial crisis more than a decade ago as the global spread of the coronavirus disrupts people's movements and forces companies from Deutsche Lufthansa AG to British Airways to cut back their earnings projections.
On Friday, British Airways parent IAG SA became the latest company to warn of the virus's impact, saying it cannot provide an earnings forecast this year because weakened demand in Asia has now rippled across to Europe. Discount specialist EasyJet Plc said it will cancel some flights in response to slower demand across Italy, the epicenter of the outbreak in Europe, and other markets in the region.
Airlines, airports and hotel operators are feeling the brunt of the growing virus crisis, with companies putting lucrative corporate travel on hold, industry groups canceling major events and leasure travelers reconsidering their vacation bookings. Swiss authorities on Friday banned events that draw more than 1,000 people, all but ensuring that next week's Geneva International Motor Show won't go ahead as planned.
The International Air Transport Association has forecast that the industry will see its first annual decline in global passenger demand in over a decade in 2020, primarily weighed down by the impact of the virus in China. The next weeks will determine the severity of the crisis for the industry because the crucial summer-booking months are fast approaching, Daniel Roeska, senior transport analyst at Sanford C. Bernstein Ltd., said in a Bloomberg Television interview.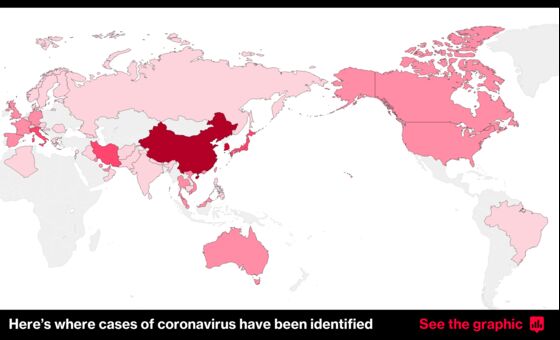 "If we get a grip on this within the next three to four weeks, possibly it may not be quite as bad," Roeska said. "But if it drags on into Easter and we don't gain a higher comfort level than we have now, that's going to be even tougher for European airlines."
IAG slumped as much as 9.7%, the biggest drop on Europe's Stoxx 600 Index, while EasyJet fell as much as 6.4% in London. In Frankfurt, Lufthansa was down as much as 6.1%. The Stoxx 600 Travel & Leisure Index is down 18% this week, headed for its worst return since late 2008.
Besides curtailing some routes that connect to most affected regions, airlines have begun aggressively cutting costs to dig in for the longer term. Lufthansa said on Feb. 26 that it would implement a hiring freeze and expand part-time work options. Alitalia plans to extend temporary layoffs for about 4,000 workers following the coronavirus outbreak in Italy.
Even before the virus outbreak, the travel industry had faced a tough start to the year amid a growing groundswell of people cutting back on what they perceive as non-essential travel. The trade tensions between the U.S and China have also put a damper on air freight, which fell the most last year since 2009, according to IATA.
British Airways scrapped flights to China through the middle of April, and pared frequencies through March to Northern Italy and South Korea due to lower demand. Spanish unit Iberia has canceled flights to Shanghai to the end of April, and is allowing customers to postpone flights to Italy and Japan.
"It's a rapidly changing situation," with weaker airlines in Europe in danger of failing, said IAG Chief Executive Officer Willie Walsh.
The fallout has also affected auxiliary industry, from Amadeus IT Group SA, which operates the industry's largest booking network, to Airbus SE, the world's biggest maker of commercial jets that counts China as a major source of revenue.
Amadeus reported ticket sales are decelerating globally, while Airbus shares fell as much as 7% on Friday. Fraport AG, the operator of the Frankfurt airport, said this week it would review all major investments, and that passenger and freight traffic to China and wider Asia had taken a major hit.
Read: JPMorgan Joins Rush to Curb Global Travel as Virus Spreads
Some companies have required employees to abandon business travel. Nestle SA, the Swiss maker of KitKat snack bars and Nespresso capsules, told employees to avoid traveling until at least mid-March. A similar recommendation at L'Oreal SA, the cosmetics owner of global brands like Lancome and Maybelline, extends through March 31. British American Tobacco Plc, the maker of Lucky Strike cigarettes, said it reduced travel to the bare minimum.
A number of corporate exhibitions that usually draw large crowds have been outright canceled, including the Geneva luxury watch show that had been scheduled for April 25-28.
While the falling oil price stands to benefit an industry that counts fuel costs as its single biggest expense, it probably won't be enough to compensate for the damage wrought by the travel slump, Roeska of Bernstein said. Oil is on course for its biggest weekly loss since 2011, with crude prices down more than 14% this week.
Still, the fallout does provide airlines with an opportunity to implement adjustments that will help streamline their operations, he said. These include review of fleet requirements, discretionary spending and capacity cuts on poorly performing routes.
"This is a good time to approach these," Roeska said. "Never let a good crisis go to waste."