British Airways Owner IAG Hurt by French Strikes, U.S. Fare Drop
(Bloomberg) -- British Airways owner IAG SA's peak summer season is being spoiled by a combination of air traffic control strikes, exchange-rate swings and a dip in fares on key U.S. routes.
IAG shares fell the most in five months on Friday after walkouts by French controllers pushed its Vueling arm to a wider second-quarter loss following a spate of canceled flights. The Barcelona-based unit's jets must cross French airspace to reach northern Europe. The group also took a hit against translating sterling-denominated revenue from British Airways into euros.
Chief Executive Officer Willie Walsh said the French disruption, while a "temporary impediment," is hurting both Vueling and Spain's tourism-dependent economy, and could continue into 2019 or even 2020. IAG also suffered a drop in North Atlantic prices after splurging on capacity. By contrast, rivals Deutsche Lufthansa AG and Air France-KLM Group this week reported strong fare growth in the world's busiest market for premium travel.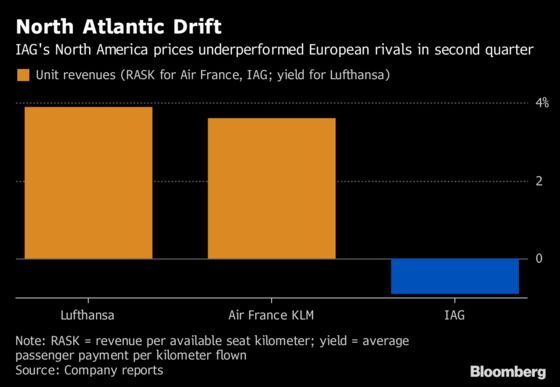 Walsh said it was too early to provide an estimate for 2018 earnings, reiterating that operating profit to show "an increase year-on-year."
Shares of IAG fell 5 percent, the most since Feb. 23, after the carrier's second-quarter earnings fell short of expectations. The company's operating profit before one-time items rose 5.7 percent to 835 million euros ($968 million), lower than the 860 million euros anticipated by analysts.
The stock was trading 3.2 percent lower at 663.40 pence as of 11:28 a.m. in London, paring gains this year to 1.9 percent.
Vueling suffered 20 million euros of disruption costs in the quarter and posted an 11 million-euro first-half loss. Currency fluctuations had a net negative impact of 26 million euros, and have weighed on BA since the pound fell following the 2016 Brexit vote.
While group-wide passenger unit-revenue, a measure of fares, rose 2.3 percent at constant currencies, trans-Atlantic figures were less encouraging.
North American revenue per available seat kilometer fell 0.9 percent in the quarter as IAG lifted capacity 10 percent, diluting prices. BA added flights from London to Nashville, Las Vegas and Toronto. Aer Lingus began serving Seattle and Philadelphia from Dublin, and Iberia launched a Madrid-San Francisco route. Discount arm Level also introduced flights from Barcelona to Boston.
Goodbody analyst Mark Simpson said in a note that he'd expected a positive fare trend, while adding that the North America market "remains strong" and that there'll likely be a recovery this quarter.
On Norwegian Air Shuttle ASA, Walsh said IAG will most likely dispose of an existing holding if there's no takeover. After two bids were rejected, there have been no talks since April, he added.
"We will not be a long term shareholder in Norwegian unless we acquire it," the CEO said. "The small stake we took was with a view to initiating discussions." IAG's interest stems largely from the discount airline's long-haul flights, which would swell its own trans-Atlantic operations.
A decision to use long-haul operator Level's branding for shorter routes in Europe was an "opportunistic" attempt to make customers more familiar with the brand and help grow bookings at the business, Walsh said.