Britain's Failing Nuclear Plan Poses Huge Question for Power
(Bloomberg) -- In 2006, Tony Blair told Britain's biggest business lobby that the country needed a new generation of nuclear reactors or risked becoming dependent on imported fossil fuels while missing commitments to reduce greenhouse gas emissions.
"If we don't take these long-term decisions now, we will be committing a serious dereliction of our duty to the future of the country," the then prime minister said in a speech at Confederation of British Industry's annual dinner.
Almost 13 years later, just one plant is under construction -- the Hinkley Point project being built by France's state power company in southwest England. There's increasing doubt any more reactors will follow. Reports on Friday said Japan's Hitachi Ltd. has decided to halt work on the Wylfa project in North Wales. That's follows Toshiba Corp.'s decision in November to abandon a plant in northwest England.
"The U.K. nuclear renaissance is a zombie," said Laurent Segalen, a managing partner at Megawatt-X in London, who advises on financing wind and solar projects.
The unraveling of Blair's energy blueprint, endorsed by all his successors, will leave Britain short of electrons in the decades ahead as existing reactors built in the 1970s reach the end of their lives. The new Wylfa plant alone was designed to supply about 7 percent of the U.K.'s energy demand. Two types of energy will likely fill most of the gap: natural gas and offshore wind. Both come with challenges.
Wind power has been the success story of British energy policy, already generating more than 13 percent of the nation's electricity. As costs fall drastically, a number of giant offshore wind farms is under construction in the North Sea, tripling capacity by 2025 to the equivalent of about 15 nuclear reactors. But there's a big problem with wind -- it's not always windy.
In the absence of economically viable large-scale energy storage, new nuclear plants were earmarked to produce the so-called baseload power consumers and industry require day-in, day-out. Gas-fired plants, already Britain's leading source of power, will now have to fill that gap.
Natural gas produces far less harmful carbon dioxide than burning coal, but the fuel's far more polluting than nuclear energy, which emits virtually no greenhouse gases. Ditching new reactors will make it harder to meet the goal of eliminating carbon emissions by 3 percent per year until 2050.
Britain's also running out of natural gas and increasingly dependent on imports from the Middle East, U.S and Russia. The country will need to spend billions buying fuel overseas, putting pressure on Britain's trade balances and worsening energy security.
Not everyone sees the demise of nuclear as a problem. For many environmental campaigners, the risk of disasters like the 2011 meltdown at Fukushima in Japan and the costs of radioactive waste make new nuclear a no-go. After all, Germany plans to meet climate change commitments while phasing out nuclear power (albeit by maintaining a fleet of polluting coal plants for some years to come).
And a lot's changed since Tony Blair's speech. Most importantly, the cost of nuclear plants has risen relative to other forms of power. Production costs for wind and solar electricity have slumped as the once nascent technologies become mainstream.
For building Hinkley Point, the government promised France's Electricite de France SA 92.50 pounds ($119) for each megawatt it produces. Once far more expensive, offshore wind farms are now viable at about half that cost.
"The government's energy policy is in tatters, but this is the opposite of a disaster," said Doug Parr, chief scientist at environmental campaign group Greenpeace U.K. "The failure of the old technology is the opportunity the new technologies need, and Britain's world-leading offshore wind industry's time has come."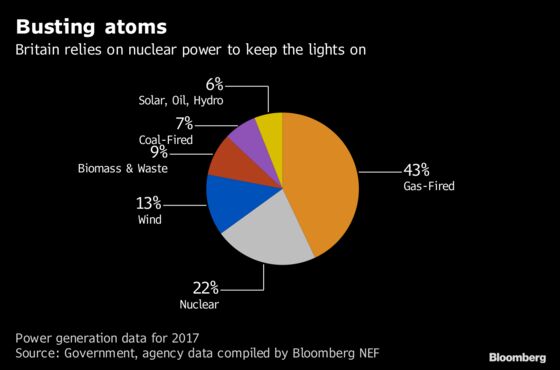 As well as a generous power price, the U.K. government gave EDF and its Chinese partner loan guarantees to ensure Hinkley Point went ahead. Toshiba and Hitachi would have wanted similar commitments for their projects, but they still couldn't make the billions in upfront construction costs viable.
The British government insists that projects beyond Hinkley Point remain on the table. Talks on Wylfa are still ongoing, the government said on Friday. Hitachi's investors had other ideas, bidding the Tokyo-traded stock 8.6 percent higher after the project's cancellation was reported by Japan's Nikkei newspaper.
Hitachi, which will book a loss of between 200 billion yen and 300 billion yen ($2.8 billion) if its suspends the projects, said in response to questions from Bloomberg News that it's reviewing Wylfa and it hasn't made a final decision.
EDF is slated to start a second nuclear project at Sizewell in Suffolk in 2021, though the financial pressure of maintaining France's aging reactor fleet mean many are skeptical the company has the financial firepower. China General Nuclear Power Corp., the Chinese partner in Hinkley Point, is exploring going it alone at a new plant in Essex, but relying on a firm controlled by Beijing to build a critical piece of infrastructure is controversial.
| Reactor | Owner | Status |
| --- | --- | --- |
| Hinkley Point C | Electricite de France SA, China General Nuclear Power Corp. | In construction, due to start generating 2025 |
| | | |
| Sizewell C | EDF, CGN | EDF has spoken to U.K. government about financing. No planning permission applied for yet, aiming for early 2020. Construction due to start 2021. Electricity from 2031. |
| Bradwell | EDF, CGN | Early technical stage |