Bristol-Myers Borrows $19 Billion in Year's Biggest Bond Deal
(Bloomberg) -- Bristol-Myers Squibb Co. sold $19 billion of bonds in the biggest corporate debt sale of the year as it looks to finance its $74 billion takeover of Celgene Corp. and create a cancer-drug giant.
The company issued senior unsecured bonds in nine parts, according to data compiled by Bloomberg. The longest portion of the offering, a 30-year security, will yield 1.45 percentage points more than similar-maturity Treasuries, after initial talk of around 1.6 percentage points, said a person with knowledge of the matter, who asked not to be identified as the details are private. The bond sale drew orders of $67 billion, the person said.
The sale easily supplants Anheuser-Busch InBev NV's $15.5 billion January offering as the biggest this year. Bristol-Myers said it would take on $32 billion of new debt in addition to $20 billion of existing Celgene obligations to complete what will be the largest pharmaceutical merger in history, according to a January investor presentation. Its $33.5 billion bridge loan is among the 10 largest of all time.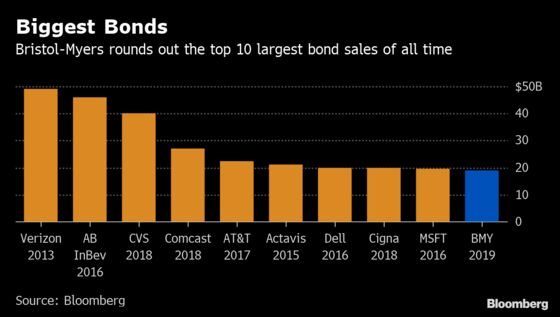 Bristol-Myers is leading the charge for what's expected to be a heavy supply month in corporate bonds. T-Mobile US Inc. and Fidelity National Information Services Inc. are conducting investor outreach ahead of potential jumbo M&A transactions, which may price in the coming weeks. International Business Machines Corp. held a call with investors today and may come even sooner. Issuance could reach $120 billion this month, which would be 6 percent higher than last May, according to an informal poll of primary dealers.
Prior to the January deal announcement, Celgene's market value went through a months-long downward spiral as investors feared the company lacked a successor to its bestselling blood cancer drug, Revlimid. The pill accounts for about two thirds of Celgene sales and will lose some of its patent protections in the coming years.
Ahead of winning the shareholder vote last month to confirm the deal, Bristol-Myers executives emphasized their belief in the strength of Revlimid's intellectual property and the potential growth the other experimental drugs in Celgene's research pipeline.
The bond offering may push the combined company's leverage close to 4 times a measure of earnings, Moody's Investors Service said in January. It will likely cut Bristol-Myers's A2 rating by one notch upon the close of the deal, according to a report Thursday. S&P Global Ratings and Fitch Ratings are also reviewing the rating for downgrade.
What Bloomberg Intelligence Says
"We'd cautiously highlight that declines in branded and generic pricing growth, increasing pushback against high-cost therapies and rebates could hinder growth expectations and potentially affect optimistic cash-flow guidance."
Mike Holland, credit analyst
Click here to read the research
The companies should generate a combined free cash flow of around $45 billion over the first three years and deleveraging will be the near-term priority, Bristol-Myers Chief Executive Officer Giovanni Caforio said in January.
Barclays Plc, Credit Suisse Group AG, Morgan Stanley and Wells Fargo & Co. managed the bond sale, the person said.