Bristol-Myers Gains After Starboard Takes a Position
(Bloomberg) -- Shares of drugmaker Bristol-Myers Squibb Co. gained Monday, with acquisition target Celgene Corp. falling after activist hedge fund Starboard Value was said to have taken a stake in Bristol-Myers.
The size of Starboard's stake and any plans that Jeff Smith's hedge fund might have for its investment in the $81 billion drugmaker couldn't immediately be learned when Bloomberg reported the position on Saturday, citing people familiar with the matter. Bristol-Myers shares declined last month after the New York-based drugmaker made a record $74 billion deal to buy Celgene.
Bristol-Myers shares rose 1 percent to $50.37 at 1:44 p.m. in New York. Celgene fell 2.3 percent to $87.63. The moves could signal that some investors are betting the deal is less likely to close, or that the terms could change.
"Since Bristol announced its plans to acquire Celgene, we have had many investors ask us if the deal might potentially get disrupted,"' said Vamil Divan, an analyst with Credit Suisse Group AG. "The possibility of an activist coming in and pushing Bristol to look at other options, including maybe looking for a potential buyer, has also been raised and is interesting."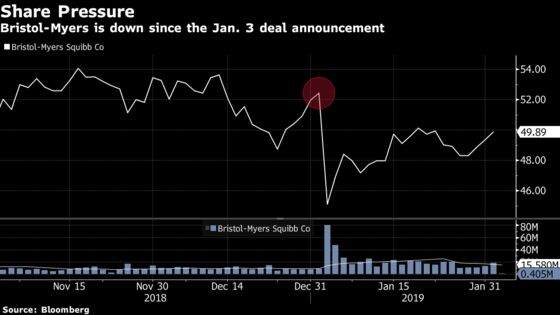 Starboard didn't respond to requests for comment over the weekend about its stake. On Monday, a representative for New York-based Bristol-Myers said the company declined to comment.
Purchasing Celgene will give Bristol-Myers control of one of the most successful cancer drugs of recent years, the top-selling blood-cancer therapy Revlimid, which costs more than $100,000 a year. But that drug is the subject of patent litigation which has the potential to open it up to generic competition.
Bristol-Myers shares fell 14 percent on Jan. 3 when the deal, which valued Celgene's stock at a 54 percent premium to its previous closing price, was announced. Bristol-Myers closed Friday at $49.89, less than 5 percent below its pre-announcement level.
"One thing they may be trying to do is to push Bristol to consider a sale," said Bloomberg Intelligence analyst Sam Fazeli. "But there are only a very few companies that can actually do that. Namely, AbbVie, Pfizer and Novartis -- but all these would require a lot of synergies to be accretive."
Founded by Smith and Mark Mitchell in 2002, New York-based Starboard has waged past activist campaigns at companies including Macy's Inc. and Yahoo. Its current investments include casino operator MGM Resorts International, where it plans to push for changes, and online auto-dealing platform Cars.com Inc. which it has called on to improve performance or consider selling itself.
On Monday, it was announced that Starboard CEO Smith will become chairman of Papa John's International Inc., after making a $200 million investment in the pizza chain.
Its health-care holdings span managed care specialist Magellan Health Inc. and Perrigo Co., according to the firm's latest regulatory filing.
Last April, it reached a settlement with Crock-Pot maker Newell Brands Inc. after a months-long battle that included billionaire activist Carl Icahn wade into the fight.