Brilliance Plunges 30% After BMW Takes Over Joint Venture
(Bloomberg) -- Brilliance China Automotive Holdings Ltd. sank by a record after it agreed to give BMW AG control of their joint venture, diminishing the Chinese carmaker's exposure to future growth in the world's largest auto market.
Brilliance fell as much as 30 percent in Hong Kong trading as a slew of brokerages downgraded the automaker after BMW said Thursday it is increasing its stake in the venture to 75 percent from 50 percent. The partnership accounted for most of Brilliance's profit last year. Shares of Brilliance were halted from trading Thursday.
Citigroup Inc. cut its price target by 73 percent and recommended selling the shares, saying the "unfair" deal will hurt the company's earnings, while CLSA said minority shareholders are the losers. The agreement gives BMW a bigger say over its business in China, and lets it keep more of the earnings it generates in the massive market.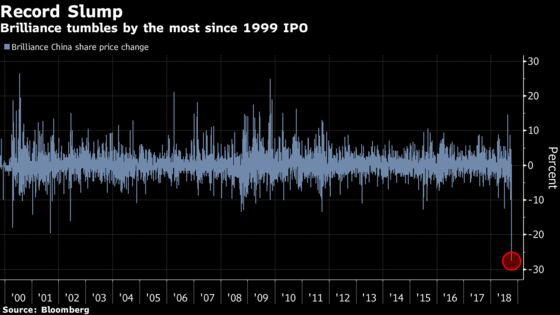 "A smaller stake in the joint venture means less earnings contribution to Brilliance China and that's the only thing investors are sure of right now," said Angus Chan, Shanghai-based an analyst at Bocom International Holdings Co.
The pact shows China's government is following through on its pledge to open up the economy to foreign ownership after the 50:50 joint-venture rule that has restricted global brands' access to the market for decades. BMW said its deal will be completed in 2022.
Brilliance traded down 25 percent at 11:28 a.m. local time, giving the company a market value of about $5.2 billion. BMW agreed to pay the Chinese automaker $4.1 billion for the 25 percent stake, valuing the 50 percent currently owned by Brilliance in the venture at $8.2 billion. The stock's plunge suggests investors are assigning little value to Brilliance's operations beyond the BMW partnership.
Shares of Brilliance are the worst performer this year among Chinese car stocks traded in Hong Kong. Other Chinese auto stocks have also plunged amid investor concerns that the companies will be left with a smaller share of their ventures' future earnings should their global partners increase control.
China's policy change gives foreign carmakers such as Daimler AG, Volkswagen AG and General Motors Co. a chance to obtain a bigger control over their businesses in China. In addition to being the world's largest electric-car market, China is fast becoming a major development and production center for such vehicles.
The pressure is increasing on Chinese carmakers such as Brilliance to ramp up their own product development and polish their brands to prepare for a potential future where they are competing against their current partners.