Brexiteer Softens Opposition as May Ploughs On: Brexit Update
(Bloomberg) -- Leading Brexit purist Jacob Rees-Mogg, who has opposed Theresa May's exit deal, appears to be softening his stance, making it more likely that the divorce agreement could win Parliamentary approval next month. And Parliament backed May's strategy in a non-binding vote.
Rees-Mogg drops key demand over Irish backstop
The pound climbs, after May moved to take no-deal off the table
Labour Party reiterates support for second referendum
Parliament backs an amendment that formalizes the pledge May made on Tuesday to allow MPs to prevent no-deal and seek an extension to exit day

Parliament Backs May's Plan on No-Deal Votes (7:55 p.m.)
Parliament voted overwhelmingly to back an amendment that sets down in writing the pledges May made on Tuesday. Members of Parliament will have a chance to block a no-deal Brexit, and will get a vote on extending exit day to avoid a cliff-edge departure.
The amendment was proposed by opposition MP Yvette Cooper, and then received the backing of the government. Twenty voted against it.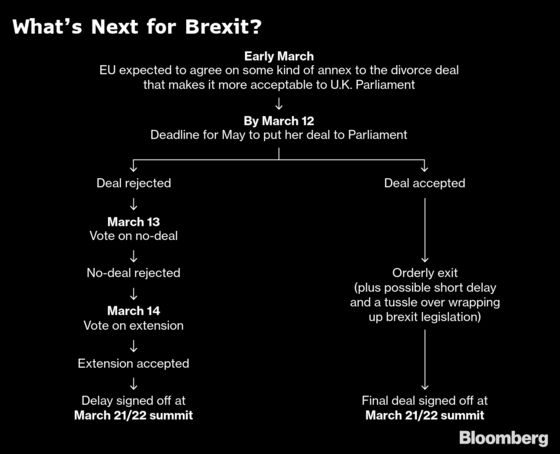 Parliament Votes on Cooper Amendment After All (7:35 p.m.)
In a surprise move, the pro-Brexit European Research Group has objected to Yvette Cooper's amendment. This was expected to go through without a vote, because it does nothing more than put May's pledges from Tuesday on avoiding no-deal into writing.
Labour Amendment Rejected by Parliament (7:30 p.m.)
As expected, amendments proposed by Labour and the Scottish National Party were rejected by Parliament.

Heat Goes Out of Wednesday's Commons Votes (4:25 p.m.)
The government seems to have dodged any controversy in Wednesday's votes by saying it will not challenge an amendment put forward by Labour's Yvette Cooper that would put Theresa May's promises on Brexit votes in writing. It also accepted another on the rights of EU citizens.
Tory lawmaker Caroline Spelman also withdrew her amendment that would have handed control of the Brexit timetable to Parliament. "Having been reassured by what I've heard today and the consistency of what the minister has said, I won't put my amendment to the house," Spelman said.
It now looks likely there will only be votes on the Labour and SNP amendments and neither has any realistic chance of passing.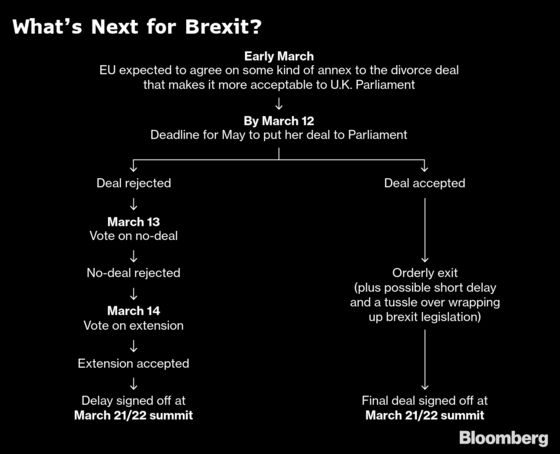 Lidington Says Commons Votes Will Be Binding (3:05 p.m.)
David Lidington, May's de facto deputy, said the government will be bound by any votes in the House of Commons next month to reject a no-deal Brexit or to delay Brexit.
Asked by Labour's Yvette Cooper whether the government would "be bound by the will of this House if no deal is passed by March 13, rather than simply to leave without a deal," Lidington responded "The short answer to the right honorable lady is yes."
The statement is important because the government has in the past chosen to ignore non-binding votes on motions in the House of Commons. Lidington also promised to "stick by" May's commitment to hold votes to rule out a no-deal Brexit and extend Article 50, should she not be able to get Parliamentary approval for her deal next month.

Speaker Chooses Five Amendments for Vote (2:30 p.m.)


House of Commons Speaker John Bercow announced that five amendments have been chosen for votes on Wednesday evening. Voting will start at 7 p.m.
The first will be a Labour amendment asking the government to adopt the opposition party's Brexit strategy; second will be an SNP change opposing a no-deal Brexit; the third would enable Parliament to take control of the Brexit timetable. After that there will be one on guaranteeing the rights of EU citizens, before a final amendment ensuring votes if there's no agreement by March 12.

Merkel, Macron Open to Exit Delay (1:30 p.m.)
German Chancellor Angela Merkel and French President Emmanuel Macron said they are open to extending exit day.
"But we won't accept an extension without a clear perspective on the goal it would seek," Macron said at a joint news conference with the German leader in Paris. "As our negotiator Michel Barnier says, we don't need time, what we really need are decisions. It is time for the U.K. to make choices."
Merkel said that while Germany regrets the U.K.'s decision to leave, it wants an "orderly exit" and a "good solution." The pair reiterated that the exit deal is not up for renegotiation.
Rees-Mogg Backs May in Wednesday's Vote (1:55 p.m.)
Chairman of the European Research Group of Brexit supporting Tories told Bloomberg he will back May's motion in the vote on Wednesday evening. When May last put a general Brexit motion for approval in the Commons, Rees-Mogg's European Research Group refused to back it -- and she lost the vote.
The fact that he's backing the prime minister today is another indication that pro-Brexit Tories are more willing to give her re-written exit agreement a chance.
Bernard Jenkin, another senior Tory in the ERG said the new backstop needs to contain "a unilateral exit or a stop date." Jenkin said in an interview that he's open to the idea of an additional annex to the main exit deal, if this can deliver a legal fix for the backstop. "If that can be legally achieved by adding an annex to the agreement then that might be the way forward," he said.
May Says 'Making Progress' in Backstop Talks (12:41 p.m.)
During prime minister's question time in Parliament, May insisted that talks with the EU on rewriting the backstop plan for the Irish border were proving "constructive," adding: "We are making progress." The DUP's Nigel Dodds said her decision to open the door to a delay to Brexit means she is now less likely to get the changes she wants as her negotiating position is weakened.
Urged to rule out a no-deal Brexit, May used a phrase she's been less willing to repeat in recent times: "I've always said 'no deal is better than a bad deal." The fact she said it could be an attempt to placate staunch Brexit-backers who don't want her to rule out a no-deal split.
WTO Says U.K. Can Bid For Contracts After Brexit (10:37 a.m.)

The U.K. has secured a key request of business for post-Brexit: Continued access to a World Trade Organization agreement that governs 1.3 billion pounds ($1.7 trillion) worth of public sector work a year.
"British business can continue to bid freely for procurement contracts around the world," Trade Secretary Liam Fox said on Twitter on Wednesday. "The agreement is another huge step in the U.K. establishing itself as an independent WTO member, continuing to bang the drum for free trade and U.K. Business."
Parliament 'Inching' Toward Deal: Crabb (9:40 a.m.)

Hardline Tory Brexiters are coming round to the idea of backing May's deal and Parliament is now "inching" toward getting a deal through parliament," former Work and Pensions Secretary Stephen Crabb told Bloomberg TV.
"I think people are starting to come round to the idea that even though they don't like the deal that's been negotiated -- the draft deal on the table -- it is actually the only show in town," he said.
No-Deal Could Be 'Very Turbulent,' Fox Says (9:30 a.m.)
Leaving the European Union without a deal would be "potentially very turbulent," U.K. International Trade Secretary Liam Fox said Wednesday. While "obviously survivable," such an outcome would cause disruption, Fox said at the International Petroleum Week conference in London, acknowledging there's no "perfect" Brexit deal.
Germany Wants New U.K. Plans in Return for Delay (8:40 a.m.)
The German government wants May to put forward something "new and substantial" to justify an extension to Article 50, Michael Roth, Germany's deputy foreign minister responsible for European affairs, said on Wednesday morning.
"What we need now is clarity," he told German TV station ZDF. "Just delaying the process doesn't tackle the fundamental question: what do you want to happen?"
He also called for an end to the "tactical maneuvering" of politicians. "It's getting on my nerves and the nerves of many other people," he said.
Rees-Mogg Says Won't Insist Backstop Be Dropped (7 a.m.)

Pro-Brexit lawmaker Jacob Rees-Mogg is no longer insisting that the "Irish backstop" be dropped as a condition for supporting Prime Minister Theresa May's Brexit deal, he told the Financial Times in an interview.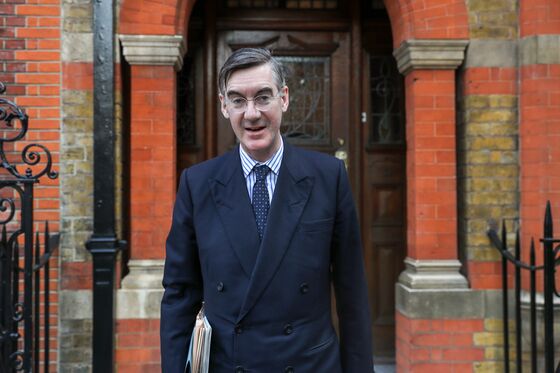 In a sign that he's softening opposition to the plan, Rees-Mogg -- the leader of the pro-Brexit European Research Group of Conservative Party lawmakers -- said he would consider other legal fixes to ensure the so-called backstop didn't become permanent, the paper reported. That could be in the form of an appendix to the text, he said. Crucially, that is exactly what May is now seeking in negotiations in Brussels.
"I think you can add an appendix without reopening the text," Rees-Mogg said, according to the FT. "You'd be adding something on at the end, but it's still part of the text."