Brexit Starting to Loosen London's Grip on Interest-Rate Swaps
(Bloomberg Markets) -- "We are going to need to go for a drink to talk this through, rather than having it out in the open."
What dispute drives regulators to resort to alcohol? The fate of euro clearing after Brexit. The offer from Brian Bussey, the U.S. Commodity Futures Trading Commission official responsible for clearing, was to Jochen Metzger, who does the same job at Germany's Bundesbank.
The two had just had an edgy exchange onstage at a London derivatives industry conference in June. Bussey and Metzger were arguing over who should regulate LCH Ltd. after Brexit. The institution, with roots in London dating back to 1888, has become the focal point for French and German misgivings about the British capital's position as Europe's financial center. Bussey wants the CFTC, Bundesbank, and Banque de France to let the Bank of England handle LCH during a crisis. But key people at the Continental regulators do not trust their counterparts at the BOE to treat euro derivative holders fairly in a crisis, according to a person familiar with the matter.
When a bank or fund fails, LCH is the valve that protects the rest of the system. When Lehman Brothers collapsed, it had $9 trillion of outstanding swaps at LCH; the clearinghouse wound down the portfolio without using any of the collateral of its other member banks. Stability was preserved. So Bussey and the CFTC are comfortable with the existing system.
Majority-owned by London Stock Exchange Group Plc, LCH has spent 19 years building a dominant position in the world's largest derivatives market: interest-rate swaps. Financial and nonfinancial companies alike rely on the $319 trillion swaps market to protect themselves against changes in interest rates.
LCH regularly clears trillions of dollars of swaps per day. That sounds impressive, but the figure that matters to customers and regulators is how much collateral the clearinghouse holds to protect its members against a defaulting trader. In June, LCH's global head of rates, Michael Davie, said the cash and bonds held by the clearing­house solely for swap trades exceeded €100 billion ($117 billion).
After Lehman's collapse, the German and French central banks gained the right to oversee the clearinghouse alongside the BOE. That would disappear in a no-deal Brexit. Alarmed by that prospect, both are pushing to maintain direct oversight. European Union power brokers meet as soon as October to decide how that would work, rushing to beat a November deadline for the wider Brexit deal.
One EU company has spotted an opportunity. Deutsche Börse AG, owner of the Frankfurt bourse and the Eurex futures market, wants to lure as many euro derivatives trades as possible to its clearinghouse, under EU oversight. LCH has seen off challengers before, but this time might just be different.
"For interest-rate swaps, we made exclusive use of LCH, but a couple of months ago we started setting up accounts with Eurex," says Christoph Hock, head of multi-asset trading at Union Investment, which looks after €333 billion. "The majority of euro-denominated swaps will go to Eurex in the future."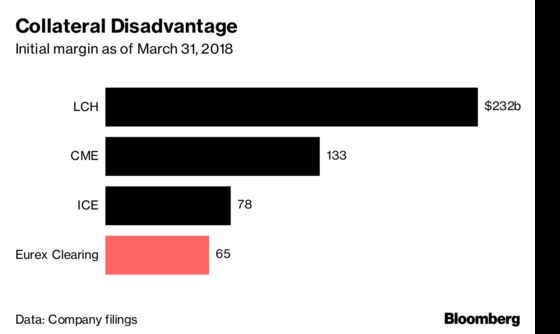 Since the beginning of the year, Eurex has sought to keep the spreads on swaps it clears the same as those at LCH. But there's another cost advantage for investors such as Hock, who ran an equity-derivatives proprietary trading desk at JPMorgan Chase & Co. before the crisis. He can use his other fixed-income contracts on Eurex to reduce the collateral set aside to protect his euro swap positions. "We would see cost savings of up to 30 percent in a best-case scenario," Hock says.
Almost every trader in Europe already has to use Eurex. Equity traders need its futures on the benchmark Euro Stoxx 50 and DAX indexes. Bond traders rely on its contracts on sovereign debt. And Eurex is a worldbeater in clearing exchange-traded derivatives.
Because Union does little trading in non-euro derivatives, Hock doesn't need LCH's huge pool of contracts in different currencies. For those who do, LCH's core appeal is letting customers reduce the amount of cash they deposit by allowing them to net similar trades in any of 21 different currencies.
At the Cube, Deutsche Börse's headquarters just outside Frankfurt, visitors' passports are inspected and bags X-rayed before they arrive at Eurex Clearing AG, which looks after €52 billion of cash and bonds held as collateral against bets on futures and options.
Thomas Book and Erik Müller, the men responsible for Eurex and Eurex Clearing, are focused on winning more customers like Hock. "Our objective is creating a Brexit-proof solution," says Book, 47. "We want to have a relevant liquid share of the euro market."
Frustrated in that aim for years, Eurex this year copied its rival and started giving a share of clearing revenue to the 10 firms that sent it the most swaps business. The value of swaps cleared by Eurex duly jumped sixfold in January and hit 10 percent of new business by July, says Müller, 45.
Matthias Graulich, 44, a smiling 17-year company veteran, is in charge of poaching euro clearing. His target: to clear 25 percent of euro-denominated swaps in 2019. This applies to new business only; swaps backed by €100 billion of collateral at LCH will stay in London. So it could be many years before Eurex catches up.
One thing could change that. In a no-deal Brexit, banks based in the EU would lose access to LCH. Philip Whitehurst, LCH's head of service development for rates, says clients aren't behaving as though that scenario is likely. But if they're wrong, a trickle could turn into a torrent.
As Brexit nears, anxiety and ill feeling once hidden are becoming visible. Back at the London conference, the Bundesbank regulator told his American counterpart that Germany must be able to help manage in a crisis.
"Brian, nice try, but not good enough," Metzger said. "When the fireman comes with a hose, he needs to have an idea of what's going on. The junior partner role may not be good enough."