Brexit's Endgame Turns Endless, Sinking U.K. Domestic Stocks
Once again, traders were reminded never to get too hopeful about a Brexit deal.
Not even a day after the accord was reached, two of U.K. leader Theresa May's ministers resigned, imperiling yet again an agreement that would pave the way for Britain's orderly departure from the European Union. Pro-Brexit Conservative politician Jacob Rees-Mogg mounted a challenge to May's party leadership, raising the risk of her government collapsing.
The reaction in markets was swift and worsened as the drama unfolded. Even with the pound plunging, the FTSE 100 -- which typically benefits from currency weakness owing to its reliance on overseas earnings -- dropped 0.7 percent as the drag from domestic stocks became too much to bear. British mid-caps, which tend to be more domestic-facing, slid. The Stoxx Europe 600 dropped 1.7 percent as U.S. stocks opened in the red.
"This could be the end of the road for May," said Naeem Aslam, chief market analyst at Think Markets U.K., after the resignations of Brexit Minister Dominic Raab and Work and Pensions Secretary Esther McVey.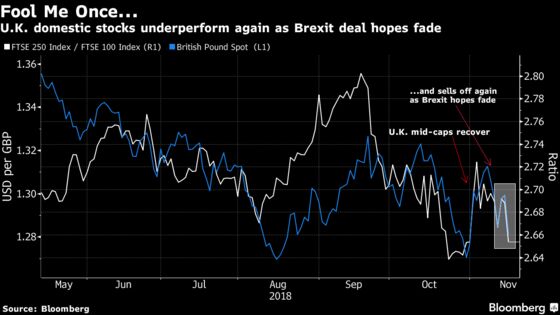 The slide in local stocks was brutal:
Among banks: Barclays Plc fell 4.3 percent, Royal Bank of Scotland Group Plc dropped 8.3 percent and Lloyds Banking Group Plc slid 5.7 percent
Among homebuilders: Barratt Developments Plc declined 6.6 percent, Persimmon Plc tumbled 7.4 percent, Berkeley Group Holdings Plc lost 6.1 percent and Redrow Plc fell 7.1 percent
Among retailers: Next Plc dropped 4.4 percent, Marks & Spencer Group Plc was down 2.9 percent and Kingfisher Plc weakened 2.2 percent
U.K. airlines, insurers and utilities also slumped
Real-estate company British Land Plc shed 5.4 percent, only hours after Credit Suisse analysts said catalysts for the stock include "reduced uncertainty surrounding Brexit"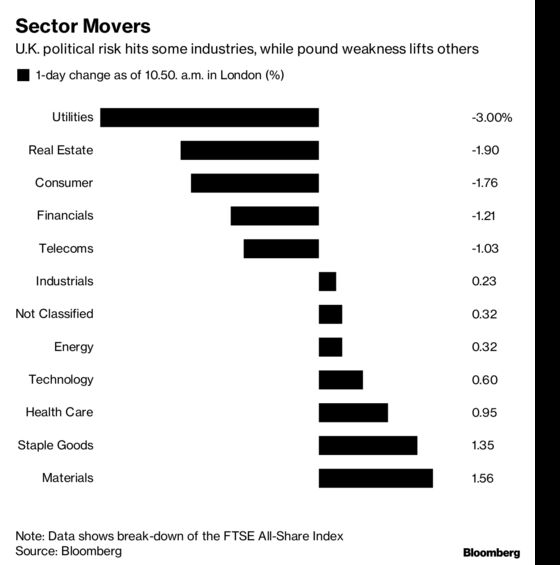 Volumes on the FTSE 100 were about 71 percent higher than the past 20 days. For U.K. banks, there was the additional worry that the Labour Party might come to power if May's government collapses. Labour leader Jeremy Corbyn has vowed to consider breaking up RBS.
Meanwhile, adding to the drama were Italy's widening bond spreads, which hit European banks. Auto stocks slumped across Europe after gaining on Wednesday.
"The situation is slipping out of control," Chris Beauchamp, chief market analyst at IG Group Holdings Plc, said by email. "Brexit has just blown up again and, thrown together with Italy, trade wars and U.S. earnings, risk appetite is unlikely to recover for long."