Brexit Delay Would Drive Up Costs for U.K. Polluters
(Bloomberg) -- Britain's effort to delay its departure from the European Union probably means that U.K. polluters will have to wait to get their hands on 2.6 billion euros ($3 billion) of emission allowances, according to a person familiar with the U.K. government position.
It's now highly unlikely that British factories, power stations and airlines covered by the EU's cap-and-system will get their annual allotment of free allowances or access to a U.K. auction for the permits before a March 26 compliance deadline, according to the person who is not authorized to talk to the media and asked not to be named.
Without fresh allowances, British polluters will have to buy in the market or use securities they built up in previous years to meet requirements for 2018. Those certificates must be handed in by March 26, raising a risk for a handful of companies that didn't prepare for the halt in issuing new allowances.
Emitters have "had years to plan for it, and it appears some companies have not prepared properly," said Jahn Olsen, an analyst in London with BloombergNEF. "That's a concern for shareholders of those companies."
That development is an indication of the economic pain building up for British businesses because of the tumultuous Brexit discussions. Many polluters in the rest of the EU received their free allowances in February. The EU halted Britain's auction for allowances until there's clarity over on whether the U.K. will remain in the Emissions Trading System or crash out of the union without a deal.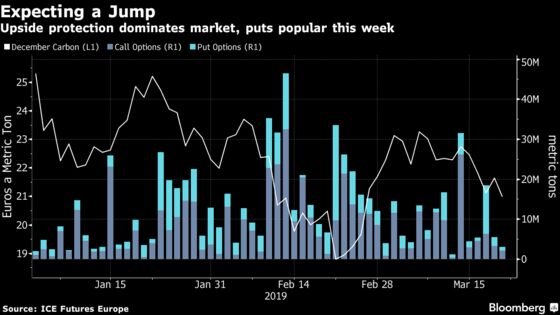 Under market rules, emitters must hand in allowances each year to match the previous year's greenhouse gas output. This year, U.K. participants have an earlier deadline than the rest of the 27 EU nations because the government fixed March 29 as the date to exit the union. On Wednesday Theresa May asked the EU for an extension to the exit of just three months, a surprise move that increases the risks of a no-deal exit.
EU authorities remain concerned that a disorderly Brexit could swamp the emissions trading system with allowances that British firms no longer need, since the U.K. would withdraw from the ETS and its restrictions in the event of no deal. Extending the talks would maintain the uncertainty about whether a deal will be done.
To protect its market, the EU suspended the distribution of U.K. allowances starting this year. It also has the ability to label any permit sold by Britain, distinguishing them in the market. That could make any U.K. allowances issued trade at a discount.
Marked British carbon allowances would be unattractive because they would only be usable for compliance under certain circumstances. "We wouldn't buy them for hedging purposes," Pavel Rezabek, chief economist at the Czech utility CEZ AS, said by phone.
At the moment, this point is academic, since the EU hasn't authorized an auction in the U.K. If a Brexit deal were ratified by the U.K., the ETS rules would continue to apply for a transition period, and the EU would allow distribution of free allowances.
 
In that case, the U.K. would distribute about 108 million tons of allowances this year. Those securities are trading at about 21 euros a ton on the ICE Futures Europe exchange in London.
British Steel Ltd. faces a financial hit of 100 million pounds ($133 million) or more this month if the government is unable to secure a Brexit deal, two people familiar with the matter said in February. British Steel said last month it had "robust plans in place to deal with the various Brexit scenarios including the change in the carbon-credit regime."
Sorting out Britain's exit from the EU may spark somewhat of a relief rally in the carbon market, with prices potentially surging above 35 euros a ton this year because there's a shortage, said Lawson Steele, an analyst at Berenberg Bank in London.
If the short extension on Brexit is agreed and it's conditional on the deal winning approval from the U.K. parliament, that will mean Britain should stay in the EU carbon market for at least another two years, said Louis Redshaw, founder of carbon-trading outfit Redshaw Advisors in London. "They'll have six months' catch-up buying to do but the market will have to do without supply from U.K. auctions until any deal is ratified. This would be a very bullish development."