Brexit Is Tangling Up Holiday Home Sales in Portugal
(Bloomberg) -- At the Quinta do Lago resort on the Algarve coast of southern Portugal, Jamie Robinson is keeping an eye on the twists and turns of the Brexit negotiations more than a thousand miles away.
The director of real estate sales at the resort belonging to Irish billionaire Denis O'Brien has potential clients with a lot riding on how the U.K. exits the European Union on March 29. Quinta do Lago, with its golf courses and multi million-dollar ocean-facing villas, counts British nationals among its biggest buyers. And with the pound's value likely to depend on whether the U.K. crashes out of the bloc without a deal or has a more orderly exit, some potential customers have hit the pause button.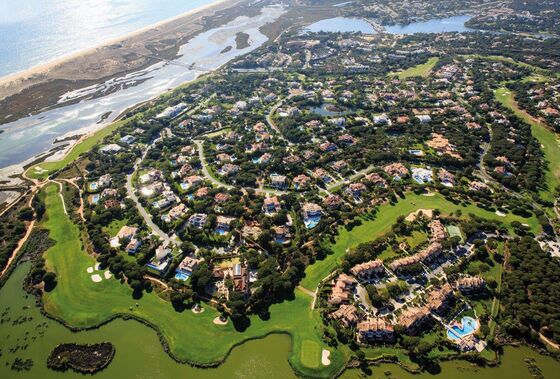 "We've seen U.K. buyers still looking to secure property here in Quinta do Lago, but the uncertainty behind the lack of a Brexit decision is delaying some of their buying processes," Robinson said in a telephone interview. "If they're exchanging large values of pounds into euros to buy property, many purchasers want to see a more confirmed direction of where the pound is heading."
Like Robinson, other realtors in the Algarve coast, home to the country's largest British expat community, have noticed the lull. While the sun, sand and golf have long attracted second-home British buyers to the Algarve -- which boasts about 300 days of sunshine per year, dozens of golf courses and several international schools -- inquiries from Britons for homes below 500,000 euros ($567,000) have almost disappeared, according to Zoe Hawker, head of Fine & Country Algarve, a real estate broker with about 750 listings.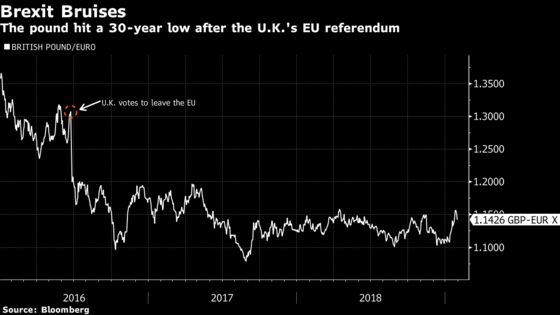 That's not to suggest all Brits are staying away. The number of British residents registered in Portugal rose 18 percent to 26,513 in 2018, and 22 percent of all passengers who arrive at Portuguese airports are British, according to Portugal's Internal Affairs Ministry.
Laurence Seward, the co-founder and chairman of recruitment company TXM Group, remains confident that the four luxury villas he's building will be an easy sell, including to fellow countrymen back in the U.K. In fact, he's sold one already to the villa's architect and will buy another one himself to rent. He's been coming to the Algarve with his family for more than a decade, with his own villa in the area to be ready in March.
"Brexit will affect some people, especially those who need to borrow," said Seward, whose 2.2-million-euro ocean-front villas are still under construction. "But if you're someone who has available funds and are looking for a second home in the Algarve, you will do the deal regardless of Brexit."
For Gavin Stebbing, a 57-year-old British accountant, the plan to own a property in a sunny location surrounded by golf courses meant more than any Brexit concerns. So last year he bought a six-bedroom villa for 700,000 euros near Quinta do Lago.
"Brexit had no bearing on our decision whatsoever," Stebbing, who enjoys playing golf with his wife and four children, said in a phone interview from London. "It's something that we've planned for a long time."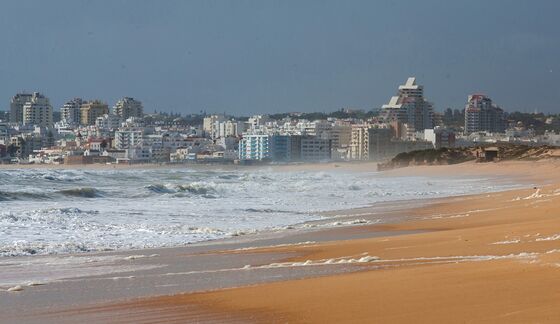 Still, while high-net worth individuals from the U.K. have remained very active in the Algarve, inquiries from British nationals for cheaper homes have practically evaporated, according to Fine & Country's Hawker.
"We've seen a growing divide between the very wealthy U.K. property buyers and the not-so-well-off, who have put their plans on hold," said Hawker, who will start selling Seward's villas on the coast between the villages of Ferragudo and Carvoeiro in coming days.
Not all those weighing a property investment are looking just for a holiday home. Many Britons are still trying to decide before the March 29 exit date on whether to move abroad or not, according to Jason Porter, director of Blevins Franks, a U.K.-based firm that provides tax and financial advice for expats.
"The big problem we have now is that we don't know what will happen," Porter said. "We're still getting an awful lot of inquiries but people are starting to perhaps sit on their hands at the moment to see what happens."
This year, 17.8 percent of wealthy U.K. individuals are planning to buy a property overseas compared to 18.1 percent in 2018, according to data compiled by broker Knight Frank. France, Spain, Switzerland, Italy and Portugal are among the top 10 targets for British property investors, it shows.
Meanwhile, some real estate agents at resorts near Quinta do Lago are hoping the end of the Brexit impasse will translate into a pick up in deals.
"There is a slight slowdown in terms of real estate deals with our British clients because of Brexit," said Ana Marques, owner of the Goldentree Real Estate agency in the Vale do Lobo resort. "We expect things to pick up once the Brexit saga ends."