Brexit Bulletin: What 'No Deal' Does to Your Mortgage
(Bloomberg) -- Today in Brexit: Carney adds to the dire warnings about what a no-deal Brexit could mean.
Bank of England Governor Mark Carney had a stark warning yesterday on what a no-deal Brexit could mean: a rare, once-in-a-generation supply-side shock that would push up inflation and warrant higher interest rates.
Carney said it was hard to find comparable situations in major advanced economies; he mentioned the oil shock of the 1970s, which sent wages spiraling as output shrank, Lucy Meakin and David Goodman report. The only recent examples of central banks lifting rates while the economy tanked come from emerging markets such as Turkey or Argentina.
He outlined a potential scenario where border delays, supply-chain disruption and costly shifts in production patterns weigh painfully on U.K. producers, pushing prices higher.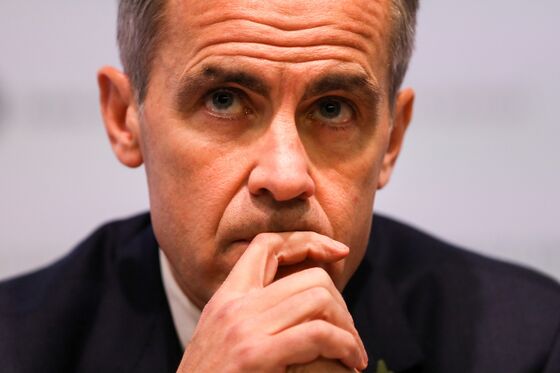 Economists aren't convinced he would go through with it. Investec's Philip Shaw said in "theory it's all well and good," but it would take a brave BOE to hike as the economy heads into recession.
The warning is just the latest on the dire economic consequences that failing to reach a deal could bring. Earlier this week, S&P said a no-deal Brexit would result in a recession for as long as five quarters in the U.K., with the economy contracting by 1.2 percent in 2019 and 1.5 percent in 2020. That would push unemployment from record-low levels to more than 7 percent by 2020 — a level not seen since the financial crisis.
In better news, the chances of getting a deal appear to be improving. The major outstanding issue is the Irish border, and there's some evidence of progress even there. A new proposal from the European side is on the table, the Financial Times reports, although it doesn't address Prime Minister Theresa May's main objection. Brexit Secretary Dominic Raab visits the border today.
What happened to all those bankers who were supposed to leave London? We found out. 
The sound of silence is the sound of a deal being done, says the Telegraph's Peter Foster. 
Donations made by pro-Brexit groups, including Arron Banks's Leave.EU, will be investigated by police. Anti-Brexit MPs called for Brexit to be paused. The government didn't comment on the investigation but said there's no evidence yet of Russian interference in the 2016 referendum.
Budget Relief | U.K. lawmakers approved the government's budget resolutions, after threats of a voting rebellion linked to Brexit receded.
Going Global | Britain is urging the EU to support a global carbon market for emissions from airlines, a move that would probably supersede the bloc's own trading program. Flights within the union are covered by the EU's carbon market, the world's biggest emissions trading system. It's not clear whether the U.K. will remain in that market after Brexit.
Cameron Back? | Former Prime Minister David Cameron has told friends he is considering coming back to politics, according to the Sun. He's hoping to be called back to the Cabinet by whoever succeeds Theresa May, the paper wrote. 
Calm at the LME | The London Metal Exchange's CEO expects good will to prevail in discussions with European regulators over whether European clients will still be able to access its clearinghouse in the event of a no-deal Brexit. "Regulators are being very helpful, and we know that the LME is not the target of European political action or regulatory action," Chamberlain said yesterday. "There isn't a European competitor, European clients want to keep trading here, and we want to keep servicing European clients."
What the City Needs | Traders briefly got excited yesterday after the Times said an early-stage deal had been agreed on access for the City of London to the bloc after Brexit. Officials on both sides knocked it down. The thing is, even if it were true, it wouldn't be enough to put the City out of its misery. The final details of the trading relationship won't be hashed out for years, and banks and their lawyers need details to plan.
On the Markets | The pound headed for its biggest rally in about 18 months as the Bank of England signaled a faster pace of interest-rate hikes, and investor hopes for a Brexit deal grew. The pound traded at $1.3005 early this morning.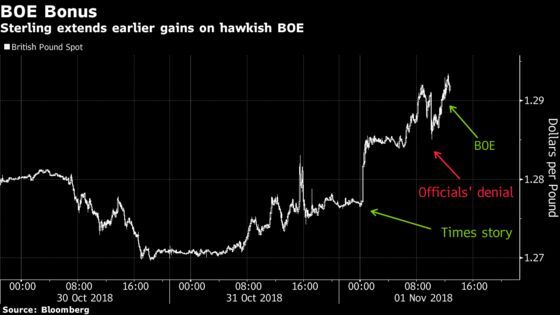 Want to keep up with Brexit?
You can follow us @Brexit on Twitter and join our Facebook group, Brexit Decoded.

Global leaders will gather in Singapore for the inaugural New Economy Forum Nov. 6 - 7. The event, set up by Michael Bloomberg, founder and majority owner of Bloomberg LP, aims to solve the world's biggest challenges through coalition building, analysis and expert perspectives. Join the community by watching livestreams of the panel discussions and follow Twitter, Facebook and LinkedIn for the latest information.