Brexit Bulletin: The End Is Near
(Bloomberg) -- Today in Brexit: The Brexit war cabinet meets as negotiators edge toward a possible compromise.
Are we there yet? The signals are mixed. Both sides warn there are obstacles in the way of a deal. But officials on both sides say there's been progress on the stickiest subject of all — the Irish border. Solving that conundrum unblocks the rest of the negotiation — and potentially defines what Brexit means for the whole of the U.K. as well. 
"It's too early to be putting champagne on ice," Prime Minister Theresa May's de facto deputy, David Lidington, said late on Wednesday in an ITV interview. "We've got a fair way to go still. There are still differences between our position and that of the European Commission, but we're working very hard to overcome them."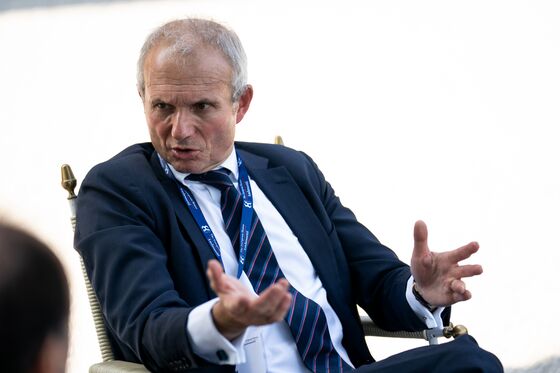 The European Union's chief negotiator, Michel Barnier, took a similar line: a deal is "within reach" but progress needs to be made ahead of a summit next Wednesday. Despite his positive tone, he listed all the obstacles still in the way.
The Telegraph reported late Wednesday that a deal on the Irish border has been reached in principle, and May will put it to her Brexit war cabinet on Thursday. The agreement would keep the whole U.K. in the EU's customs regime until a new trade accord is signed. That would leave the nation staying in the customs union May has vowed she will leave, potentially indefinitely.
The Irish issue isn't just important because it can derail the whole process. The proposed solutions are known as the "backstop" because it's meant to be a guarantee that whatever future trade deal the two sides eventually sign, the border between Northern Ireland and the Republic remains all but invisible. The trouble is that many on both sides suspect that whatever is agreed to as a backstop will end up coming into effect — potentially shaping future ties between the U.K. and the bloc indefinitely.
One U.K. official pushed back against the Telegraph report, saying nothing has been settled. Another said there is movement in talks toward a temporary customs setup that would keep the U.K. inside EU customs rules for a period after Brexit, Tim Ross reports. But May will need a guarantee that it will be limited in time. It's worth remembering that when the U.K. first proposed a U.K.-wide customs arrangement as a backstop in June, then-Brexit Secretary David Davis threatened to walk out until May wrote a theoretical end-date into the proposal. The offer was seen more as a fig leaf for Brexiteers than anything else. However, the EU is adamant that the backstop isn't worth anything if it comes with an end date.
Both sides are indicating that any progress is happening at the level of negotiators and so would still need political signoff.
The Brexiteers are smelling betrayal. So is the Democratic Unionist Party that props up May's government, because the proposal will probably include some checks on goods moving between Northern Ireland and mainland Britain. Former Foreign Secretary Boris Johnson slammed the proposal as turning the U.K. into a "permanent colony" of the EU.
Stay tuned as the Brexit war cabinet meets this afternoon.

Today's Must-Reads
British hopes of securing a favorable trade deal with the U.S. are nothing but a pipe dream, according to a senior U.K. official, speaking on condition of anonymity. That helps explain why May wants to keep close trading ties to the EU.
A slender majority of MPs is emerging who will back May's Brexit deal, the Financial Times' Sebastian Payne argues.
Former White House strategist Steve Bannon said European states should abandon the euro, as he lauded Hungarian Prime Minister Viktor Orban as "heroic." As for the U.K., he says his Brussels-based organization known as "The Movement" isn't "really doing anything," as it's decided that Brexit is going to happen.
Quickly Please | German Chancellor Angela Merkel and Dutch Prime Minister Mark Rutte urged negotiators to get on with it in time for a summit next week. "We're going on the principle that the faster we're done, the better," Merkel told reporters alongside Rutte late Wednesday in The Hague as the two met to prepare for the meeting in Brussels next week. "It's important that we can really log a result next week," the Dutch leader said. But Merkel, a veteran of EU negotiations, also warned that the devil is in the detail.
Warning Shot | The DUP threatened to vote against the government's budget if the party is sold out over Brexit. Then, in what was widely seen as a warning shot of the havoc it could wreak, the party abstained rather than vote with the government on Wednesday on an agriculture bill. 
Private Polling | Nicky Morgan, who chairs the House of Commons Treasury Committee, has called for input from regulators on the risks that hedge funds' use of private polling pose to the integrity of financial markets. The lucrative polling shown by a Bloomberg investigation into the 2016 Brexit vote prompted Morgan to say last month that the industry may require more regulation.
Pig in a Poke | Former Brexit Secretary David Davis said May is taking Britain toward an exit deal that won't pass Parliament because of a lack of guarantees on the U.K.'s future economic relationship with the bloc. It "means we accept their rules, we accept their guidelines, we take their laws: even with that they're not saying we're going to get access to the single market," Davis said on ITV's "Peston" program. "That is a 39 billion pig in a poke. I can't see Parliament voting that through, no matter which way you voted in the referendum." The U.K. will pay a divorce bill of about £39 billion ($51.6 billion) as part of the withdrawal agreement.

Honor-Bound | Lloyd's of London has promised to honor policies taken out by clients from the 27 remaining EU states even if they cease to be technically enforceable in the event of a no-deal Brexit, the FT reported, citing an interview with Lloyd's chairman Bruce Carnegie-Brown. "That question of certainty has arisen in conversations with brokers and clients. We will find a way," he said.

Dog's Breakfast | Ken Clarke characterized May's so-called Chequers blueprint for Brexit as a "dog's breakfast designed to keep Boris Johnson on side," and urged the government to extract compromises from the EU. Asked at a Brexit event at Clyde & Co. law firm how he would vote when the deal comes back to Parliament, he declined to be drawn, Suzi Ring reports.
On the Markets | Investors who want to be protected from any sharp moves in sterling are bidding up prices in the options market, as volatility is expected to increase in the run-up to a Brexit deal. The pound traded at $1.3221 early on Thursday, up 0.2 percent.
Want to keep up with Brexit?