Brexit Bulletin: Postponing Risk
(Bloomberg) -- Today in Brexit: A series of parliamentary votes are now less risky after Prime Minister Theresa May brokered a compromise, but some say she's just delaying the problem. 
The pound had its best day since October on Tuesday, but some in the market think nothing has changed.
The prime minister confirmed that she will allow Parliament to vote on whether  to delay Brexit or pursue a no-deal divorce if an agreement can't be reached in the next few weeks. This boosted the currency and means she looks set to avoid a rebellion from her own ministers when they vote on her strategy on Wednesday. But the compromise marks a significant climb-down for May. And for banks including Mizuho International, the plan is effectively just postponing the risk.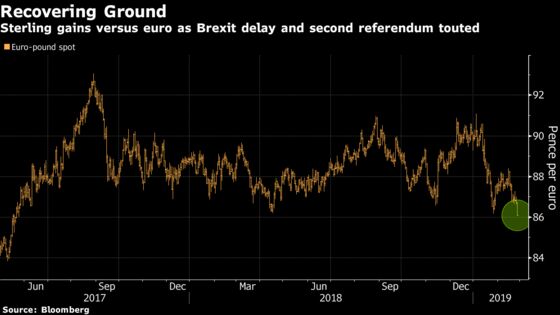 This means the upside for the pound could be capped around $1.33, according to the bank. Economists are also concerned about the impact of a Brexit delay, with Dutch bank ING Groep estimating that a two-to-three month prolongation would keep the no-deal risk for the economy alive.
It's a verdict shared by U.K. companies, which reacted to the developments in Parliament on Tuesday by labeling the delay a mixed blessing. While it is better than crashing out in just a few weeks without a deal, postponing Brexit risks more uncertainty and added costs as businesses have to adjust their contingency plans. As Confederation of British Industry Director-General Carolyn Fairbairn put it: "Compromise is the only way."
May has avoided rebellion from Conservative lawmakers who wanted to force her to rule out a no-deal Brexit, and who may have been willing to resign to do so. But she's not out of the woods yet. Amendments to Wednesday's motion would wrest control of the parliamentary timetable from her as the clock ticks down to reach a deal with the European Union. 
The EU is unlikely to offer concessions to the U.K. on its Brexit deal before Parliament votes on it, setting the stage for a last-minute rush to secure an agreement, writes Ian Wishart.
The Brexit votes on Wednesday have lost their edge now that May has brokered a compromise. But voting happens from 7 p.m. regardless: here's what to look for.
U.K. voters support a delay to Brexit provided it lasts no longer than three months, a Politico-Hanbury poll finds.
Not Another Scenario | A potential delay to Britain's exit from the EU is being labeled a mixed blessing by U.K. businesses. While extending the departure is better for companies than departing next month without a deal, it threatens further uncertainty and added costs for companies that have been preparing for a March 29 split. "I would rather crash out at the end of March than crash out at the end of May," said Ian Funnell, U.K. managing director of ABB Ltd., a Swiss manufacturer of industrial equipment.
Softening Opposition | Pro-Brexit Conservative lawmaker Jacob Rees-Mogg is no longer insisting that the Irish backstop plan for a post-Brexit border be dropped as a condition for supporting Theresa May's deal, he told the Financial Times. In the latest sign that opposition is thawing, he said he would consider other legal fixes to ensure the backstop didn't become permanent. 
Pay Up | German business leaders have a plan for coping with Brexit: give the Brits the bill. "Our company didn't cause Brexit, so why should we suffer for it?'' asked Axel Kiehne, sales manager at Dr. Kaiser Diamantwerkzeuge GmbH, a maker of machine tools for high-precision grinding, at a briefing in Lueneburg on how to prepare for Britain's looming departure.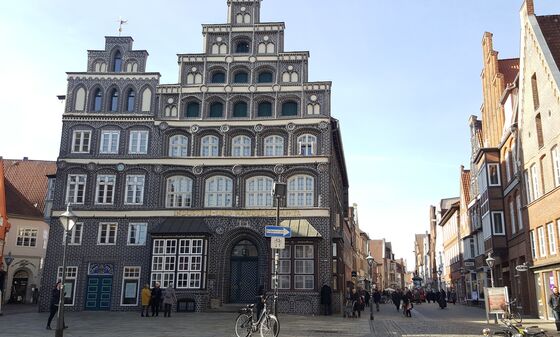 Blow for City | U.K. financial firms face fresh hurdles to accessing continental markets after Brexit, with EU policy makers agreeing to tighten the rules governing the City of London's access to the bloc once Britain leaves. The European Commission is set to gain greater powers in determining who has access to EU clients, fleshing out existing rules on allowing foreign firms to do business in the bloc. 
Liquidity Boost | The Bank of England has shored up its defenses against a crash exit from the EU: Governor Mark Carney told lawmakers on Tuesday that the BOE will offer extra liquidity provisions around the March exit date.
Bearish Investors | U.K. investors are the most bearish in Europe, a survey by UBS Wealth Management finds. Brexit is having a damaging impact on confidence, with over half of the survey respondents pointing to domestic politics as their top concern. The only market with similar levels of concern was Italy. "U.K. investors seem to have dramatically lowered expectations for 2019 in almost every sense,'' according to Nick Tucker, head of U.K. domestic at UBS Wealth.
Beers on Me | A trip to Europe is now cheaper than at any time since 2017, thanks to the rally in the pound. The rising odds of a delay in the U.K.'s exit from the EU are bringing some much-needed cheer for U.K. holidaymakers, who have seen their spending power eroded by the currency's tumble since the Brexit vote. "I'm going away in a couple of weeks so I'm absolutely delighted," said Phil McHugh, a trader at Currencies Direct Ltd.
Want to keep up with Brexit?