Brexit Bulletin: One More Roll of the Dice
(Bloomberg) -- Today in Brexit: As Theresa May's gambles get more dangerous, she risks inflaming the revolt against her.
Theresa May took another step in her Brexit brinkmanship, postponing until mid-March a final vote on her divorce deal. The move might just make those fighting to avoid a no-deal departure more determined to defeat her.
The prime minister's new deadline of March 12 — just 17 days before exit day — to bring a revised deal back to Parliament dismayed business leaders and enraged lawmakers who are trying to stop Britain crashing out into legal limbo. But as she rolls the dice one more time, the campaign to stop what some in her own Cabinet consider a dangerous strategy is gathering momentum. On Wednesday, lawmakers will have a chance to vote on a plan that could end up forcing May to postpone Brexit.
If the so-called Cooper-Letwin plan wins, it would be a humiliating defeat for May, but the pound will probably rally and businesses will breathe a sigh of relief (if only until the ensuing political crisis intensifies). With government ministers threatening to vote against the prime minister, Wednesday is shaping up to be the high noon moment that could redefine what Brexit looks like — and whether it happens at all.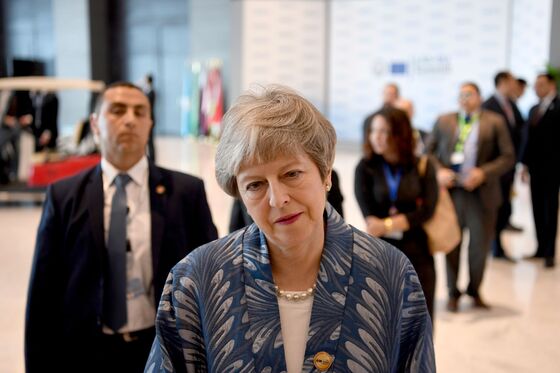 May is in Sharm El-Sheikh with other European Union leaders, but so far there's no sign she's getting anything out of them. The main news from the EU side to emerge from the summit is a European plot to threaten to keep the U.K. in the bloc until 2021 if the deal doesn't go through. Ian Wishart reports that EU officials are considering telling May that a short extension won't be enough, and if she needs a delay it should be for as long as 21 months. It looks like a tactic to scare pro-Brexit members of Parliament into backing May's accord at the last minute, and it's been floated to British officials.
There's an argument that lawmakers pushing for a delay, plus the latest EU tactic, could end up helping May get a deal through on March 12. The new deadline doesn't seem to have been chosen at random: It's the day before Parliament would be asked to decide , under the Cooper plan, whether to tumble out of the bloc into chaos or seek a delay. That will force pro-Brexit members of Parliament who have shunned May's deal so far to decide between an imperfect divorce now or the risk of purgatory forever.
Imperceptible Movement | Senior Labour politicians came out on Sunday to say the party is moving toward a second referendum. Shadow Chancellor John McDonnell said the same on Friday. But it's still not clear if Jeremy Corbyn is also moving in the same direction. Lawmakers will probably have the chance this week to vote on an amendment that would call for May's deal to go through, but only if she promises to put it to voters, and give them the option of staying in the EU if they reject it.
Clinging On | Though some in May's Cabinet want her to go within months, the prime minister hinted on her way to Egypt that she might want to stay on beyond Brexit. She told reporters that there's still "a domestic agenda I want to get on and deliver," and also acknowledged that the divorce will only be half-finished when Britain leaves in March.
Hardship Fund | The government has drawn up plans for a hardship fund to help citizens left impoverished by a no-deal Brexit, the Times reports.
Carts and Horses | European Council President Donald Tusk told May that he won't call another EU summit to sign off on changes to the divorce deal until they're sure the U.K. Parliament will approve them. 
Better Extend | Austrian Chancellor Sebastian Kurz said if a deal hasn't passed Parliament by early March it would be better to extend the deadline. Kurz has long argued that a no-deal exit is the worst outcome for both sides and must be avoided.
British Steel Hit | British Steel Ltd. may face a financial hit of 100 million pounds ($130 million) or more in three weeks' time if May doesn't secure a Brexit deal, two people familiar with the matter said. The costs relate to the steelmaker's carbon pollution bill for 2018, after the EU decided to freeze the allocation of permits to U.K. companies.
On the Markets | Pound investors are the most bullish on sterling's prospects in five weeks as speculation grows that Parliament will move to take over Brexit, delaying the divorce and heading off a chaotic exit. Sterling edged higher early on Monday to $1.3074.
Just When It Couldn't Get Worse | Theresa May was never going to have an easy time at the summit in Sharm El-Sheikh, but she might not have bargained for the humiliation of being challenged to a pool game by Italian Prime Minister Giuseppe Conte. Conte posted a video on his Facebook page of the pair playing — including May being taught by her aide how to hold the cue. 
Want to keep up with Brexit?