Brexit Bulletin: Lose Local, Gain on Brexit?
(Bloomberg) -- Today in Brexit: Britain's two big parties sustained losses in local elections, which could be good news for May's hopes of a deal with Labour.
Theresa May's hopes of reaching a Brexit agreement with Labour hinge on how opposition leader Jeremy Corbyn calculates what's in his party's best interest. Results of Thursday's local elections might just bolster her chances.
Early results indicate that U.K. voters turned their backs on both the main political parties amid frustration over Brexit, Rob Hutton reports. The Conservatives are getting a beating – as expected – but Labour is also suffering, with smaller parties such as the anti-Brexit Liberal Democrats picking up local councils instead. 
As pollster Matt Singh wrote on Thursday, opposition parties heading for national office typically win by big margins of 10 to 20 percentage points in local elections, as Labour did in the mid-1990s and the Conservatives did in the late 2000s. Oppositions heading for defeat at the next general election usually win the estimated popular vote narrowly. That would suggest Corbyn isn't well served by a general election now, with his party divided over Brexit and the party's message still deliberately ambiguous.
"Voters don't vote for divided parties," John Curtice, professor of politics at the University of Strathclyde, told the BBC.
So where does that leave cross-party talks? One more big meeting is planned for next week, as May continues to drop hints that she's ready to compromise on staying in some kind of customs union with the bloc. Corbyn may even decide the time has come to take a clearer stance on Brexit in order to move on and start talking about something else.
As the final results pour in, Corbyn will have more evidence on which to base his potentially career-changing calculation.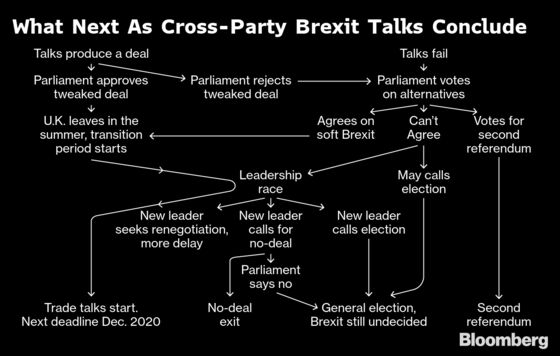 Brexit Keeps BOE on Hold | Governor Mark Carney said the Bank of England would raise interest rates by more than investors are predicting if the U.K. successfully manages a smooth exit from the EU. But he also warned the economy is far from clear of Brexit-related risks. "The process is not yet concluded, and until it's concluded there will be a chance of no-deal," Carney said.
Services Still Reeling | U.K. companies selling services, which make up about 80 percent of Britain's economic output, have been "thrown under the bus" by Theresa May's Brexit approach, Adam Minns, executive director of the Commercial Broadcasters Association, told an Institute for Government event on Thursday. 
Williamson Fights Back | Gavin Williamson, who was fired as defence secretary for leaking secret discussions, is expected to exact "revenge," the Times reports, and may be planning  a personal statement in the House of Commons next week. "Gavin knows where the bodies are buried – because he buried them himself," the Times quotes an anonymous ally of Williamson as saying.
Through Thick and Thin | EU leaders plan to make 10 commitments on the EU's post-Brexit future at a meeting in Sibiu, Romania, next week, including one to "stay united, through thick and thin" and "speak with one voice." Are they bracing for the next phase in the Brexit saga?
Replicate, and Stay Close | The U.K. government proposes creating a new carbon market after Brexit, and linking it to the EU's system. It's seeking the views of industry in a consultations until July 12.
On the Markets | The pound weakened on Thursday as investors were skeptical that the Bank of England will end up raising rates any time soon. It was unchanged at $1.3038 early on Friday.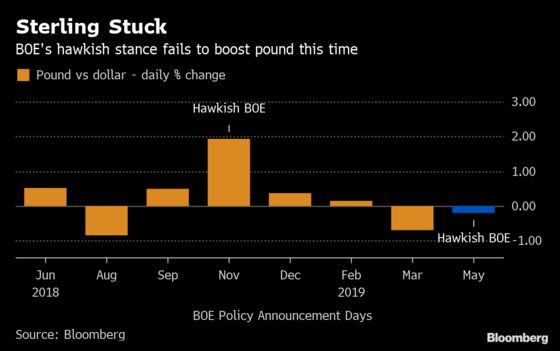 Want to keep up with Brexit?