Brexit Bulletin: Extend and Pretend
(Bloomberg) -- Today in Brexit: Will Brexit actually happen on March 29?
The idea of delaying Brexit has been discussed by U.K. and European Union officials, the Telegraph reports, in the latest sign that the divorce might not actually happen on time.
Bloomberg reported last month that British officials in private were floating the idea of an extension. Prime Minister Theresa May herself has become less adamant in public when asked if Britain will leave on time. A minister broke ranks yesterday to acknowledge that an extension was possible, and Brexit Secretary Stephen Barclay responded with carefully chosen words: "It is this government's firm intention not to extend Article 50."
The Telegraph reports that officials have put out "feelers" about an extension, testing the waters. May's office denied the report.
Why does it matter anyway? An extension is a way to avoid the chaotic scenario that businesses dread of leaving without a deal. It also makes it more likely that a second referendum could take place or that Brexit could be reversed or thwarted in all but name. It's also politically toxic for May — but possibly the least bad of the options she'll be faced with if her deal is voted down in Parliament.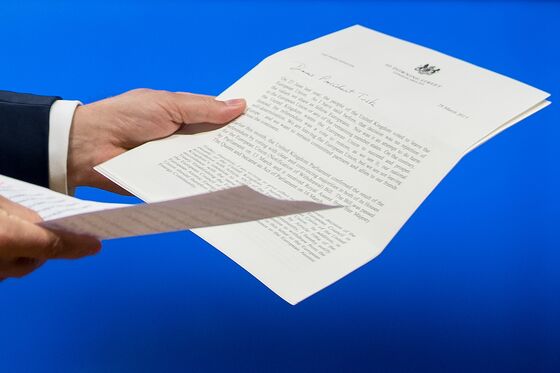 And it might not be up to May to decide. The fragility of her position was underlined again yesterday when it emerged that she's considering accepting an amendment drafted by pro-EU lawmakers that aims to prevent a no-deal exit. The amendment to the Finance Bill is intended to limit the Treasury's tax-raising powers in the event of no-deal and give more power to Parliament, where a majority want to prevent the cliff-edge split.
Meanwhile, May continues to pin her hopes on squeezing a last-minute concession out of Brussels that will be enough to convince Parliament to back her deal. She spent the holidays calling European leaders and had what her team described as constructive discussions. Perhaps the most interesting development has been talks between the Irish and German governments. German Foreign Minister Heiko Maas is in Dublin today. May is trying to get the EU to agree to a target start date for the future trading relationship, to limit the life of the much-loathed Irish backstop. And she's hoping it will materialize in time for the Parliament vote.
Barclay said there would be "more to say" on that in the coming days.
Nicky Morgan, a pro-EU Tory who chairs the Treasury Committee in Parliament, writes in the Financial Times that a Norway-style deal could be the only one that commands a majority in the House of Commons — and she would back it. It would allow Britain to be a "rule-shaper" on financial services, she argues.
May's various opponents are all "smugly confident" that once her deal is voted down their own alternative vision of Brexit will prevail, former Tory leader William Hague writes in the Telegraph.
Aston Martin is activating its contingency plans, which include transporting parts by air freight to avoid congestion in the event of a no-deal Brexit.
$1 Trillion Move | Banks, insurers and money managers are planning to move about 800 billion pounds ($1 trillion) of assets from the U.K. to the rest of Europe as Brexit uncertainty takes its toll, according to a survey conducted by EY.
Another Committee | May is setting up a new Cabinet committee to coordinate no-deal planning. One of its roles will be to "engage" with the EU on no-deal preparations, May's spokesman said.
Setting a Date | May's Brexit deal will be voted on in Parliament next week — around Jan. 15. The exact date will be set tomorrow during a business motion in the House of Commons. Barclay said it would definitely go ahead next week.
Business for a Second Vote | London First, a business group with leaders from Starbucks, Virgin Group, Deloitte and Legal & General on its board, has withdrawn support for May's Brexit deal and is prepared to advocate for a second referendum, the Times reports.
Still Got It | Britain jumped up the list of the best places for expats to work, even as the government moves to tighten restrictions on foreigners coming to the country. In an HSBC report, the U.K. came third, behind Germany and Bahrain, up six places from a previous survey.
Coming Up | May chairs a Cabinet meeting at 9:30 a.m. She's then due to meet MPs who want her to rule out a messy exit. The House of Commons debates the Finance Bill, including the amendment that aims to prevent a no-deal scenario. On Thursday, May meets Japanese Prime Minister Shinzo Abe, with Brexit on the agenda, and the full debate on the Brexit deal is due to start.
Show of Force or Farce? | It was meant to be a display of how the country is preparing for customs delays and bottlenecks in the event of a no-deal Brexit. Instead an exercise to put a disused Kent airfield to use holding trucks was widely ridiculed. Not enough truckers showed up. Those who did drove back and forth along a highway. The government said the exercise had been useful.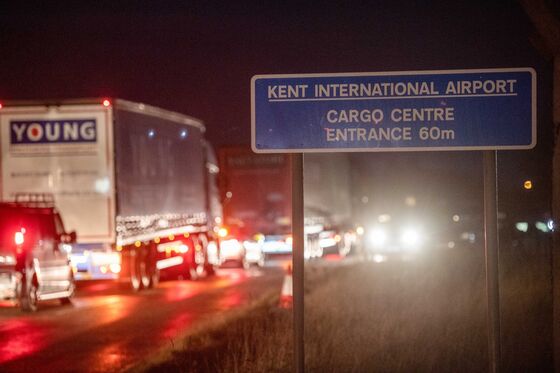 Want to keep up with Brexit?