Brexit Bulletin: Economic Gloom
(Bloomberg) -- Today in Brexit: The U.K. economy is suffering through a bleak winter, and even a last-minute deal may not be enough to rescue it.
As the clock ticks down to the March 29 deadline, growing fears over a no-deal Brexit are colliding with a wider slowdown in the global economy, putting U.K. growth in peril.
Tuesday saw the latest in a slew of downbeat data since the start of 2019, with a report from IHS Markit showing that Britain's dominant services industry ground to a standstill last month. Markit said the reading, which follows other January surveys showing ebbing consumer confidence and weakness in the property market, suggests the U.K. economy is at risk of stagnating. And Bloomberg's Brexit Barometer, a gauge of the U.K.'s economic well being, has spent a week below zero, after falling to its lowest level since the immediate aftermath of the 2016 referendum.
Markit's report also showed that, with Prime Minister Theresa May's government yet to get her exit plan through Parliament, firms are becoming unwilling to start new projects. They report that customers are spending more cautiously. Companies' concerns over a no-accord divorce from the European Union have grown after lawmakers effectively ripped up May's proposed agreement last month, and many are already deploying contingency plans against such an outcome.
May has set herself a deadline of Feb. 13 to negotiate a reshaped deal that could pass in the Commons, but her chances of reaching a compromise are looking increasingly bleak. Just yesterday, the PM risked enraging members of her Conservative Party when she told an audience in Belfast that she wants to keep the most contentious part of her Brexit plan, avoiding a policed border with Ireland. Her stance is seemingly at odds with her instructions from Parliament in a Jan. 29 vote.
The search for a deal will intensify on Wednesday as May begins the second day of her visit to Northern Ireland and her Irish counterpart, Leo Varadkar, travels to Brussels to hold his own Brexit talks. If May can't find an acceptable solution, members of Parliament will propose their own Plan B options on Feb. 14, including one that's expected to prepare the ground to delay the U.K.'s exit.
Still, it increasingly looks that no Brexit outcome will salvage growth. Almost all economists are convinced that a chaotic exit would severely damage the U.K., while even a delay would come at a cost. More pertinently, there is also a growing sense that, as Bloomberg reported last week, some of the harm already done may prove irreversible — no matter how Brexit turns out.
The bleak outlook was highlighted Wednesday by the influential National Institute of Economic and Social Research. The research institute predicted that U.K. growth will be sluggish for the next few years, even if May pulls off the improbable and the nation leaves on schedule with an exit deal in place. A more chaotic outcome could see investment tumble, pushing growth even lower, the institute said.
Bloomberg's Joe Mayes visited Sunderland to see how the city was digesting Nissan's decision to abandon plans to expand production in the U.K. 
The impact of Brexit on London's financial sector came into stark relief on Tuesday as a judge approved plans by a UBS unit to shift some of its U.K. business, involving assets valued at more than 32 billion euros ($36.4 billion), to Germany.
Jeremy Corbyn's criticism of the Irish backstop has left the Labour Party's policy toward the controversial issue in flux, according to the New Statesman.
More Meetings | Theresa May is planning to meet European Commission President Jean-Claude Juncker and EU Council President Donald Tusk in Brussels on Thursday, as she continues to seek changes to the divorce deal. At a cabinet meeting Tuesday, the prime minister warned ministers that talks won't be easy, but that the Irish border "backstop" issue must be resolved. Some are hopeful a technological solution can still be found, with the Sun reporting that the U.K. is studying a secret plan that will be ready for a road test next month.
Desire for a Deal | Irish Prime Minister Varadkar, speaking in Dublin on Tuesday, said he noted a "growing desire" among EU leaders to keep the U.K. from crashing out of the bloc. Still, there are also signs that the EU is continuing to step up contingency planning: The Guardian reports that Ireland and the European Commission are in talks about an emergency fund to offset the effects a no-deal outcome would have on Irish food exports to Britain.
Delay Talk | U.K. cabinet ministers have secretly discussed plans to delay Brexit by eight weeks, the Telegraph reports, without saying where it got the information. Ministers want the EU to agree on a two-month "grace period" after March 29 if May's deal passes through Parliament, to allow extra time for necessary legislation, the newspaper said.
Capital Gains | London notched up 16.2 billion pounds ($21 billion) of investment in commercial real estate last year, beating out Manhattan for the top spot globally despite mounting anxiety about Brexit.
Tariff Plan | The U.K. government is considering making a change to its trade bill that would allow tariffs on imports to be cut to zero, the Huffington Post reported on Tuesday. A government spokesman said that "no decision" had been made and that ministers were "currently considering all options for how to balance our interests effectively in the event of a no deal."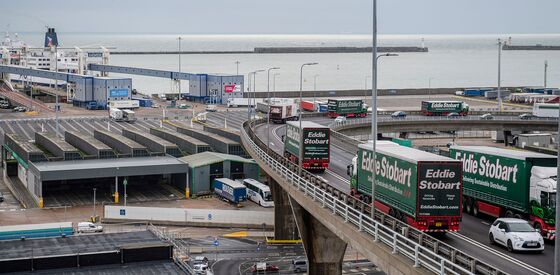 Nowhere to Go | The U.K. plans to corral thousands of trucks in southeast England if there are customs delays after Brexit, even testing them with a dress rehearsal at a disused airfield last month. But, as Thomas Penny reports, drivers aren't impressed, because it turns out something pretty basic has been overlooked. As they wait for their chance to cross the sea to France, where will they go when nature calls?
Want to keep up with Brexit?