Brexit Bulletin: Charm Offensive
(Bloomberg) -- Today in Brexit: Theresa May prepares for (yet more) talks in Brussels after pleading with her own party to unite behind her.
Prime Minister Theresa May's government is kicking off a last-ditch European diplomatic push to save her deal, but a desperate appeal for unity among Conservative Party lawmakers may fall on deaf ears.
The prime minister plans to meet with European Commission President Jean-Claude Juncker and speak to the leader of every European Union member state in the days ahead. Foreign Secretary Jeremy Hunt will hit the road too, while Brexit Secretary Steve Barclay will continue his talks with EU Brexit chief negotiator Michel Barnier.
Still, May knows that gaining headway in Europe will depend largely on whether she can show a united front at home. On Saturday she wrote to every one of her party's lawmakers asking them to sacrifice "personal preferences" to unite in the "higher service of the national interest." May urged all sides to make compromises, or risk a situation in which Brexit doesn't happen — a state of affairs that the prime minister says would undermine British democracy.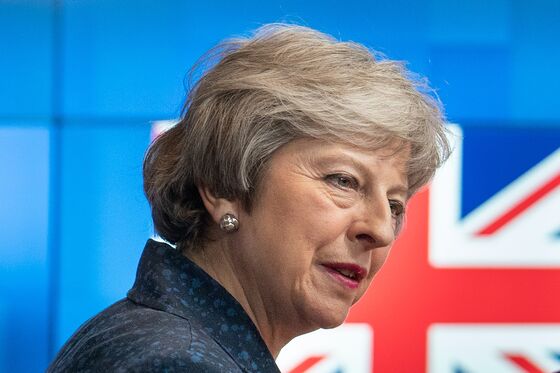 Her allies believe she has just nine days before members of Parliament step in to take over the process in a vote scheduled for Feb. 27. A key moment could come on Tuesday, when influential Attorney General Geoffrey Cox is expected to set out how the contentious Irish backstop plan could be changed.
But even as she calls for unity there are signs that May's plan could harden the divide. Culture Secretary Jeremy Wright told the BBC on Sunday that are a number of different ways to secure changes, with the objective of removing a permanent backstop being more important than the mechanism. That risks further angering Conservative euroskeptics, who want May to demand a re-write of the Brexit accord to strip out the backstop entirely.
There are other signals that May's appeal could fall short. The Sunday Times reported that Steve Baker, deputy chairman of the euroskeptic European Research Group, told his colleagues May's negotiations with Brussels were a "complete waste of time." In more signs of disquiet, the Telegraph reports today that senior moderate Tories are facing deselection votes at their annual meetings.
Meanwhile, May also faces a rebellion from Cabinet ministers who want to prevent no-deal. Work and Pensions Secretary Amber Rudd, Business Secretary Greg Clark and Justice Secretary David Gauke, among others, will tell May that Parliament is likely to order her to seek an extension to talks to avoid no deal, and that she might as well take the decision herself, according to two people familiar with their plans.
Either way, time is running short. The consequences of the impasse in Parliament were further highlighted this weekend when British regional airline flybmi ceased operation, partly blaming uncertainty surrounding Brexit. Meanwhile, in a BBC interview on Sunday, Katherine Bennett, senior vice president of Airbus SE, said a no-deal Brexit would be "catastrophic" and reiterated the plane maker's warning that it would have to consider future investment in such a scenario.
Customs Extension | In case you missed it this weekend, Bloomberg's Tim Ross reports that pro-Brexit members of Theresa May's Cabinet would be willing to keep Britain tied to the EU's customs regime for as long as five years in an effort to break the deadlock in divorce talks.
Labour Defections? | Social media fizzed with speculation on Sunday night that a number of anti-Brexit Labour MPs could be about to leave the party. Nothing was confirmed but discussion of a new centrist effort has been getting louder in recent days. Paul Brand of ITV News ran through the scenarios at the weekend. 
Business Plans | Porsche's U.K. unit told customers they might have to pay as much as 10 percent more than expected if the country leaves without a deal and their imported car arrives after March 29. Meanwhile, Bacardi is stockpiling its drinks as the exit date approaches, according to the Press Association.
Australia's Aim | Australia will seek to finalize a free-trade deal with the U.K. by the end of the year in the event of a no-deal Brexit, Trade Minister Simon Birmingham said in an interview with the Financial Times.
Another March | The campaign to give the U.K. people a vote on May's deal is planning to hold another demonstration in London on March 23 — the weekend before the nation is due to leave the EU.
London Housing | Asking prices for London homes rose this month as owners tested the water in a Brexit-hit market. Still, buyers are taking a wait-and-see approach as the uncertainty mounts.
On the Markets | The pound is showing increasing signs of strain as the chance of a no deal Brexit increases, John Ainger and Anooja Debnath report. The currency was little changed on Monday, after dropping for three straight weeks.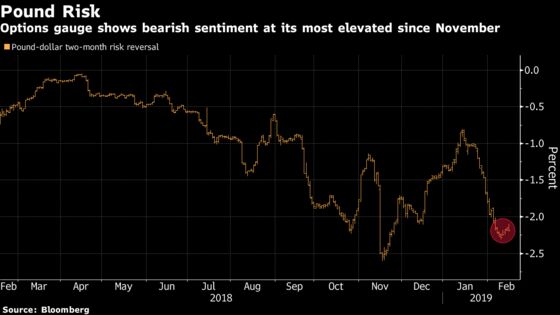 Want to keep up with Brexit?