Brexit Bulletin: Battles Beyond Europe
(Bloomberg) -- Today in Brexit: The U.S. delivers a stark reminder that a divorce deal will just be the beginning of the road for the U.K.
The U.K. and the European Union may be inching closer to an agreement, but Brexit Britain has problems beyond the bloc even after it signs the exit deal.
The U.S. is threatening to keep the U.K. from a 46-nation public procurement pact, Bloomberg's Bryce Baschuk reported on Tuesday – a move that would deny British companies access to a $1.7 trillion marketplace after leaving the EU. The U.K. would need to apply to rejoin the Government Procurement Agreement, which governs global appropriation rules, since it currently belongs via the EU.
Officials say U.S. negotiators have told their British counterparts that their application is outdated and needs to be revised. If blocked from the pact, U.K. companies such as Rolls-Royce Holdings and Serco Group would lose access to members' procurement processes, including the $837 billion U.S. market. The bad news was compounded later Tuesday as more than a dozen countries said they opposed the EU's proposal to modify its World Trade Organization commitments to account for Britain's departure from the bloc.
The stern talk elsewhere was in contrast to more hopeful mood music in Brussels where, as Bloomberg's Ian Wishart reports, British and EU officials are trying to thrash out a compromise that could see the U.K. remain temporarily in the EU's customs regime.
With just a week before a crucial summit of EU leaders that could determine the outcome of Brexit, officials from each side are wrangling over a potential solution to the biggest sticking point: how to keep the Irish border free of customs infrastructure.
In Parliament on Tuesday, Brexit Secretary Dominic Raab refused to be drawn on when more details on the plan will emerge, although U.K. and EU diplomats said that intense negotiating over the next five days could result in a provisional agreement on the issue on Monday. The pound climbed yesterday after the Wall Street Journal reported that a deal could be imminent.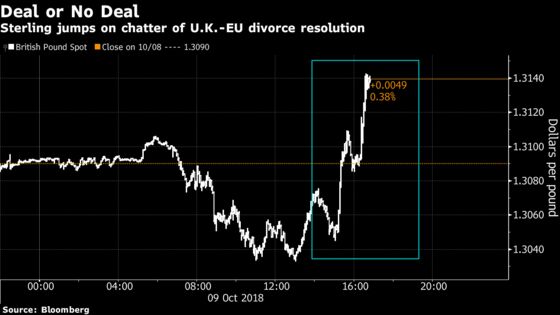 However, while there is positive momentum, many issues remain unresolved, officials say. Irish Foreign Minister Simon Coveney also damped optimism over a quick agreement slightly on Tuesday, saying that while a no-deal exit was "very unlikely," November was a more likely month than October for a final accord.
Prime Minister Theresa May is planning to bind her cabinet to a further compromise on her Brexit plan next week, when she'll outline a proposal that includes keeping the U.K. in an effective customs union but with a clear process of steps to the exit, according to The Times. The newspaper also reports that a group of 30 to 40 Labour MPs are prepared to defy their leader, Jeremy Corbyn, and endorse an accord similar to May's current plan to prevent a no-deal Brexit. 
The Daily Telegraph explores how an Irish backstop – a clause in the divorce pact that aims to guarantee no new border controls emerge – can benefit Northern Ireland, but only if the Democratic Unionist Party plays ball.
German industry has warned that Europe risks sinking into chaos and trade will collapse if U.K. and EU leaders fail to resolve their differences on the future of Britain's relationship with the bloc. A disorderly exit would be a "massive crisis," said Joachim Lang, managing director of Germany's powerful BDI industrial lobby.
BOE Warning | The Bank of England has told the EU to get its act together on Brexit, ratcheting up the pressure to help stave off the threat a no-deal Brexit poses to trillions of pounds of derivative contracts and millions of insurance policies.
Out in Force | The U.K.'s Brexiteers were on maneuvers Tuesday, with former Brexit Secretary David Davis publishing a letter to fellow Tory lawmakers warning them that unless the party drops May's plan and goes for a Canada-style free-trade deal, voters will punish them at the next election. Davis's letter came as former Brexit minister Steve Baker took to the airwaves to warn the prime minister that she could face at least 40 rebels, including himself, when her agreement comes back from Brussels for a meaningful vote in Parliament. 
Scottish Play | First Minister Nicola Sturgeon rallied her troops for another shot at independence on Tuesday, telling her fellow nationalists that breaking away from the U.K. is the only way to avoid the "unfolding calamity" of Brexit. Scots voted to remain in the EU in the June 2016 referendum.
DUP Compromise? | Perhaps the most conciliatory voice yesterday came from an unlikely source, as DUP leader Arlene Foster – whose party ensures Theresa May can theoretically command a majority in Westminster – signaled she was willing to accept a compromise on the Irish border question in the Brexit divorce agreement. Later, DUP Brexit spokesman Sammy Wilson was back on the offensive, warning May not to try to "bounce" his party into accepting a new proposal for the Irish backstop.
Carbon Tax | Britain should introduce an economy-wide carbon tax if it's forced to leave Europe's Emissions Trading System after Brexit, according to an influential Conservative research group.
CLO Certainty | Managers in the arcane world of securitization regulation could be about to get some clarity from regulators about how skin-in-the-game rules will work after Brexit, Bloomberg's Sarah Husband reports.
The Name's Furt. Frank Furt | Frankfurt has made its latest pitch to lure exiles from Brexit Britain to Germany's financial capital, publishing a video in which a cartoon character named Frank Furt attempts to persuade a woman in a bar of the city's charms.

Coming Up | Theresa May faces questions in Parliament and Trade Secretary Liam Fox is in Berlin, while EU Brexit negotiator Michel Barnier will brief EU commissioners in Brussels.
Want to keep up with Brexit?