Brexit Bulletin: Barnier's Brexit Plan
(Bloomberg) -- Today in Brexit: With Brexit talks entering their last few days, only now are EU member states seriously pushing their own interests. 
Six days before European Union leaders meet to sign off the Brexit withdrawal deal, murmurings of discontent from the bloc's remaining 27 governments are breaking into the open. France is leading a group of countries demanding the EU make clear that Britain will only get the ambitious trade deal it wants if it allows fishing vessels access to its waters and signs up to conditions that would prevent the U.K. from undercutting European business.
The Netherlands and Denmark are among those that have put forward similar views, while Spain wants assurances on Gibraltar (again). Germany warns that Prime Minister Theresa May can't be seen to have achieved her "Chequers plan" for future ties "through the backdoor." In truth, it's very unlikely that any of this will complicate things very much.
It's testament to the wily political strategy of Michel Barnier, the EU's chief negotiator, that we've got this far in the process and only now are the member states staking their claims. Barnier's team at the European Commission kept negotiations on the political declaration of the U.K.-EU future relationship closely guarded, only revealing an outline alongside the draft Brexit divorce treaty last week. It's due to be finalized within the next few days, and it's possible that a series of separate statements will touch upon issues such as aviation and financial services.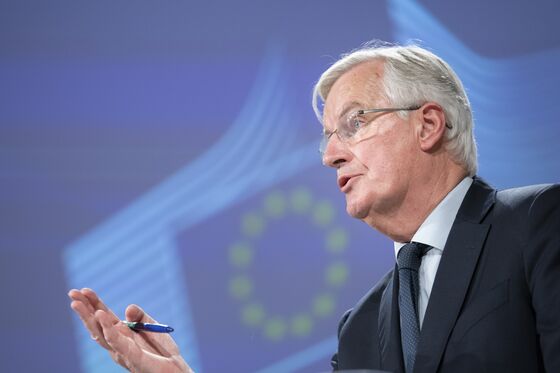 There's hardly any time for deep discussion of these issues between member states. There's no time to bargain with each other. No time to work out who might win and who loses. That was Barnier's intention all along.
The EU's governments realize that, too. In private meetings of ambassadors in Brussels on Sunday and of European affairs ministers yesterday the one issue that united them was their gratitude to Barnier. Somehow, he's managed to make the EU's disparate group of 27 nations look more united than May's Cabinet.
One major voice has yet to speak up on May's Brexit deal: Bank of England Governor Mark Carney. Today he's at the Treasury Select Committee. Carney's views have previously enraged pro-Leave politicians.
Another referendum? What could possibly go wrong? Bloomberg's Rodney Jefferson has the answers.
Still counting those letters? Kitty Donaldson reports on the not-so cunning plan to oust Theresa May. (Spoiler: It's not going terribly well).
Muscles Flexed | Democratic Unionist Party lawmakers last night refused to vote for May's Finance Bill, flexing their muscles ahead of her crunch Brexit vote. The 10 DUP MPs in Westminster abstained and voted against amendments to the Treasury's bill, ignoring a deal with May to back her minority Conservative government. The DUP has been highly critical of the deal because it imposes a different set of rules on Northern Ireland. Meanwhile, we report from the DUP's Northern Irish heartland, which it considers as "quintessentially British as London."
Rock Star | Spanish Foreign Minister Josep Borrell demanded more clarity on how future talks on Gibraltar would be conducted. "The negotiation about Gibraltar is different and distinct from the negotiation with the U.K. because Gibraltar for us is not part of the U.K. – it is a colonial territory," he said in Brussels. He said he didn't think it would be "politically acceptable" for the EU to agree to a text that Spain hadn't given its blessing to.
Like For Like | The U.K. government said it would compare the economic impact of its Brexit deal with remaining in the European Union, marking a win for pro-EU lawmakers pushing for a second referendum, Jessica Shankleman reports. Treasury Minister Robert Jenrick said an official assessment of its Brexit plan would compare both to leaving without a deal and the "status quo" of remaining in the bloc. The Treasury has agreed to publish its analysis on the costs of its deal before lawmakers vote on the deal, but had wanted to compare its plans only to a no-deal scenario. 
Hot Air | Britain's carbon pollution would probably spike if it crashes out of the EU without a deal next year, undermining May's promise of a green Brexit, according to Bloomberg New Energy Finance. U.K. coal power burning would rise in the first quarter of 2019, the coldest part of the year, and the U.K. would emit an additional 6 million tons of carbon dioxide in a no-deal Brexit scenario, BNEF forecast.
On the Markets | Currency strategists see a wild 10 percent swing in the pound as the Brexit saga approaches its endgame, but options traders aren't betting on undue volatility. Most investors expect a moderate gain or loss in the currency once the terms of the U.K.'s divorce with the EU are finalized. The majority of recent options trades have a strike price between $1.25 and $1.35, a move of just 2 percent to 5 percent from current levels.
Want to keep up with Brexit?