Brexit Bulletin: A Window of Opportunity
(Bloomberg) -- Today in Brexit: With the budget out of the way, a window of opportunity opens for negotiations.
Chancellor of the Exchequer Philip Hammond has delivered a budget his party can get behind. And that's a relief for Europe's Brexit negotiators.
Talks have been all but on hold. European officials have been watching to see if Prime Minister Theresa May would get the budget through Parliament or face some kind of Brexit proxy-war rebellion. The mood among Conservative lawmakers last night was united and upbeat, Kitty Donaldson reports, after Hammond delivered a series of handouts that looked a lot like election-year vote-buying.
Hammond delivered "the largest discretionary fiscal loosening" since at least 2010, according to the Office for Budget Responsibility. That included tax cuts for pretty much everyone who pays income tax, and handouts for things like schools and roads. Better borrowing forecasts allowed him to loosen the purse strings.
The chancellor hopes to use that windfall to get both the budget and — with any luck — the final Brexit deal through Parliament, Rob Hutton and Jessica Shankleman write. He's also probably hoping to retain the loyalty of lawmakers thinking about toppling May. And if there is another election because something goes wrong with Brexit, Hammond has given lawmakers something to thank her for. (At a closed-door meeting with Tories yesterday evening, Hammond dodged the question when asked if this was a pre-election Budget.)
Most of the new money went to the National Health Service, ticking a series of political boxes. Voters value the NHS more than any other government service, and more money means shorter waiting lists and fewer canceled operations. It should also take the sting out of some of the opposition Labour Party attacks on what has always been a vulnerable area for the Tories.
But it also delivers on the promise — implied during the 2016 Brexit referendum — that there would be more money for the service after Britain leaves the EU. From 2022, there will indeed be an extra £350 million ($448 million) a week — and more — for the NHS, a number plastered along the side of the pro-Brexit campaign bus. Brexit hardliners should be pleased.
So Hammond has opened a path for May to restart talks and maybe even get the deal done this side of Christmas. But she'll have to come up with some concessions: tying the U.K. to the EU for longer than her party wants, agreeing to the possibility that Northern Ireland will be treated differently to Britain, or quite possibly both.
As one Conservative lawmaker said last night: "Everyone is in a happy place, for now. Give it 24 hours!"
Double Deal Dividend | Hammond promised that if May gets a Brexit deal, the government will have two dividends to spend: the reserves he's putting away in case of no deal, and a boost from the end of uncertainty. He also increased spending on no-deal preparations by £500 million.
What Brexit Did to Growth | The U.K. economy is stuck in the slow lane. While the Office for Budget Responsibility upgraded its forecasts for 2019 and 2020, growth through 2023 still falls short of pre-referendum levels. The prediction for 2018 was cut to just 1.3 percent, a pace that would be the slowest since 2009.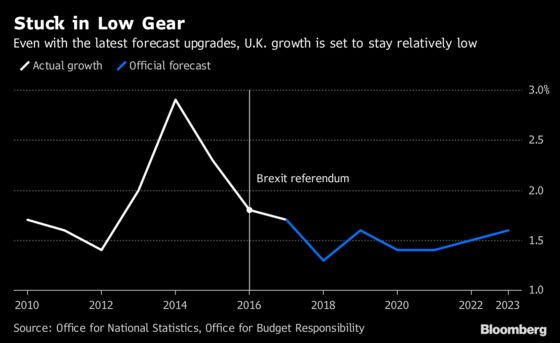 No-Deal Warning | While the government says its spending plans will go ahead no matter what happens with Brexit talks, the OBR struck a more cautious note. "This forecast assumes a relatively smooth exit from the EU next year," it wrote. "A disorderly one could have severe short-term implications for the economy, the exchange rate, asset prices and the public finances. The scale would be very hard to predict, given the lack of precedent."
On the Markets | Traders took a similar view, reserving judgment on the pound and gilts until there's more clarity. The pound was little changed early this morning at $1.2803.
Ready or Not | The Netherlands is set to become the venue for big chunks of trading in Europe's stock and bond markets after March, but it may not have the technology and expertise to supervise them.
Keeping RBS | The government said it won't get rid of its Royal Bank of Scotland stake until long after Brexit. It set a new deadline of 2023-24, well into the next Parliament and beyond the end of the transition period. Even that depends on market conditions.
No-Deal Gases | U.K. greenhouse-gas polluters may see their costs for emitting carbon cut in half in the event of a no-deal Brexit. That's the implication of Treasury proposals to charge a tax of £16 a ton on carbon dioxide emissions if the U.K. falls out of the EU Emissions Trading System.
Jumping the Queue | U.S. and Canadian travelers will be able to join a faster queue at passport control, as the U.K. looks to strengthen ties with allies beyond Europe. Australians, Japanese and New Zealand citizens will also be able to use electronic passport gates at airports, which have previously been reserved for European citizens.
Want to keep up with Brexit?
Global leaders will gather in Singapore for the inaugural New Economy Forum Nov. 6 and 7. The event, set up by Michael Bloomberg, founder and majority owner of Bloomberg LP, aims to solve the world's biggest challenges through coalition building, analysis and expert perspectives. Join the community by watching livestreams of the panel discussions and follow Twitter, Facebook and LinkedIn for the latest information.