Brexit Bulletin: A Narrow Escape
(Bloomberg) -- Today in Brexit: Theresa May escaped defeat in Parliament. With the atmosphere increasingly febrile, she also wants to send lawmakers off on holiday early.
Theresa May's perilous position was made dramatically clear last night as an amendment to a key bit of Brexit legislation squeaked through Parliament by just three votes. Trying to keep one wing of her party happy, the prime minister made concessions that angered another wing. It's increasingly unclear if she will have the votes in Parliament to get a final Brexit deal approved.
Now the government, well known for using delaying tactics to survive another day, has come up with a new idea: Send lawmakers away on holiday early, Tim Ross reports. Lawmakers can't orchestrate confidence votes in the prime minister if they aren't in Parliament.
The proposal up for a vote today prompted ridicule from the opposition. Shadow Chancellor John McDonnell said it showed May is "fearful of Tory MPs hanging around plotting against her" and said he would vote against it. "It shows what chaos this government is in."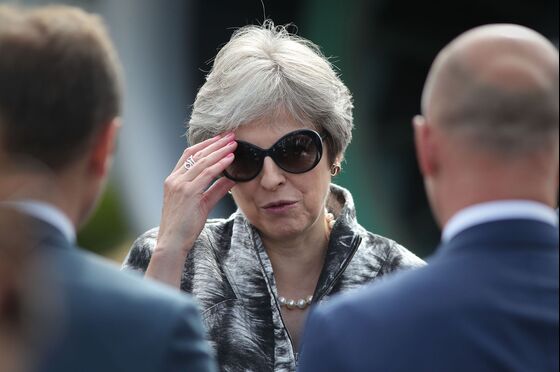 It's not clear what May hopes will be solved over the summer. The vote last night matters because it shows how much she will struggle to get Parliamentary approval later this year for the final Brexit deal with Brussels. May scraped through last night with the help of three votes from the opposition Labour party.
Pro-EU and pro-Brexit hardliners both dislike her divorce proposal. The tally of ministers who have now resigned in protest has reached 10. That's before she even starts negotiating with the EU, which is bound to ask for more concessions. Remember that the divorce deal comes with a 40 billion euro bill attached to it, which will also sharpen opposition.
The knife-edge votes are "a prelude to the big — and real — battle coming in the winter when the PM comes back with her deal and we know what the choice is. And whether she can continue," Tory lawmaker George Freeman, who used to head May's policy board, said on Instagram. "Brexit is coming home to roost. And it won't be easy or pleasant."
Another vote on Tuesday will pitch the two sides of the Tory party against each other, when the Trade Bill comes to parliament for a vote. Pro-EU rebels, enraged by May's concessions to the Brexit hardliners, have added a new amendment with cross-party support, the Sun reports.  
Vote Leave Fined | The Electoral Commission announced early on Tuesday that Vote Leave broke electoral law, overspending during the 2016 referendum campaign. The case has been referred to the Metropolitan Police. Vote Leave has denied wrongdoing.
Frankfurt vs the Rest | Frankfurt's efforts to attract bankers escaping Brexit are in danger of losing momentum. Paris appears to be catching up, and several companies have chosen to move staff to a number of other locations within the bloc. "A clear warning signal is that most banks are spreading jobs widely across Europe to keep all relocation options open," said Hubertus Vaeth, managing director of Frankfurt Main Finance.
Brexit and the Carbon Trade | Carbon traders are again preparing for the worst after the U.K. government suggested that it might withdraw from the world's biggest emissions-trading market. A British withdrawal threatens to flood the carbon market with some of the 1.6 billion euros ($1.9 billion) of allowances held by British polluters. That would erode a six-year effort by EU leaders to cut away a surplus that had depressed prices.
On the Markets | Pound volatility remains subdued even as political drama dominates. But with May's future on the line and the August Bank of England meeting coming closer, that could be set to change, according to BNY Mellon.