Brexit Bulletin: A Curious Silence
(Bloomberg) -- Today in Brexit: More votes in the House of Commons but there's not much action anywhere else. 
Prime Minister Theresa May and European Commission President Jean-Claude Juncker said last week that talks between the two sets of negotiators would resume, as May battles to get the deal struck in November through the British Parliament. But, aside from Brexit Secretary Stephen Barclay's brief trip to Brussels and the European Parliament in Strasbourg, France, not much has happened. There's been the odd exchange of emails and phone calls between the two sides, but certainly no grand-scale revival of negotiations of the sort we saw throughout 2018.
As Donald Tusk, the president of the European Council, tweeted last night, "no news is not always good news." He said the European Union is "still waiting for concrete, realistic proposals from London on how to break" the Brexit impasse. Reminder: the U.K. is scheduled to depart the EU six weeks from tomorrow.
So what's going on? EU officials are wary of giving the U.K. too much too soon for fear that Parliament will simply put it in the bank and ask for more. So they warn against expecting anything for two weeks, maybe longer. They will continue to reject what May keeps asking for — either a time-limit on the much-hated "backstop" for preventing a hard Irish border, or allowing the U.K. to leave it unilaterally, but are looking at ways to make it more palatable. This could include a legally binding commitment to try to bring in a free-trade deal to supersede it as rapidly as possible, a pledge to review it at regular intervals, a pledge to flesh out technological alternatives as they emerge and to confirm the backstop is temporary. None of this is new, but negotiators are hoping it will be enough to get the deal over the line.
If not, expect pressure to mount from the EU side for the U.K. to request a Brexit delay so that the two negotiating teams can genuinely go back to the drawing board, with, the Europeans will hope, changed red lines on the British side, possibly including a policy to remain in the bloc's customs union. These questions may not be answered even before the scheduled EU summit on March 21-22. And history shows that these high-stakes meeting often don't end well for the governments fighting the EU.
Meanwhile, back in London, members of Parliament get to vote on Brexit again today. Pro-Brexit politicians met with Chief Whip Julian Smith on Wednesday evening to insist that leaving the bloc without an agreement must remain an option. They're concerned that Thursday's vote requires them to endorse taking a no-deal Brexit off the table. Robert Hutton has a guide to what's happening in the House of Commons tonight.
Brussels is a city of eavesdroppers, gossips and spies. No wonder Brexit negotiator Olly Robbins got in trouble.
Dutch Prime Minister Mark Rutte said Britain is a "diminished" country and a no-deal Brexit could be "devastating," in an interview with the Financial Times and a group of other European newspapers.
The solution to the impasse in the Brexit negotiations is "disarmingly simple," says the Spectator.
Expert Advice | More than 40 former British ambassadors have called on Theresa May to extend the U.K.'s stay in the EU, The Times reports. They said May's current policy is not completing Brexit but laying a path to years of negotiation and renegotiation with EU. The group includes former ambassadors to the U.S., France and Russia.
Catastrophic Move | Ford Motor Co. warned of dire consequences for U.K. factories employing more than 7,000 people if British politicians fail to agree on a plan to avert a no-deal departure. While cautioning that it has yet to reach any decision, the U.S. auto giant said a hard Brexit would be "catastrophic" for the U.K. auto industry and its own production facilities. "We have long urged the U.K. government and Parliament to work together to avoid the country leaving the EU on a no-deal, hard-Brexit basis," the carmaker said. "We will take whatever action is necessary to preserve the competitiveness of our European business."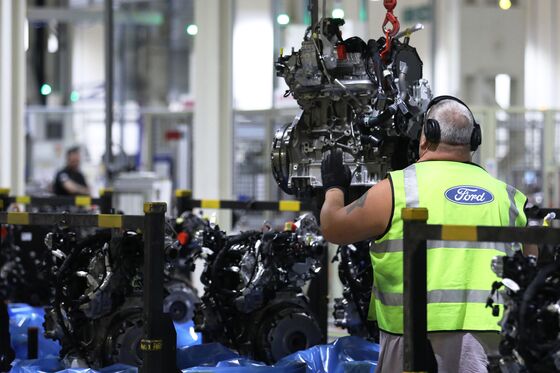 Not a Fan | A no-deal Brexit would be "extremely harmful" to British industry, eroding investment years into the future, the president of the U.K.'s biggest business lobby said. "We are absolutely crystal clear that we think it's unnecessary, it's extremely harmful and it's totally avoidable," John Allan, president of the Confederation of British Industry, said late Wednesday in an interview on ITV's "Peston" show. 
Property Gloom | The U.K. housing market stayed in the doldrums at the start of the year as Brexit caused both buyers and sellers to hesitate on deals. The Royal Institution of Chartered Surveyors said its headline price index fell for a fourth month in January, reaching the lowest since 2012. The survey suggests both demand and supply for homes is subdued. "Resolution of the Brexit negotiations is widely seen as critical to encouraging potential buyers back into the market," said Simon Rubinsohn, chief economist at RICS.
Carrying On | Cyprus's government says it will ensure that British citizens living on the island will enjoy the rights included in the Brexit agreement, even in the event of a no-deal. Cypriot Foreign Minister Nicos Christodoulides sent a letter to his British counterpart Jeremy Hunt on Wednesday, saying that the cooperation between two countries after the U.K. leaves the EU will continue.
Switched On | Power companies face escalating costs in the U.K. under a new carbon tax to be introduced if Britain leaves the EU next month without a Brexit agreement, according to Lawrence Slade, chief executive of Energy UK. If lawmakers reject her deal prior to the official March 29 exit date, May's government will introduce a new U.K. carbon emissions tax of 16 pounds ($20.60) per metric ton of carbon emitted for power generators and high emitting factories, starting April 1.
Swiss Limits | British citizens hoping to work in Switzerland will face immigration quotas, just like people from countries such as Canada or Japan, in the event of a cliff-edge Brexit. The government in Bern has allotted 3,500 permits for U.K. citizens for 2019, if the U.K. leaves the EU without a deal at the end of March, according to a statement published on Wednesday.
Want to keep up with Brexit?