Brexit Border Friction Means Rejected Shipments is New Normal
(Bloomberg) -- Freight hauliers are rejecting more cargoes due to cross the U.K. border because of post-Brexit customs friction, and that's likely to become the new normal.
That's the conclusion of the logistics platform Transporeon, which publishes high-frequency data about shipments in the region. It found the rejection rate for moving goods from France to the U.K,. rose to 38% above its third-quarter average.
While down from its peak, the reading is settling into a what seems to be a permanently higher level. Truckers say they're frustrated about the amount of paperwork it takes to move goods across the border, and the complexity means more cargoes are not economical to move.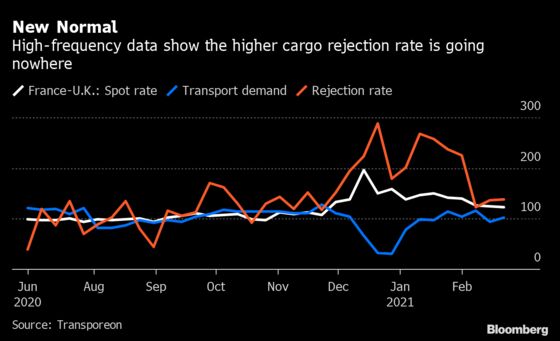 "We may observe a normalization at higher levels now," said Stephan Sieber, the company's chief executive officer.
Cross-Channel freight volumes remained significantly lower, with about half as many goods traveling from the U.K. to the EU last week compared to the same period in 2020.