Brexit 'Teething Problems' Push U.K. to Postpone Border Checks
(Bloomberg) -- The U.K. government is drawing up a plan to postpone new border checks on food imports from the European Union to reduce the risk of disruption to supplies this summer.
Prime Minister Boris Johnson's officials are reviewing the timetable for the introduction of the paperwork rules, which are due to come into force from April 1, as he seeks to address what he called "teething problems" with Brexit.
Britain has so far taken a light-touch approach to imports from the EU since it left the bloc's market at the start of the year, waiving customs requirements and allowing goods to enter freely. In contrast, the EU imposed full border controls on trade going the other way on Jan. 1, causing delays to shipments and a decline in freight volumes.
The U.K.'s lenient approach is due to expire within weeks. As things stand, food products will require extra forms to enter the U.K. from the EU from April. And then, from July 1, stricter border inspections are due to begin alongside the need for additional documents for all EU imports.
Johnson's Brexit affairs minister David Frost has now ordered a review of the timetable and the impact of new rules on business, the government said in a statement, adding: "No decisions have been made."
The move comes amid souring relations between the two sides since the U.K. completed its divorce from the EU's trade regime. A spat over vaccine supplies fed into a row over barriers to trade between the British mainland and Northern Ireland.
The U.K. now is facing legal action from the EU after Johnson's government unilaterally announced it will not introduce export documents on food crossing the Irish Sea to Northern Ireland from April. 1, as previously agreed. The requirements will now start from Oct. 1.
"Insofar as there have been teething problems -- and there's no question that there have been -- we're fixing those now with some temporary, technical things that we're doing to smooth flow which I think are very, very sensible," Johnson said at a press conference in London. "I'm sure that they can all be ironed out, sorted out, insofar as the EU objects to that, with goodwill and with imagination, and that's what we intend to bring to it."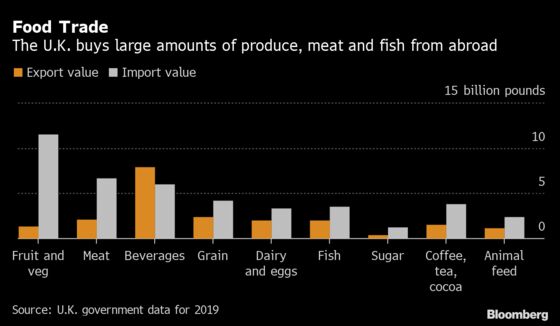 Extra trade burdens are due to coincide with the re-opening of Britain's hospitality sector as lockdown restrictions ease, when demand for food and drink is expected to surge. About 80% of imported food in Britain's supermarkets comes from the EU, according to the British Retail Consortium.
"We will continue to work with business groups and the haulage industry to help them adapt to the new checks and new arrangements that are going to be put in place," said Jamie Davies, Johnson's spokesman, on a call with reporters.
Another problem for Johnson's government is that much of the physical infrastructure to conduct the post-Brexit import checks is not ready.
Many ports won't have built their facilities in time for handling inspections of food products for the July 1 deadline, said Richard Ballantyne, chief executive officer of the British Ports Association, in a phone interview.