Brevan Howard Asia Fund Said to Post Best Returns in 5 Years
(Bloomberg) -- The Brevan Howard Asia Fund bucked a difficult October for macro funds, and is posting its best return in five years, according to a person with knowledge of the matter.
The $877 million fund gained almost 1.3 percent last month, to be up 6.2 percent for the year, said the person, who spoke on the condition they not be identified. That's the 14-year-old fund's best return for the 10-month period since 2013.
The fund gained in a month when stocks globally fell the most in six years and investors dumped other risky assets such as crude oil, plunging hedge funds into widespread losses. The HFRI Fund-Weighted Composite Index retreated 3.2 percent and Brevan Howard's AH Master Fund was among those that posted losses.
Read more: Asia-based macro funds suffer amid global stock rout
It was a mixed month for Brevan Howard's funds. The AH Master Fund lost 1.3 percent in October, though is still up 30 percent this year. The firm's $3.3 billion master fund advanced 1.9 percent through Oct. 26, taking its year-to-date return to 12 percent.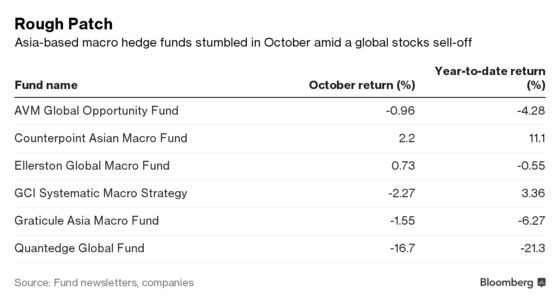 Macro funds like the Brevan Howard Asia Fund, led by Kaspar Ernst, seek to profit from broad economic trends by trading in stock, bond, currency and commodity markets. Investors pulled $3.9 billion from macro funds last month after adding more cash to them in the nine months through September than any other hedge-fund strategy, according to eVestment.
Brevan Howard Asia Fund's assets have halved from $1.7 billion in February after long-time trader Minal Bathwal started raising money for a separate fund focusing on trends in Asia. He has an annualized 17.5 percent return since joining the firm in 2008 without a losing year, people with knowledge of the matter said in April.
Several years after closing half-a-dozen funds to focus on the firm's flagship fund, Brevan Howard co-founder Alan Howard is now hoping to draw fresh capital by offering separate products run by his star traders. He's also creating single-strategy pools to trade markets including interest rates, volatility and Greek stocks.
Years of outflows has seen Brevan Howard's assets plunging to about $6.8 billion at the end of September, down from more than $40 billion in 2013, according to an investor letter.