Brazilian Pulp Producer Rides Growing Wave of Green Investing
(Bloomberg) -- Klabin SA just scored its cheapest bond sale in the pulp and paper producer's recent history as environmentally-friendly investments take off in Brazil, a country more famous for burning down the Amazon than sustainable forestry.
The 10-year $500 million sustainability-linked bond with a 3.2% coupon was 10 times oversubscribed, according to Marcos Maciel Marques da Costa, head of investor relations at the Sao Paulo-based company.
Strong investor appetite during a pandemic underscores the potential for ESG lending -- including green goals such as reducing carbon emissions and water use -- in Latin America. Such investments offer a new source of capital to companies that have traditionally relied upon development banks, private equity and public share offerings.
"As incredible as it seems, we still see in 2021 some people who think environmental practices are just a cost and not a path to economic success," said da Costa, explaining that a conventional bond sale would have cost Klabin an extra $2 million a year in interest payments.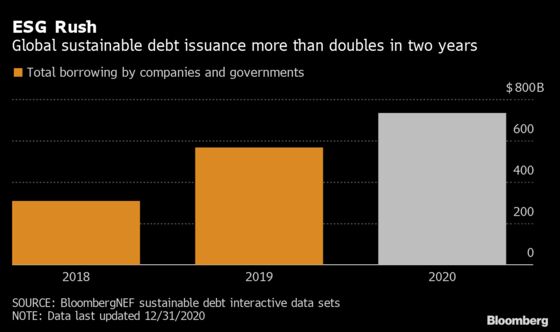 The 3.2% coupon is the lowest ever for a dollar-denominated bond sold by Klabin, according to data compiled by Bloomberg. But while sustainable lending is estimated to have hit a global record in 2020, Latin America is still playing catch up.
"You have a situation in which supply is limited, but demand is growing at a much faster pace," said Chris Gilfond, head of capital markets in Latin America for Citigroup Inc., which comes second in a Bloomberg ranking of bond underwriters for the region, based on 2020 volume.
It also hasn't come without its fair share of warnings such as the potential for greenwashing. "The question for some is 'how do we actually know that they're having an impact,"' said Gilfond, referring to whether the proceeds are spent on projects that fulfill environmental, social and governance goals.
For Manuela Kayath, the market is accelerating in time for her third trash-to-gas development. Rio de Janeiro-based MDC, where Kayath is chief executive officer, is targeting a sustainable finance deal in Brazilian reais to fund its next project to capture and purify gas escaping from landfills.
MDC is already looking at local lenders including Banco Santander SA, XP Inc. and Banco BTG Pactual SA to sell notes known locally as debentures, probably in 2022.
Sustainable Debt Fund Growth Beats Equities After Virus Boost
For the time being, there's also plenty of interest in deals that don't subscribe to ESG goals. For example, Pampa Sul, a coal power plant subsidiary of Engie SA, sold 922 million reais ($169 million) in bonds last year that were four times oversubscribed.
The solid economic prospects for the project won out in a year when issuance was low, said Marta Veloso, the head of infrastructure and project finance in Brazil for Fitch Ratings, which gave the Pampa bonds a AAA rating.
Although the industry lacks clear guidance on how to score companies and projects, it will become easier to market investment products when ESG ratings become more established, Kayath said.
"We are seeing all the large banks creating business divisions or specialized ESG teams for financing or allocation of resources," Kayath said in an interview. "This shift was unexpectedly fast."