Brazil to Woo Tesla During Bolsonaro's Trip to U.S. in March
(Bloomberg) -- Brazil President Jair Bolsonaro will travel to the U.S. next month for the fourth time in a year with a pro-business agenda that includes trying to convince electric vehicle manufacturer Tesla Inc. to set up a plant in the South American country.
Bolsonaro's visit will be on March 7-10 and his plans include attending a business seminar in Miami, according to the presidency's press office. On Twitter, Bolsonaro said his "extensive agenda" consists of the possibility of Tesla building a factory in Brazil, without providing further details. The Palo Alto, California-based company didn't immediately reply a request for comment.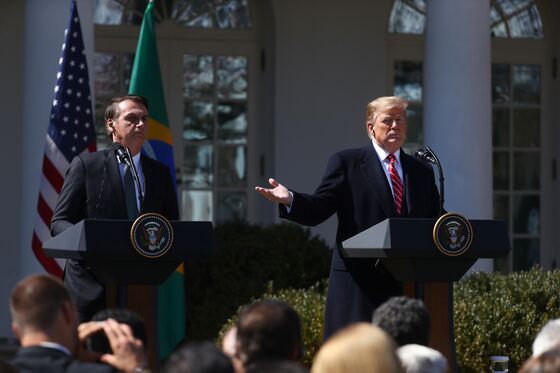 Since taking office last year, Bolsonaro has revamped his nation's foreign policy by pursuing closer ties with the U.S. and its allies while eschewing multilateralism. In a major win for the South American president ahead of his trip, the U.S. on Friday lifted a ban on fresh-beef imports from Brazil that had been in place since 2017. Other victories for Bolsonaro came when the administration of President Donald Trump announced plans to promote Brazil's bid to join the Organisation for Economic Co-operation and Development and refrained from placing tariffs on Brazil's steel.
An encounter between Trump and Bolsonaro during his visit is almost a given, White House economic adviser Larry Kudlow told reporters in Washington on Friday.
"I would almost certainly expect him to be meeting with President Trump, they are friends, looking forward to the bilateral," he said.
Nicknamed by some as "Trump of the Tropics," Bolsonaro has made his admiration of his U.S. counterpart no secret. The Brazilian president has repeatedly forecast Trump will win re-election this year and has even gone as far as broadcasting himself watching the U.S. head of state's speeches.
While in the U.S., Bolsonaro will also participate in the event "Brazil-U.S. Business Relations in Florida" organized by export agency Apex. More than 300 business executives are expected to attend the seminar, which will feature presentations on Brazil's economic outlook, business climate and efforts to privatize billions of dollars in state-controlled assets.
The Brazilian presidency's press office wasn't immediately able to confirm whether or not Bolsonaro will meet Trump during the March trip.