Trump Singles Out Brazil for Treatment of American Companies
(Bloomberg) -- President Donald Trump is taking notice of Brazil.
While celebrating a new trade deal with Canada and Mexico as an "historic" win that vindicated his strategy of threatening tariffs on trade partners, Trump said Brazil is treating U.S. companies unfairly.
"They charge us whatever they want," Trump said Monday in a Rose Garden ceremony, while responding to a question about high tariffs in India. He said U.S. companies describe Latin America's largest economy as one of the toughest in the world.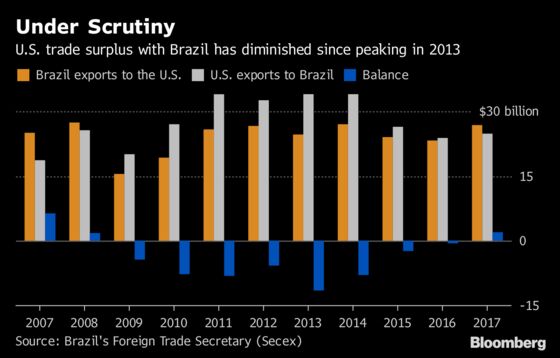 His predecessors and trade representatives have never questioned Brazil about unfair trade conditions, the president said. "We don't call them and say 'hey, you're treating our companies unfairly'."
Brazil did get some relief on steel quotas
Brazil, which is largely dependent on exports of commodities such as soybeans and iron ore, ships mostly processed goods including jets, steel and pulp to the U.S., which is also the largest buyer of its coffee. In return, the South American country is a destination for U.S. fuel, chemicals and medicines.
Trade between the two countries totaled about $52 billion last year, data from Brazil's foreign trade secretary show. Brazil had a small trade deficit with the U.S. in the first eight months of 2018.