Brazil's Tim Participacoes Slumps as Nextel Bid in Doubt
(Bloomberg) -- Shares of Tim Participacoes SA fell the most in six months as turmoil at parent company Telecom Italia SpA jeopardized expectations for a potential bid for Nextel Telecomunicacoes Ltda.
Tim Participacoes SA fell after its controller announced it removed Amos Genish as CEO after a clash with investor Elliott Management. The news added uncertainty to Tim Participacoes's potential bid for Nextel Telecomunicacoes Ltda and the stock is leading Ibovespa losses.
The board of Telecom Italia has already approved a non-binding offer for Nextel.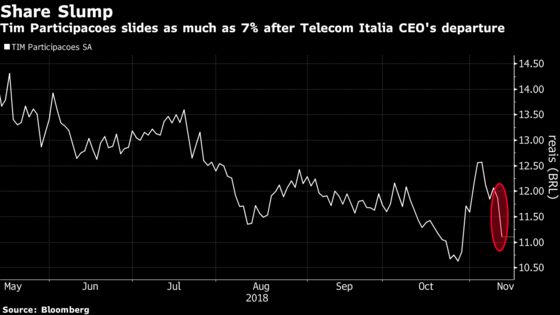 "Amos' departure reflects war between shareholders at a moment in which the market is undergoing a transformation and strategic alignment is mandatory," said Adeodato Volpi Netto, head of capital markets at Eleven Financial Research. "Amid the rupture and conflict and alongside fierce competition, the rising uncertainty could keep the shares under pressure."
Brazil's regulator recently set new-spectrum cap rules, which analysts see as paving the way for consolidation in the industry. "Nextel, in particular, could be a potential acquisition target for listed telcos with the approval of the new spectrum-cap regulation," Itau BBA analysts led by Susana Salaru wrote in a Nov. 1 report.