Brazil Super Minister Shoulders Weight of Bolsonaro Economy
(Bloomberg) -- Paulo Guedes once told a gathering of finance-industry elite that the Federal Reserve was a "serial bubble-maker" and Alan Greenspan was "jeopardizing Western civilization." Thinking back on the event years later, he called his comments about the former Fed chairman, who was sitting in the audience at the time, "incisive and objective."
That's the kind of unwavering self-confidence Guedes will bring with him when he takes over Jan. 1 as a "Super Minister" and the top financial adviser to Brazil President-elect Jair Bolsonaro, who won a decisive victory on Sunday. But it's also the trait critics say borders on arrogance, which could be an obstacle to implementing an economic agenda that's riding mostly on his shoulders.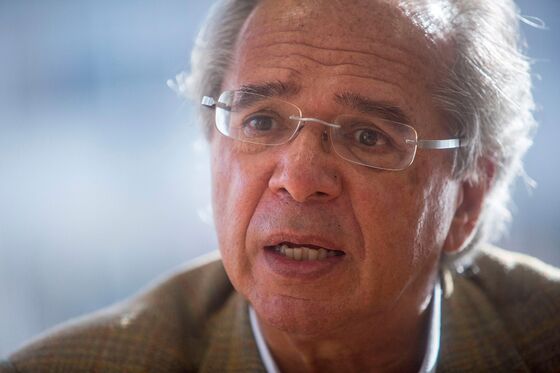 Guedes's impatience with others' points of view was on display Sunday after the victory in his first face-off with reporters. Pressed repeatedly by an Argentine journalist about plans for a regional trade bloc, he lost his composure, then was unapologetic:
"You see there's a style that matches that of the president, because we speak the truth," Guedes said. "We're not worried about pleasing you."
Two days later he apologized, saying he'd been exhausted after a long night and was overwhelmed by reporters.
More long nights lie ahead. Brazil's nascent recovery from the worst recession in history hinges on his success, and the nation's benchmark index has climbed 13 percent since mid-September -- close to its all-time high -- on optimism Bolsonaro would win, giving Guedes a chance to implement business-friendly policies. They include dozens of privatizations, a massive reform of the pension system and a revamp for the nation's byzantine tax code.
Bolsonaro, who's admitted he has only a "superficial understanding" of economics, has said he's placing full control over the nation's finances in the hands of Guedes, who was trained at the University of Chicago and founded both a private equity firm and a think tank for liberal economic theories. Yet for all that success, he's had zero experience in implementing public policy.
"One thing's for certain: Guedes is the guarantor of Bolsonaro's alleged conversion to liberalism, and if for any reason he leaves the government, there will be an earthquake in markets," said Ricardo Lacerda, chief executive officer of Sao Paulo-based boutique investment bank BR Partners.
How big an earthquake? One top market analyst said Brazil's benchmark stock index could tank as much as 40 percent, reaching levels not seen since the 2016 impeachment of Brazil's former president, Dilma Rousseff. While that's probably overstating things, it's the kind of hyperbole that's characterized Brazil's election rhetoric ever since polls made it clear in recent months that Bolsonaro was heading to victory.
Guedes, a founder of Rio de Janeiro-based private equity firm Bozano Investimentos, has campaigned for free and efficient markets in Latin America for decades, establishing the Instituto Millenium think tank to promote liberal economic theories espousing less government interference. It's an ideology that runs counter to beliefs Bolsonaro championed until only recently, and still held by some of his closest allies.
Lacerda, who jointly managed a proprietary fund with Guedes for two years, said he's "a brilliant economist, very well prepared, and I consider his liberal views about what must be done for Brazil to be correct."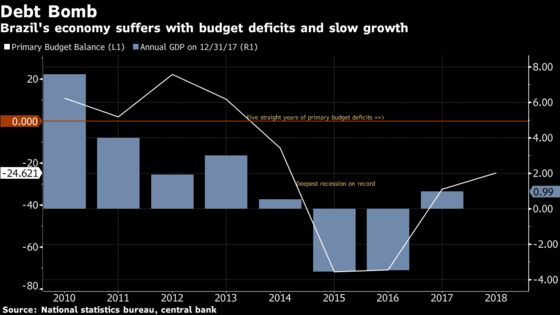 Guedes wasn't always a free-market champion. He considered John Maynard Keynes his hero when he left Brazil for Chicago. There, he studied under economic thinkers redefining the field, like Milton Friedman. He converted to liberalism and returned to Brazil to proselytize. Eager students, including one who went on to become a central bank governor, Arminio Fraga, soaked it up.
"Paulo had just come from Chicago and was super sharp, and his views were very complementary to those we had at the time, which had more Keynesian inspiration," Fraga said in an interview. "Paulo stimulated me and other students to invest in techniques I've always thought were essential tools, even for young researchers like myself at the time."
Guedes took a job teaching at the University of Chile at the same time General Augusto Pinochet's Chicago Boys were testing their liberal prescriptions on the Chilean economy. One day, upon returning to his hotel, Guedes found intelligence agents had scoured his room. He said that gave him a scare, then an earthquake gave his wife another, so they returned to Brazil. He spent the following decades quietly building his fortune, first with the founding of Banco Pactual SA and then helping to create the asset-management firm JGP Gestao de Recursos Ltda.
Now 69, his professorial side still shows. He draws charts as he speaks, citing economists Joseph Schumpeter and Robert Lucas, or Friedman's comparison of monetary theory to a Japanese garden. His mind hopscotches from ancient Greek democracy to the French revolution, plucking examples to bolster long-winded arguments.
As recently as a year ago, his name rarely appeared anywhere other than atop his weekly newspaper column. In March 2017, he used that platform to predict an outsider revolution in the 2018 elections, and soon began searching for a candidate to mentor. He settled on Bolsonaro, and now Guedes's name is on the lips of tens of millions of Brazilians suffering from double-digit unemployment in the wake of the recession. Brazil's $2 trillion economy, which historically has rebounded robustly after downturns, grew just 1 percent last year and is expected to reach an uninspiring 1.4 percent in 2018.
Guedes addressed that problem on Sunday with a specific remedy: creating 10 million jobs in the next two to three years with the reduction and elimination of taxes to attract private investment, which he called the engine of economic growth and "the greatest machine of social inclusion."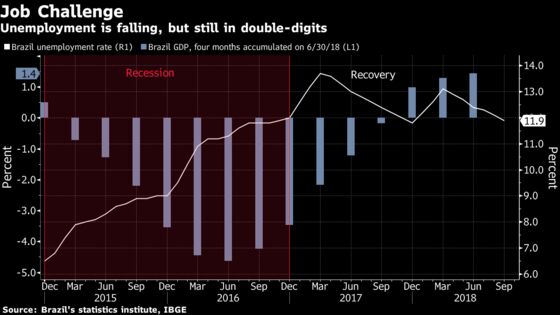 But he's divulged little else about the strategy he'll use to light a fire under the economy, particularly after Bolsonaro muzzled his team during the race's final leg.
"There are few details in practically all areas," said Fraga, who intends to give Guedes a pension-reform proposal he drafted but said he won't take a government post.
Reform of the unsustainable social security system will be chief among Guedes's tasks to reduce expenses. He often says Latin America's largest economy sacrifices the equivalent of a Marshall Plan each year servicing government debt, which he aims to sharply reduce. He has said he'll zero the fiscal deficit in his first year through privatizations of Brazil's state-owned enterprises, and that he'd sell the whole lot if he had his way. But already Bolsonaro has said the government will reserve the right to choose which state-owned firms remain strategic assets.
Some doubt Guedes will have free rein. Monica de Bolle, an economist who's director of Latin American studies at Johns Hopkins University's school of international studies, said Bolsonaro will be torn between several groups vying for influence, including the generals in his cabinet who have statist instincts. That will detract from Guedes's power, said de Bolle, who's spoken out against Bolsonaro and urged others to vote against him.
Lacerda said Guedes also has no experience negotiating with the Congress, "and that will be another challenge for him given all the interests and contradictions involved."
Elena Landau, an economist who oversaw privatizations in the 1990s, said in an interview that the only asset sales that will yield significant revenues are the crown jewels, like oil company Petrobras, utility Eletrobras, and the state banks, such as Banco do Brasil SA.
"I think Guedes on his team is just an opportunistic way to signal to gullible markets and other private-sector people that we're going to fix the economy, and then when push comes to shove it's not going to happen," de Bolle said. "I have real questions as to whether Guedes is really capable of designing the reforms Brazil needs."
Indeed, policy making will depend on the team Guedes creates. He's holding meetings at the finance ministry, planning ministry and Treasury, sounding out officials who might stay on. Some who have met with him, but asked not to be named because they're not authorized to speak publicly, said he spoke more than he listened in early meetings, citing his academic achievements and views on the last decade.
Since then, the conversation has "normalized," according to those people, although his questions often center on identifying easy expenses to cut -- what they said was the typical view of someone unfamiliar with the challenges of lowering government budgets. One of Guedes's advisers asked a financial journalist if she might recommend a budget secretary.
"Not having experience in the public sector is a challenge, because being able to execute policy involves various people, knowing how federal bureaucracy works," said Chris Garman, managing director for the Americas at political consultancy Eurasia Group. "It's important to have a good team around him, and the verdict is still out on that. He's making the right overtures, meeting with a lot of people, getting input, so the early signs are promising."
There's also doubt about how long two strong personalities like Guedes and Bolsonaro can coexist, Garman said. The fact Guedes sought out a candidate to latch onto early suggests this is a long-considered process in which he's invested. Likewise Landau, who studied under Guedes and has been critical in local media, said she doesn't think he'll leave anytime soon, largely because his reputation is now riding on delivering results. Markets remain encouraged he'll do just that.
"If there's anyone qualified to help put some order into this economy, it is Paulo Guedes," said James Gulbrandsen, who helps oversee $3.5 billion at NCH Capital, just a few blocks from Guedes's firm in Rio. "When we look at Paulo Guedes, we recognize this is the panacea, the cure, the remedy for what ails Brazil."