Brazil's Steelworkers Bracing for Anti-Union Push by Bolsonaro
(Bloomberg) -- U.S. President Donald Trump has boasted that he made a crowd of American steelworkers shed tears of joy, grateful for steps he took to secure their jobs.
In Brazil, the "Trump of the Tropics," as President Jair Bolsonaro is sometimes called, is stirring the opposite reaction from union steelworkers, one that could destabilize a sector just starting to slowly recover from a recession that saw almost 80 operations shut down and 47,000 jobs lost by the end of 2016.
Bolsonaro has vowed to boost infrastructure spending, drawing praise from executives at steelmakers Usiminas and Gerdau SA, among others. But union leaders say they fear the new president, an admirer of past periods of military rule, will further erode worker rights already weakened by labor laws passed under the previous administration.
"Bolsonaro's already signaled he is going to put an end to workers organizing, to activism," said Sergio Cesar de Oliveira, 30-year industry veteran and a Sao Paulo state union leader. "It's the state apparatus against the workers."
Bolsonaro's rhetoric suggests he'll push to abolish the country's labor courts and undercut union protections, de Oliveira and other union leaders say. The president's office didn't immediately respond to email and telephone requests for comment.
The union's concerns come at a time when the country's top steel producers have seen minor recoveries in terms of revenues and share price. At the same time, automobile production that rose by 7 percent last year helped with sales of flat and specialty steel products.
But the sector won't mount a significant comeback until stalled private and public construction projects are advanced, said Marco Polo de Mello Lopes, president of Brazil's Steel Institute, or IAB, the sector's chief lobbying group. More than 3,000 construction projects were halted in recent years, he said.
After meeting late last year with Paulo Guedes, the government minister tasked with driving Bolsonaro's economic agenda, Lopes said he's confident the new administration can get projects going and will pass the tax reforms needed to make the industry more competitive.
The industry has "a monumental tax burden that's like trying to run a marathon with a piece of lead in your shoe," Lopes said. His organization predicts domestic steel demand will grow 6 percent in 2019.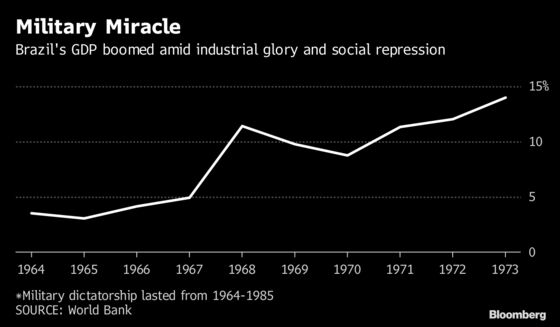 Labor leaders, though, remain cautious about the future, seeing Bolsonaro's victory as a repudiation of 13 years of Workers' Party rule.
Airton dos Santos, an economist who has acted as an adviser to steel unions for 22 years, said it's natural for unions to fear the pro-business ideologies being espoused by Bolsonaro's administration. "According to the discourse of the incoming government, everything that was done in the past was wrong," he said.
The president has applauded the recent labor reforms, which limit workers' ability to sue their employers and ends a mandatory payroll deduction to help fund union activities. And his appointment of eight military men to cabinet positions is not seen as a welcome sign to union leaders familiar with the military regime of the 1960s, 70s and early 80s.
While Bolsonaro chastised union leaders before taking office for milking the system, he hasn't said he would seek to end the constitutional right to strike.
During the dictatorship, officials surveilled and persecuted workers considered subversive. Eventually strikes of both steel and metalworkers played a key role in weakening the regime, led in part by former metalworker and eventual Workers' Party President Luiz Inacio Lula da Silva.
Geraldo Majela Duarte, a 29-year industry veteran who heads a Minas Gerais state union, said he believes unions will need to be aggressive in fighting off changes moving forward, though he added that he's not sure how battle-ready his cohorts may be. "In recent years, it looks like a large majority kind of forgot how to bring the fight," he said.