'Long, Noisy' Pension Overhaul Drags Down on Brazil's Market Rally
(Bloomberg) -- Within hours of President Jair Bolsonaro's presentation of Brazil's long-awaited pension reform, the currency began to dip lower as attention pivoted to what is set to be a long and arduous debate in Congress.
While the government's estimated cost savings topped many analysts estimates, the administration lacks the votes needed to secure the approval of a constitutional amendment to cut pension outlays. The Brazilian real extended losses into a second day, leading declines among emerging-market currencies.
"One thing is a solid, well thought out and crafted reform proposal. The other, is what will ultimately emanate from Congress," Alberto Ramos, the chief Latin America economist at Goldman Sachs Group Inc. in New York, said in a note to clients. "The Congressional review will likely be long, noisy and bumpy."
The plan holds out big rewards, including estimated savings of up to 1.2 trillion reais ($320 billion) in 10 years, but its potentially tortuous progress will keep investors on edge for months. The proposal aims to curb the upward trend in Brazil's public debt that cost the country its investment grade in 2015. The bill includes the introduction of minimum retirement ages at 65 for men and 62 for women, as well as limits to social security programs in states and municipalities.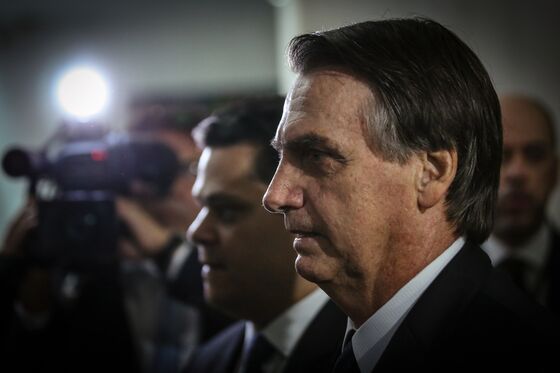 Ramos expects the final reform to yield fiscal savings of as much as 600 billion reais over the next decade -- and warns that savings below 500 billion reais would be seen as insufficient by investors. Eurasia's director Christopher Garman, says the final bill should lead to savings between 400 billion and 600 billion reais.
The real dropped 0.8 percent to 3.7602 per dollar at 10:56 a.m. in New York Thursday, while the Ibovespa extended this week's slide.
Morgan Stanley reduced its overweight recommendation for Brazilian stocks on Feb. 12 after the Ibovespa index gained more than 30 percent since mid-September, when Bolsonaro emerged as the front-runner in the presidential race.
"We lighten up and turn more defensive as the government now has to deliver on Social Security reform," Morgan Stanley strategists led by New York-based Guilherme Paiva wrote in a note to clients.
He currently likes "selected high quality growth stocks," such as dental benefits company Odontoprev SA. Some "defensive names" including paper maker Klabin SA are also favored.
After the real gained more than 10 percent since September, the risks for the currency are now skewed on the downside, said Per Hammarlund, the chief emerging-markets strategist at SEB AB in Stockholm. Any significant changes to the pension bill will weigh on the currency.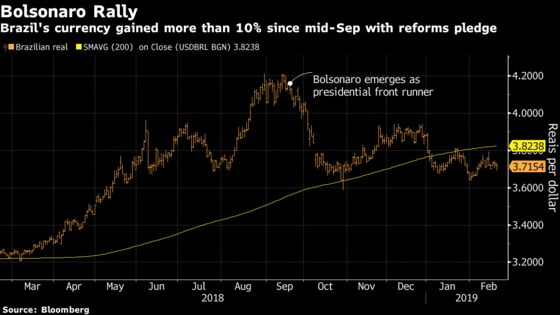 "The proposal will likely face stiff resistance, even though a broad majority in Congress realizes that reform is necessary," Hammarlund said. "That resistance together with a moderation of high expectations will likely weigh on the BRL and bonds."
Brazilian bonds have come a long way on expectations for the reform package, and now is probably a good time to turn cautious given that the good news is priced into the market, said Jim Barrineau, the New York-based head of emerging-market debt at Schroders.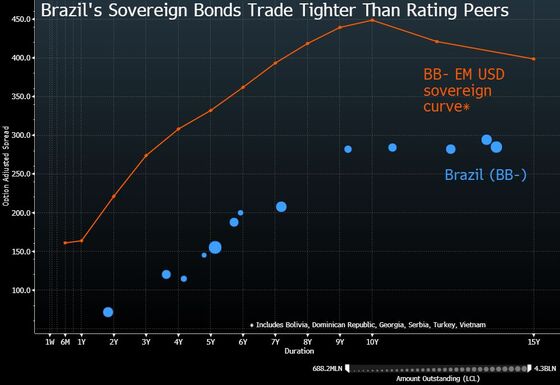 Sovereign dollar bonds are trading at a much smaller spread than their sovereign peers, according to data compiled by Bloomberg. Schroders is now underweight Brazil dollar and local currency bonds, given the limited upside.
"The 'rubber meets the road' when Congress begins to consider the bill and we will have a few months of uncertainty -- probably until close to mid-year -- as to whether it can survive roughly intact," said Barrineau.