Brazil's Damaged Engine Signals Disappointing Growth Ahead
(Bloomberg) -- Go inside the global economy with Stephanie Flanders in her new podcast, Stephanomics. Subscribe via Pocket Cast or iTunes.
Brazil's economic recovery is failing to materialize for a third straight year. It risks not happening anytime soon as the country's growth engine seems broken.
It's not only that Brazil is facing stronger headwinds without help from the commodities boom of the past decade, but also that years of policy mistakes or simple inaction have provoked structural shifts that undermined its growth potential.
"It's like driving a car uphill, while also swapping out its eight-cylinder motor for a four-cylinder," said Alberto Ramos, Goldman Sachs Group Inc.'s chief Latin America economist. "The economy lost the capacity to deliver a strong recovery; these are damaged goods."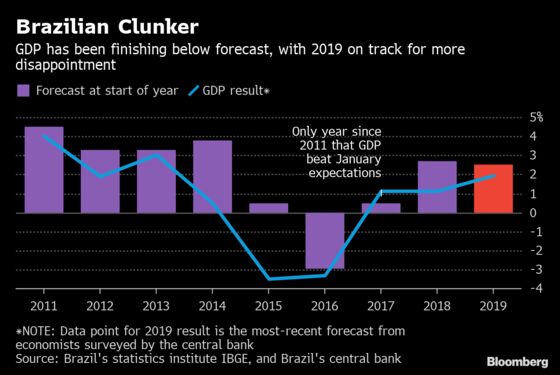 Brazil's gross domestic product has come in below economists' initial forecasts during seven of the past eight years. Expectations for 2019 GDP have slumped from 2.53 percent in the beginning of the year to just 1.7 percent.
Part of this year's disappointment can be attributed to a deadly dam collapse that hurt mining output, a recession in neighboring Argentina and uncertainty related to President Jair Bolsonaro's ability to deliver on reform pledges. Previous years also had their share of economic disaster: a protracted impeachment process in 2016, an audio leak complicating former President Michel Temer and his reform agenda in 2017, and a massive trucker strike in 2018.
Yet all of these problems don't fully explain Brazil's inability to post a stronger recovery, as it is often the case after crushing recession. The Brazilian economy has expanded a mere 1.1 percent per year since it emerged in 2017 from its deepest recession on record. That pace is only slightly above the growth rate of Brazil's population, which means GDP per capita hasn't rebounded yet, according to a report from economists led by Affonso Celso Pastore, a former central bank president.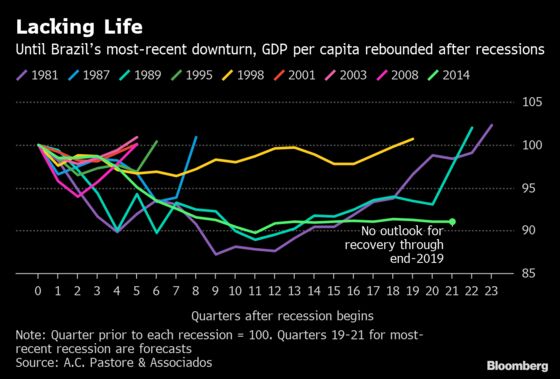 "Cyclical recoveries are determined by the intensity of aggregate demand, and there is no sign whatsoever of acceleration," said Pastore, who sits on a committee that tracks Brazil's economic cycles at the Getulio Vargas Foundation. He forecasts stagnation in the first half of the year and growth as low as 1 percent in 2019.
What's wrong then? Economists including Goldman Sachs' Ramos point to a number of policies implemented during the 13-year rule of the leftist Workers' Party that resulted in missallocated resources, a decline in capital stock needed for investment, and exhaustion of the government's ability to deliver fiscal stimulus.
Without the right conditions for investment, surges in business confidence that followed Temer's rise to power in 2016 and Bolsonaro's election last October have proven to be little more than wishful thinking.
Not even a record-low benchmark interest rate has encouraged the private sector to invest, and additional monetary easing won't make much difference, according to Carlos Thadeu de Freitas, until recently a director at Brazil's state development bank. The institution, BNDES, disbursed the least in 11 years in 2018, and this year expects to lend even less -- some 60 billion reais ($15 billion), he said.
"Companies don't want to invest; they're waiting and watching," Freitas, who's also a former central bank director, said in an interview. He added that further lowering the benchmark rate from the current 6.5 percent would help the government pay less interest on its debt. "But it won't help much else, because in Brazil there's not much demand for investment."
The government can't pick up the slack, either. It's running a fiscal deficit of 6.95 percent of GDP, which renders it incapable of investing to build out much-needed infrastructure. Brazil is also hamstrung by meager trade openness and a challenging business environment, although the government has been working to address those shortcomings.
The bottom line is that Brazil's potential GDP, or its highest level of sustained economic output, seems to have deteriorated, according to Cristiano Oliveira, chief economist at Banco Fibra SA. Expecting a contraction in the first quarter, Oliveira cut his 2019 growth forecast to just 1 percent. From 2021 onward, he expects expansion of just 2 percent and doesn't see any of his peers forecasting 3 percent growth again.
"Even the optimistic estimates are ever lower, and that appears to me to be related to potential GDP," Oliveira said. "Little by little, the perception is taking shape that Brazil's potential GDP is lower, so overly optimistic forecasts will be ever scarcer."