Brazil Seen Raising Rates for Longer, 100 Basis Points at a Time
(Bloomberg) -- Economists forecast a longer monetary tightening cycle in Brazil after policy makers said they considered larger interest rate hikes last week, but concluded that the current 100 basis-point pace is sufficient to bring inflation back to target.  
"Maintaining the current pace of adjustment" and bringing rates "to a significantly restrictive level is the most appropriate strategy for assuring the convergence of inflation to the 2022 and 2023 targets," policy makers wrote in the minutes from their Sept. 21-22 meeting published Tuesday.
Swap rates on the contract due in January 2023, which indicate investor expectations for the Selic at end-2022, rose 10 basis points as traders priced in a longer monetary policy campaign. Most of them bet on a third 100 basis-point hike in October, although 22% still see a bigger increase, according to digital options in the local stock market.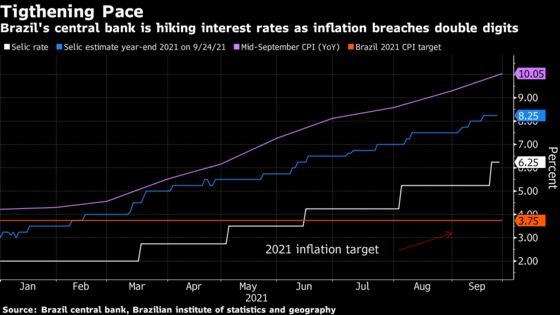 The current adjustment -- which has lifted the Selic by 425 basis points since March to 6.25% -- has already left interest rates at a restrictive level, and uncertainties related to the pandemic justify "accumulating more information about the state of the economy and the persistence of shocks," policy makers wrote. 
They also said various measures of core inflation remain above target and, while referencing 2022 as their time horizon for monetary policy, started looking into 2023. 
What Bloomberg Economics Says

"We took three conclusions from the rather convoluted minutes of the latest central bank meeting. First, the BCB continues to see the neutral real rate around 3%. Second, it would take a significant surprise to change policy makers' minds about their plan for a 100-basis-point hike at the next meeting. Third, they still see 3.5% inflation in 2022 as an attainable target -- either by virtue (monetary policy) or fortune (volatility leading prices lower).

-- Adriana Dupita, Brazil economist

Click here for the full report
While Brazil's central bank has been among the most aggressive in the world, consumer prices have spiraled higher with fuel and food prices, driving annual inflation to 10.05% in mid-September. A severe drought is expected to keep electricity bills at their highest level in October, weighing on the outlook. Analysts see inflation of 8.45% in 2021 and 4.12% next year, both above the central bank's target.
"The minutes were hawkish," said Mirella Hirakawa, an economist with fund manager AZ Quest, who forecasts the Selic will reach 8.25% by December and 9.25% by March 2022. "They are now saying the pace is significantly restrictive and adequate, so their 'whatever it takes' message is mostly focused on the end-of-cycle interest rate."    
With the pace of vaccinations speeding up, central bankers see robust economic growth in the second half of the year. A recovery in the services sector and the continued creation of new formal jobs is expected to drive activity in 2022 as the health crisis fades. Still, they see lags in the labor market and fiscal risks that "create an upward asymmetry in the balance of risks" and higher-than-expected paths for inflation.  
"The central bank repeated that it should probably take the Selic above the levels used in their models, given the asymmetry in the balance of risks," analysts with JPMorgan Chase & Co said in a research report. "These minutes reinforce that the Selic rate should go above the consensus of 8.5% and even put upward risks to our call of a 9% rate at the beginning of next year."