Brazil's Double-Digit Inflation Fuels Bets on Bigger Rate Hikes
(Bloomberg) -- Brazil's annual inflation broke double digits for the first time since 2016, fueling a debate on whether more aggressive interest rate hikes are needed in Latin America's largest economy. 
Consumer prices jumped 10.05% in mid-September from a year ago and 1.14% from the month prior, the national statistics institute reported on Friday. Economists expected a 1.04% monthly increase, according to a Bloomberg survey.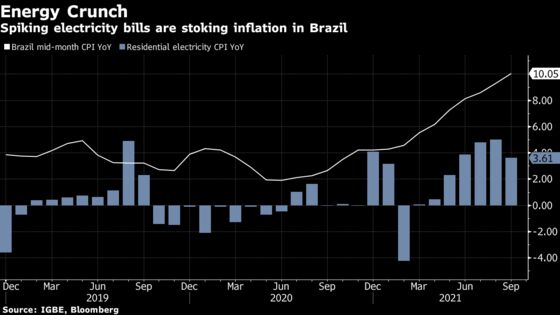 The increase was driven by transportation costs that jumped 2.22% from the month prior, and food prices that climbed 1.27%. Brazil's central bank targets inflation at 3.75% for this year, and 3.5% for 2022.
Swap rates on the contract due on January 2022, which indicate market expectations for the benchmark rate at year-end, rose 4.5 basis points as investors priced in a key rate increase of over 119 basis points next month.
Policy makers have already lifted borrowing costs by 425 basis points since March, and on Wednesday said another full percentage-point hike is needed to contain price shocks. Their efforts to curb inflation have been complicated by a major drought that has caused electricity bills to spike, and by more expensive services as Covid-19 restrictions are removed. 
At the same time, the nation's currency has weakened as investors fret over public spending in the run-up to President Jair Bolsonaro's re-election campaign.
Alexandre Lohmann, an economist at Constancia Investimentos, said that climate change risks haven't been adequately considered by policy makers yet, complicating their rate-hiking schedule. 
"This is going to make the central bank's position very difficult and the debate to raise rates by 125 basis points will be very strong."