Brazil Gunmaker Soars on Bolsonaro Plan to Ease Ownership Rules
(Bloomberg) -- Brazilian firearms manufacturer Forjas Taurus SA is starting 2019 off by extending last year's massive rally.
After gaining 88 percent in 2018, the stock added as much as 30 percent to 5.25 reais in Sao Paulo on Wednesday, on the back of President Jair Bolsonaro's plans to make it easier for Brazilians to own guns. It was the biggest intraday gain for the stock since Nov. 1.
The nation's incoming administration intends to guarantee, via a decree, the right to possess firearms for citizens without a criminal record, Bolsonaro wrote on his Twitter account on Saturday.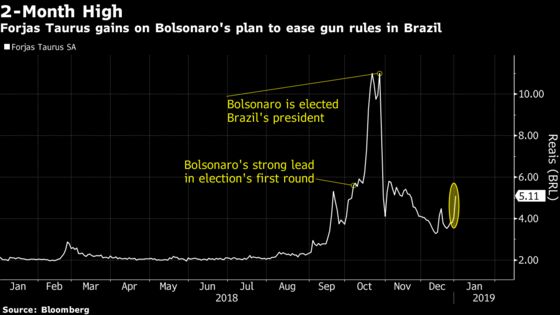 During a speech to Congress on Tuesday, the former Army captain reiterated his pledge to ease gun purchases for personal protection. "The good citizen deserves to have means to defend himself," Bolsonaro said.
Not everyone is convinced the rally has legs, however. Brokerage Spinelli's chief analyst Glauco Legat, however, doesn't see a buying opportunity for the stock. "The company's numbers aren't attractive and the firm is largely indebted," Legat said by phone. Since 2013, the Sao Leopoldo-based firm has posted annual net losses. Moreover, the incoming government's promise to open the Brazilian economy to international trade might increase competition in the sector, he adds.
"Forjas Taurus has a great bargaining power right now, as the market is closed. But that could change," Legat said.
On Dec. 28, Forjas Taurus also announced that investor Luiz Barsi Filho increased his stake to 10.3 percent of the company's preferred stocks.