Brazil's Hottest Stock? A Gunmaker Caught Up in Bolsonaro Fever
(Bloomberg) -- No stock in Brazil represents the Jair Bolsonaro effect more than Forjas Taurus.
The company makes guns, which suddenly looks like a great business given how the controversial presidential candidate talks about arming Brazilian citizens to combat soaring crime. On Monday, Forjas Taurus shares posted only a marginal advance following Bolsonaro's dominant first-round election showing, but pull the lens back farther and the gains are huge. The 54 percent run-up this month is No. 1 among the almost 500 stocks that trade in Brazil.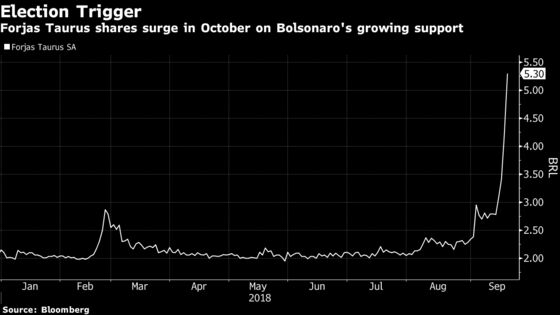 Brazilian assets have surged in October as polls showed Bolsonaro gaining support in the runup to Sunday's vote and investors coalesced around the former army captain as best positioned to rescue the economy after the worst recession in at least a century. The Ibovespa equity gauge at one point posted its biggest intraday advance in two years Monday, while the currency strengthened to a two-month high versus the dollar.
Forjas Taurus jumped as much 15 percent Monday before largely wiping out the increase to trade 1.8 percent higher at 5.7 reais. The stock has climbed for six straight days.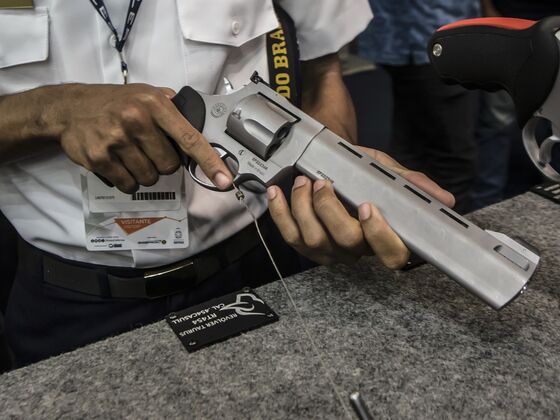 Bolsonaro, now heavily favored to win the decisive second-round ballot Oct. 28, has pledged to make it easier for Brazilians to acquire guns for personal protection, and lawmakers are debating whether to overturn the statute that severely restricts ownership. The push to expand access to weapons gained ground as the country's murder rate surged. A record 63,880 people were killed last year, according a report from non-profit Brazil Public Security Forum, or about 175 people a day.
To be sure, obstacles remain for Forjas Taurus even if it becomes easier to buy a gun in Brazil. The company has been plagued by legal issues over allegedly defective weapons and accusations of irregular sales to the Djibouti government. Forjas Taurus has posted net losses every year since at least 2013, and was a record 286 million reais in the red last year.
"The movement in Forjas Taurus reflects expectations, not fundamentals," said Glauco Legat, the chief analyst at the brokerage Spinelli in Sao Paulo.