Brazil Consumer Prices Post First Rise Since March on Food Costs
(Bloomberg) -- Brazil's consumer prices rose on the month for the first time since March amid a pickup in the costs of food and transportation, as the country's ongoing coronavirus outbreak keeps a lid on demand.
The benchmark IPCA index rose 0.26% in June from the previous month, less than the median forecast for a 0.30% gain from analysts in a Bloomberg survey. In twelve months, inflation accelerated 2.13%, well below this year's 4% target, the national statistics agency reported on Friday.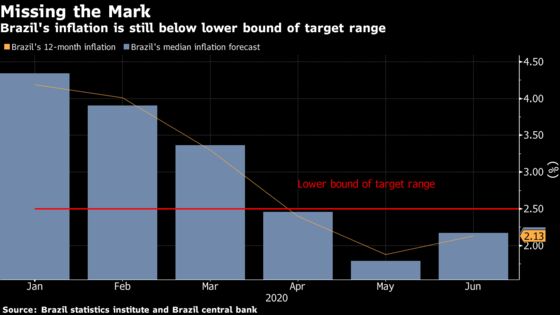 Brazil is facing a prolonged period of tame inflation as the coronavirus batters consumption, sinks confidence and lifts unemployment. In response, policy makers have cut their interest rate eight straight times to a record low, while the government has also extended emergency stipends to informal workers. Still, consumer prices aren't expected to hit target until 2022 at the earliest.
Food and beverage costs rose by 0.38% in June after increasing by 0.24% in May, the national statistics agency reported. Transportation prices increased by 0.31% amid a jump in gasoline, compared to a 1.90% drop the previous month.
The impact from economic activity on inflation will determine whether there is room for further monetary easing, central bank President Roberto Campos Neto said in an interview with Reuters published on Thursday. The monetary authority expects Latin America's largest economy to shrink by 6.4% this year in an outlook that does not contemplate the possibility of a second virus wave.
The central bank's next scheduled policy meeting will be Aug. 4-5.