Brazil Builders Resume Debt Talks as Graft Crisis Dogs Investors
(Bloomberg) -- After four years, dozens of arrests and a handful of restructurings, holders of bonds from Brazil's construction giants are still suffering the fallout from a corruption scandal that all but halted the industry in Latin America.
The building unit of Odebrecht, which was forced into talks with banks earlier this year amid dwindling cash flow and a dearth of new projects, is again seeking help to deal with debt it can't afford to pay back, according to a person familiar with the matter who asked not to be identified because the information is private. The company is in talks to renegotiate terms on $3 billion of international bonds after missing an interest payment last month, the person said.
Newspaper Valor Economico reported on the debt talks earlier Tuesday, and said that builder QGOG Constellation, a unit of Queiroz Galvao, was also entering discussions with bondholders after missing a $30 million payment last week.
The debt problems are surfacing four years, almost to the date, after Brazil police raided offices of some of the country's biggest construction companies in a sprawling probe known as Carwash. The case, the biggest such investigation in the world, centered around kickbacks for contracts tied to state-run oil producer Petrobras. As it ensnared top executives and politicians, including former President Luiz Inacio Lula da Silva, major infrastructure projects throughout Latin America have come to a standstill as contracts are re-examined.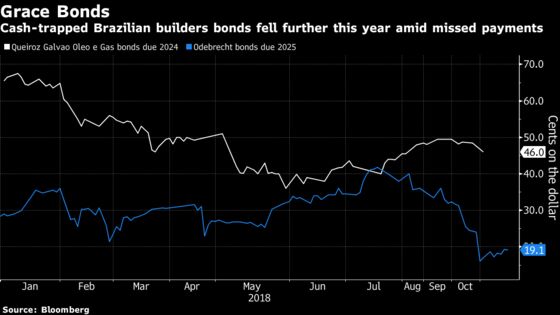 Odebrecht declined to comment directly on whether it's in restructuring talks. Instead, the company repeated a statement it sent after missing an $11 million coupon payment last month, saying it would use a 30-day grace period to "analyze solutions for its short- and longer-term financial position in the currently challenging market environment."
QGOG declined to comment on the Valor report.
This isn't the first time this year that the construction companies have had to seek relief from creditors. In February, people familiar with the matter said QGOG was in informal talks with bondholders for a restructuring.
Odebrecht, for its part, got a million-dollar lifeline from banks to pay its overseas notes in May. The construction unit will likely begin formal conversations with bondholders in one or two weeks, according to the person.
"I can't see how they can make the coupon payment by the end of the grace period, barring further support from the parent," Rafael Elias, the head of Latin America credit research at Exotix, said about Odebrecht. "They'll have no choice but to restructure their bonds."
Elias says that while it's too early to know what form the restructuring will take, it could be similar to what happened for its drilling business in 2017 -- an exchange of bonds with varying maturities. He says the recovery value will likely be low as he doesn't see the company generating enough cash flow to service its debt.
Fitch Ratings downgraded Odebrecht's construction unit to C, the lowest level on its rating scale before default, saying the missed payment indicated a "default-like process" that would likely precede a potential distressed debt exchange. The builder had 1.8 billion reais ($470 million) in cash at the end of June, according to Fitch, and some $60.8 million in coupon payments due throughout December.
The company needs to settle plea bargain agreements in Latin America, stop burning cash, collect past-due receivables, stabilize and improve the quality of its backlog and rebuild reputation within weak market demand, the ratings firm said.
Fitch cut QGOG to default in June.