Virgin Galactic Leaves Disaster Behind in Race to Space
(Bloomberg) -- In its third supersonic test flight, Virgin Galactic finally hit the mesosphere en route to its goal: suborbital weightlessness. The mesosphere is above the stratosphere and extends to about 50 miles altitude—just beyond which scientists say is the border between atmosphere and space.
On Thursday, Virgin's VSS Unity spacecraft reached almost 171,000 feet and a speed of Mach 2.5 (more than 1,900 mph), thanks to a 42-second rocket-engine burn. It's the latest step upward as Virgin Galactic pushes each flight to greater altitudes and speeds, and founder Richard Branson looks to stay relevant as billionaire brethren Elon Musk and Jeff Bezos build their own space empires.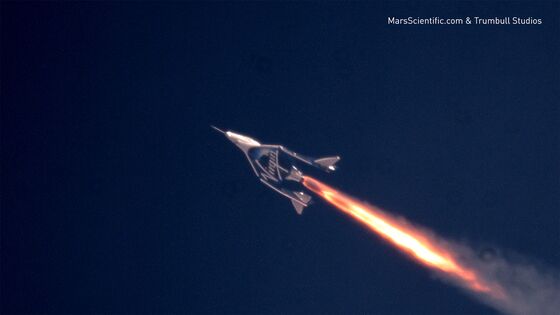 The VSS Unity is dropped from a carrier aircraft at about 50,000 feet and then ignites the rocket, sending the craft on a vertical tear. At some point, a 60-second burn will take the craft all the way to space, ferrying customers who have paid $250,000 for the unique thrill ride.
When will that happen? The company isn't saying, but Branson's latest prediction of personally boarding a flight this year isn't likely. Still, said Chief Executive Officer George Whitesides, "it's getting real, as I like to say to everybody in Mojave."
It's in that California desert town where Virgin Galactic performs the test flights and its sister operation, Spaceship Co., is building additional spacecraft for the business.
"We're making really great progress," Whitesides said via telephone shortly after the flight. "How far we are by the end of the year … I don't make a firm projection on the start of commercial service."
While Musk's SpaceX and Bezos' Blue Origin get all the attention, Virgin Galactic, which calls itself the world's "first commercial spaceline," has made progress since a 2014 disaster, finishing a series of seven glide flights in January before moving to its powered test-flight program in early April.
The company is gradually extending the duration of each test flight as it edges closer to the full rocket burn, aimed at taking the Unity to its ultimate altitude of around 359,000 feet. The Unity's prior test flight, in late May, reached 114,500 feet.
Virgin Galactic, which Branson formed in 2004, has hired about 100 people at Spaceport America, its future launch site and company headquarters north of Las Cruces, New Mexico, Whitesides said. Spaceship Co. employs about 500 in California.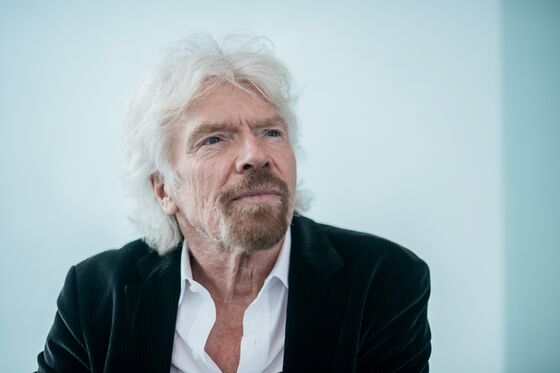 Branson signed an agreement on July 6 with Italian officials to bring a Virgin Galactic launch operation to a planned spaceport in southern Italy. The company hopes to establish several operations, in Europe, the Middle East and Asia, the CEO said.
Virgin Galactic has been looking to recover after a fatal crash in October 2014 of its original SpaceShipTwo, which broke apart during a test flight. The company then redesigned key aspects of the craft. Last year, Saudi Arabia's Public Investment Fund invested $1 billion into Virgin Group's three U.S.-based space companies: Virgin Galactic, Spaceship Co. and Virgin Orbit.
Whenever it's ready to welcome passengers to southern New Mexico, Virgin plans to set up a lottery to help sort the initial group of 100 customers—whom it calls "founders"—into a flight order. The company has a roster of about 800 and isn't currently selling tickets. Whitesides and his wife, Loretta, are among the first 100.