Brand-Name Drugmakers Turn on Each Other in Fight for New Market
(Bloomberg) -- Pfizer Inc.'s multibillion-dollar gamble on cheaper versions of costly biotechnology drugs has turned into an all-out war of words with its pharmaceutical rivals.
In court, regulatory filings and online, New York-based Pfizer has gone up against Johnson & Johnson, Amgen Inc. and Roche Holding AG, making the case that its competitors are blocking access to Pfizer's products and misleading patients to protect their lucrative franchises.
In an August filing to the U.S. Food and Drug Administration, Pfizer accused Amgen and Roche of using Twitter and other social media to mislead physicians and patients about the effectiveness of biosimilars.
One Amgen tweet Pfizer flagged to U.S. regulators says biologics and biosimilars aren't "just apples to apples." And an Amgen message on YouTube told patients, "Switching drugs is not a good idea if your medicine is working for you," and warned about side effects or confusion among doctors. The "bottom line is patient safety," Amgen says in the video.
The debate between drugmakers over cheaper pills has been brewing for years. In 1984, a landmark federal law cleared the way for the market for simple generic pills to flourish, making copycats of expensive brand-name drugs available for pennies on the dollar and saving consumers billions. In 2010, a new law was passed that sought to do the same for complex biotechnology drugs.
Pfizer made a major bet that the biosimilar market would thrive, buying drugmaker Hospira in 2015 for $17 billion, the New York-based company's biggest deal in almost a decade. The process to get the drugs on the market was becoming clearer, Pfizer said at the time, and the deal would let the company take advantage.
That hasn't happened, and Pfizer says that its rivals' tactics are the reason why.
"We feel it's important to officially address misleading and deceptive marketing tactics by certain originator companies," said Lisa Skeens, regulatory affairs lead for Pfizer Essential Health.
Amgen, which makes both original biotechnology drugs and biosimilars, said in a statement that it wants the biosimilar market to succeed, but achieving that requires "confidence from a number of key stakeholders" such as physicians, payers and patients.
The ground Pfizer is fighting over now will help set the terms for bigger prizes to come. Just less than a third of $293 billion in annual global biologic sales will lose patent protection by 2023, "leaving the door wide open for biosimilar competition," said Vamil Divan, an analyst at Credit Suisse AG who follows the sector.
Pfizer has positioned itself as one of the biggest beneficiaries -- the company has predicted a worldwide biosimilar market of $20 billion by 2020 -- if it can batter down its rivals' defenses.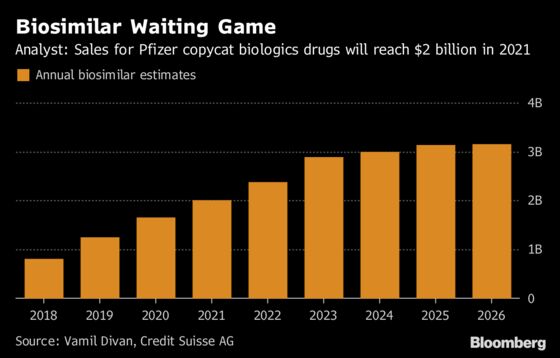 The war of words shows just what's at stake for Pfizer and the other companies, said Jeff Jonas, a portfolio manager at Gabelli & Co, which holds shares of Pfizer.
"It's a little surprising for them to be so public about it and make such a stink about it," Jonas said.
The biosimilar fight is rooted in a concept called interchangeability. When a patient goes to a pharmacy with a prescription for a pill, the pharmacist can give them the generic since their active ingredients are chemically identical. Biotechnology drugs, however, are complex molecules grown from living things, and the new versions use the "-similar" suffix because they aren't identical.
That's left the door open to the makers of the original drugs to raise doubts about switching, pushing doctors and patients to stick with their versions and fighting rules against interchangeability.
In August, Pfizer called out Amgen and Roche's websites that raise questions about biosimilars, in a filing to the U.S. Food and Drug Administration. Pfizer also said a J&J patient brochure was an attempt to "sow doubt and confusion" about biosimilars.
The J&J brochure is targeted at patients who are being asked to switch from the brand-name drug to a biosimilar. It tells them to ask their doctor questions like, "Do I have to switch my medicine?" and, "Ask your doctor about staying on Remicade, the biologic you both chose."
In its FDA filing, Pfizer says that J&J is "clearly attempting to mislead patients."
J&J said in a statement that its brochure encourages patients have a voice in their own treatment. Roche said in a statement that patients, along with their doctors, should have a choice in medicines and access to "educational information and robust scientific data."
The FDA said in a statement to Bloomberg that it is reviewing the petition.
The legal battle is playing out at the same time. Pfizer, in its lawsuit, accuses J&J of using "exclusionary" contracts with insurers and hospitals that can require bundling coverage of Remicade with other products, or lose access to other J&J products.
The case is likely to have broader implications for the market, and the contracts drugmakers make with payers to obtain coverage of their products. J&J in August was denied a request to have the case dismissed. In a statement, J&J said the lawsuit is without merit.
"We stand by our contracts and will continue competing on value and price to help ensure patients have affordable access to Remicade," the drugmaker said.
Pfizer continues to look for ways to revive sales for biosimilars, and recently moved them from its division of older medicines to the one with newer products. But total sales have totaled just under $1 billion since 2016, while J&J's Remicade holds about 95 percent of the shared market for the drugs, according a recent report by the Pacific Research Institute.
FDA Commissioner Scott Gottlieb said in an interview with Bloomberg that he hoped the U.S. market would eventually see price declines of as much as 50 percent when biosimilars enter the market, as has happened in Europe.
"That would be really meaningful and we've seen some categories in the U.S. start to behave that way," Gottlieb said. "I'm optimistic we can have that in the U.S."