BP Returns to World's Hottest Oil Play 8 Years After Quitting It
(Bloomberg) -- Buying low and selling high, this was not.
BP Plc highlighted that it'll pick up 83,000 acres in the U.S. Permian Basin in its announcement for the $10.5 billion purchase of shale assets from BHP Billiton Ltd. It's no mystery why -- oil production has more than tripled there in the last decade as it's become one of the biggest patches in the world.
The Permian wasn't always coveted by BP. In 2010, shortly after the Deepwater Horizon explosion in the Gulf of Mexico exposed the company to tens of billions of dollars in liabilities, the British major sold 405,000 Permian acres to Apache Corp. for $3 billion.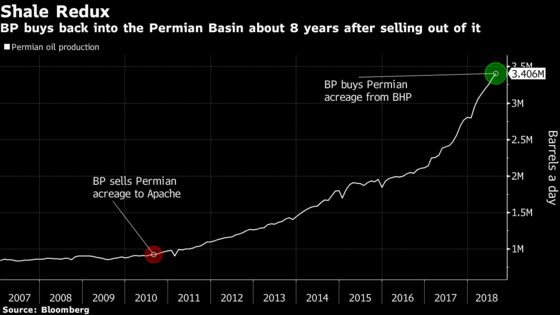 The difference in the intervening eight years was the shale boom. By 2010, it was clear new drilling techniques were unlocking vast new natural gas resources in the U.S., but the potential for oil production was still being debated. At the time the hottest plays were in places like North Dakota and southern Texas, not the Permian, which had been a sleepy expanse for decades since its Sid Richardson-led heyday in early 20th century.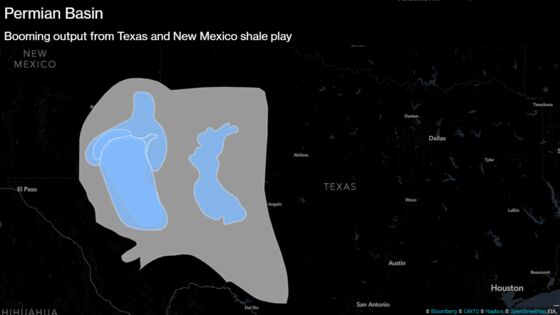 Now the Permian is seen as the best of the U.S. shale plays, producing about 3.4 million barrels of crude a day. It's secret is multiple layers of underground oil-soaked shale rock stacked on top of each other, allowing companies to quickly drill multiple wells from the same spot. The Permian's biggest problem right now is that there aren't enough pipelines to handle all the oil and gas coming out of the ground, and that might bottleneck the boom until 2020, Wells Fargo analysts said this week.