BP Considers Project to Develop U.K.'s Largest Blue-Hydrogen Plant
(Bloomberg) -- BP Plc is studying a project to build the U.K.'s largest blue-hydrogen plant, expanding further in low-carbon energy as it slims down its traditional oil business.
The H2Teesside facility in northeast England could produce 1 gigawatt of hydrogen -- a fifth of the U.K. government's target -- by 2030, and would capture and store 2 million tons of carbon dioxide a year.
In the global fight against climate change, hydrogen has been heralded as a clean-energy answer to the fuel needs of industry and transport. BP has said energy companies will increasingly shift to the gas, and it's targeting a 10% share of "core markets" for the fuel by the end of the decade.
"Blue hydrogen, integrated with carbon capture and storage, can provide the scale and reliability needed by industrial processes," Dev Sanyal, BP's executive vice president of gas and low-carbon energy, said Thursday. "It can also play an essential role in decarbonizing hard-to-electrify industries."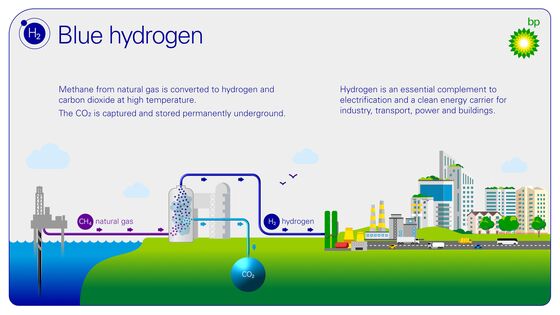 The potential Teesside investment is the latest in a string of low-carbon ventures announced by BP over the past year. If the project goes ahead, the company expects to take a final investment decision in 2024, with a view to starting output by 2027. That would be a few years after a similar facility being developed by Essar Energy at the Stanlow refinery in northwest England.
BP didn't disclose cost estimates or sources of financing. It was not among a group of five companies that won U.K. government funding on Wednesday for the Net Zero Teesside project, which is aimed at cleaning up a cluster of CO2-intensive businesses with the use of carbon capture, utilization and storage.
The "construction process and costs will need to be carefully monitored given past significant overruns in the U.K.," Barclays Plc analysts Lydia Rainforth and Joshua Stone wrote in a research note. Still, the bank sees potential for "significant" growth in the hydrogen market in the industrial sector, as well as in long-haul trucking and replacing natural gas for heating.
Teesside is home to an oil terminal and storage facilities, and is also one of eight new freeports created by U.K. Chancellor of the Exchequer Rishi Sunak. These are low-tariff business zones aimed at stimulating post-Brexit trade.
BP's project would focus on making blue hydrogen, a cleaner alternative to gray hydrogen, which is typically created from natural gas and releases carbon dioxide into the atmosphere. With blue hydrogen, the emissions are captured and buried underground. BP is exploring technologies that could capture as much as 98% of carbon emissions from the production process.
The cleanest of hydrogens is the green variety, which is made using renewable power. It's also the most expensive. Fossil fuel-derived hydrogen combined with CCS currently costs around $2 to $3 per kilo, compared with $4 to $7 for renewable hydrogen, according to the Global CCS Institute, a think tank working to accelerate carbon capture development. However, the costs of both blue and green hydrogen are declining.
BP has signed agreements to work with Venator, Northern Gas Networks and Tees Valley Combined Authority.