BP, Eni Agree to Resume Oil Exploration in Libya After Clashes
(Bloomberg) -- BP Plc, Eni SpA and Libya's National Oil Corporation have agreed to resume work on a key exploration and production contract in the North African nation after widespread unrest halted work for four years.
The companies signed a letter of intent to restart work on the contract, known as EPSA, if certain conditions are met. Barring further conflicts, the venture could resume exploration in Libya by 2019, BP said in a statement.
Internal fighting has plagued the country since 2011, when longtime leader Moammar Qaddafi was ousted and killed. Libyan officials have attempted to curb violence in recent years to boost oil and gas output just as U.S. sanctions on Iran tighten the level of global crude supply. The chairman of the state-run oil company said last month he foresaw production jumping by "hundreds of thousands" of barrels a day with better security.
"This agreement is a clear signal and recognition by the market of the opportunities Libya has to offer," NOC chairman Mustafa Sanalla said in a statement. "This initiative will hopefully drive further inward investment and facilitate higher production levels."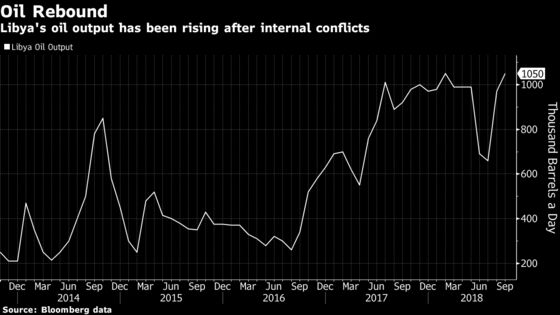 BP initially signed the EPSA in 2007 to explore three different areas in Libya. Two are in the onshore Ghadames basin, which extends into neighboring Tunisia. The third area is in the Sirte basin, which had 43 billion barrels of oil equivalent in known reserves in 2001, according to U.S. government data.
BP had completed some seismic work in 2011 when Qaddafi was removed from power. The British oil major immediately pulled its staff from the country and halted work, but resumed progress before halting again in 2014 when tensions flared.
By bringing Eni on board, which has operated more continuously in Libya since the civil war, BP can access infrastructure and new expertise. BP holds an 85 percent stake in the EPSA contract, while the Libyan Investment Authority holds the remaining 15 percent. As part of Monday's deal, Eni will acquire half of BP's holding in the contract and also become the operator.
"This is an important step towards returning to our work in Libya," said BP Chief Executive Bob Dudley in a statement. "We believe that working closely together with Eni and with Libya will allow us to bring forward restarting exploration in these promising areas."
BP said it hopes the deal will be complete by the end of the year. The companies also said they would promote technical training and support other social initiatives in Libya, as part of the arrangement.