Banks Need 'Radical Transparency,' Citi Exec Says: Summit Update
(Bloomberg) -- The first day of the two-day Bloomberg Sustainable Business Summit focused on topics ranging from the transition to a net-zero economy to the future of sustainable investing.
Speakers included BP Plc Chief Executive Officer Bernard Looney and Nissan Motor Co. CEO Makoto Uchida, as well as Gina McCarthy, the White House's domestic climate adviser, and executives from numerous financial-services companies.
The Sustainable Business Summit has been organized by Bloomberg Live, a division of Bloomberg LP, the parent company of Bloomberg News. More information about the event can be found online and on the Bloomberg Terminal.
AB InBev Says ESG-Linked Credit Facility Has Buoyed Investors (1:25 p.m NY time)
Anheuser-Busch InBev SA/NV says its record-breaking ESG-linked credit facility has boosted investors' confidence in the Belgian beer giant.
The maker of Budweiser and Stella Artois signed a $10.1 billion sustainability-linked revolving credit facility in February that costs more to service if the company falls short on a set of sustainability targets.
Chief Financial Officer Fernando Tennenbaum said he believes the company is now seen as less risky and said it wants to be "at the front of the sustainability initiative." He added that the move, which ties interest margins to meeting goals on emissions and water efficiency, has opened up sustainability conversations among investors.
The deal was the largest ever ESG-linked loan, narrowly beating a record set by Royal Dutch Shell Plc in 2019.
"There are two camps of investors -- those that are really thoughtful, sophisticated and have done it for a long time and will hold you accountable to what you need to do," said Ezgi Barcenas, AB InBev's chief sustainability officer. Then, there are "others who are wanting us to tell them why we do what we do. There really are opportunities in both of those conversations to enhance our performance on this topic."
Banks Need 'Radical Transparency' to Show Impact, Citigroup's Smith Says (1 p.m. NY time)
"Radical transparency" and a whole new level of data for sustainability and climate is needed for banks and other companies to show their impacts, said Valerie Smith, chief sustainability officer at Citigroup Inc.
An area to watch is the connection between sustainability indicators and financing, she said. "When you link sustainability performance to financial performance, I think this is where you start to see the real integration."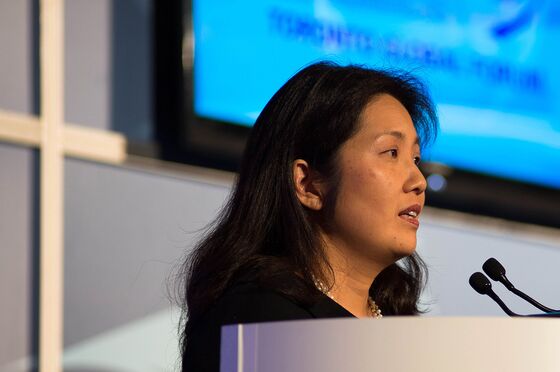 Morgan Stanley's Audrey Choi added during a panel discussion focused on the next wave of sustainable finance that the focus on inequality and other ESG-related issues will stretch beyond the pandemic.
Emphasis on ESG issues such as the circular economy, public health and economic inequality will continue even when the coronavirus pandemic ends, said Choi, Morgan Stanley's chief sustainability officer.
"I think this is very much not just a cyclical flash in the pan," she said. "We are going to continue to do a lot more work looking at the overall ecosystem that a company operates in."
Lack of Data Makes It Difficult to Set Climate Targets, Unilver's Marmot Says (11:30 a.m. NY time)
The lack of data and business systems to monitor the carbon impact of supply chains has made it "very, very difficult" for companies to set net-zero targets that include Scope 3 emissions, which are the result of activities from assets not owned by the reporting organization, said Unilever Chief Sustainability Officer Rebecca Marmot on a panel about disclosure and transparency.
Unilever is hoping that its decision to include Scope 3 emissions in its climate action plan, which was approved by shareholders earlier this year, will encourage other companies to assess the impact of their operations beyond Scope 1 and Scope 2, which don't track suppliers. Working towards zero carbon emissions has Unilever "completely rethinking how we source, manufacture products, packaging and infrastructure," Marmot said.
Companies will have to trust that data on carbon emissions that's shared on secure platforms won't be used for competitive purposes, said Dickon Pinner, a management consultant who leads the global sustainability practice at McKinsey & Co. A concern is that companies "reengineer their cost structures" based on shared emissions data, Pinner said
Schlumberger Checks for Risks Caused by Climate Change (10:30 a.m. NY time)
Schlumberger, the world's largest oilfield services company, said it has carried out a study of its facilities scattered across the globe to check for risks posed by climate change.
The scenario-based review includes analyzing potential dangers from rising global sea levels. The company has monitored all of its facilities within 10 kilometers (6.2 miles) of water, Sustainability Director Lees Rodionov told the summit.
"The good news is we only have 15 with some levels of exposure out of 1,200 facilities, and only one with high-level risk," she said.
It's not just the oceans that may create problems for the company, which drills for oil and gas on behalf of clients in more than 120 countries. For instance, in Norway, there's concern about excessive rain impacting road logistics, while countries including Saudi Arabia could see extreme heat affecting safety and productivity, she said.
EV Manufacturers Need to Give Vehicles a Second Life, Nissan CEO Says (10:10 a.m. NY time)
A key to optimizing electric vehicle efficiency is "giving batteries a second life," said Nissan Motor CEO Makoto Uchida. Making batteries recyclable would give electric vehicles even more of a sustainability edge over gas-powered vehicles, he said.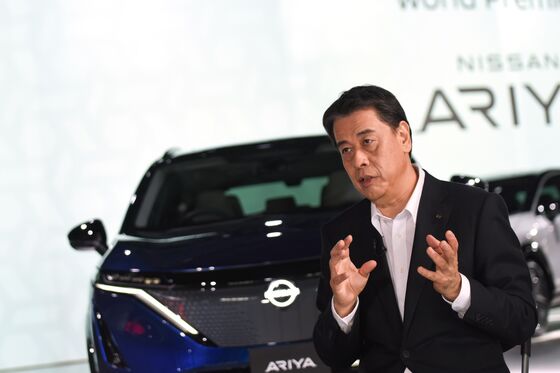 Another focus for Nissan is removing cobalt from its batteries. The silver-gray metal has historically been a key ingredient in battery production. But it's often linked to human rights violations, including child mining and unsafe mining conditions.
To get to mass adoption of electric vehicles, Ushida said companies must be responsive to consumer needs.
"The pandemic has made (the market) more conscious about the situation," Uchida said. "There's an increased focus on climate change and the quality of life."
Climate Disclosures to Become Mandatory in U.S. and Europe, BNP Paribas Exec Says (9:50 a.m. NY time)
Climate change disclosures are "more than likely" to become mandatory for investors and companies in the near team, according to Herve Duteil, BNP Paribas SA's chief sustainability officer for the Americas.
With the U.S. Securities and Exchange Commission currently consulting the market on disclosures, and Europe already requiring its fund managers to make certain information public, the bigger question is whether there will be international alignment, said Duteil.
Standard setters will need to move quickly and accept that what they come up with may not be perfect since time is of the essence to address the climate crisis, he said.
"We cannot spend three to five years, trying to figure out what it should be," Duteil said. "We need it now, even as imperfect as it can be."
One of the challenges will be working out what are the key metrics that investors should follow, said Matt Christensen, global head of sustainable and impact investing at Allianz Global Investors.
While standards and frameworks are well established for financial reporting and risk reporting, there are no agreed norms for climate disclosure and there is limited time to developed them, he said.
Metrics that could become "more mainstream" and that would be useful for investors would be carbon footprint disclosures and measures of carbon intensity, Christensen said. Another metric that could be complimentary would be a gauge of the temperature increase implied by the portfolio so investors can know if they are aligned with a 3 degrees Celsius or 2 degrees Celsius future and recalibrate their portfolios accordingly, he said.
Carbon Border Adjustment Is on the Table, McCarthy Says (9:25 a.m. NY time)
The Biden administration isn't ruling out a border adjustment tariff levied on carbon-intensive imports as a way to combat global warming, said White House National Climate Adviser Gina McCarthy.
"It's not off the table, certainly, in any of the discussions," McCarthy says. "There are many ways in which you could look at a carbon border adjustment as an opportunity here."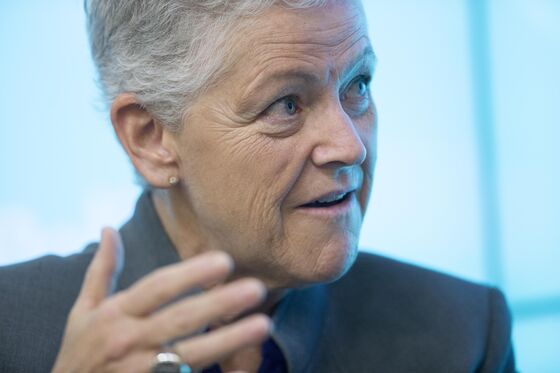 Businesses have increasingly embraced a domestic carbon tax-and-dividend approach with a border adjustment to protect U.S. industry.
"I don't disagree with folks that are pushing on carbon pricing as a whole, but I do think there are other strategies that may be more beneficial both in terms of putting an immediate boost into the system for the kinds of clean energy investments that we're looking for and also ensure the president's commitment to equity and justice," McCarthy said.
Tech Companies Shouldn't Rely Solely on Carbon Offsets, IBM's Whitehurst Says (8:55 a.m. NY time)
Technology companies shouldn't just rely on carbon offsets to meet sustainability goals, said Jim Whitehurst, International Business Machines Corp.'s former president and a one-time CEO of Red Hat who now serves as a senior adviser for the company.
"Let's not just write a check to buying offsets because we don't know if there's going to be enough nature-based solutions in the future," Whitehurst said, noting that IBM has committed to not using offsets. "We need to commit to finding a way of developing the technology to get there."
Big Blue, which set a target of achieving net-zero greenhouse gas emissions by 2030 in February, has stuck to meeting smaller, incremental goals since it set its first emissions target in 2000, a strategy Whitehurst said also increases accountability within management. "It makes it more tangible to have shorter-term goals where it's not an aspiration it literally has to be a plan."
The company is developing an internal dashboard for senior leadership to see how and where IBM is emitting carbon by the end of the summer. IBM also plans to embed this in products for clients to have more visibility and control.
In practice, IBM is developing internal and external tools using quantum computing and artificial intelligence to measure and mitigate carbon emissions. The company is working with Mercedes Benz to build more efficient batteries and advises Yard International, a crop nutrition company, to help small farmers on where and how to plant and harvest in a more environmentally friendly way by applying weather analytics.
Though the industry has made progress, Whitehurst said "there is still a ways to go" and a carbon tax would help create incentives for the industry to solidify commitments. "It's important to set the right economic signals."
High Oil Prices Mean 'Material' Returns, BP CEO Says (8:15 a.m. NY time)
BP Plc had to cut its dividend, write $20 billion off its balance sheet, start a major company restructuring, and commit to cutting oil and gas production by 40% "so that we can transition," CEO Bernard Looney said.
Shareholders are increasingly comfortable with the company's new strategy and are "more supportive today than they would've been several months ago," thanks to strong first-quarter results, he said.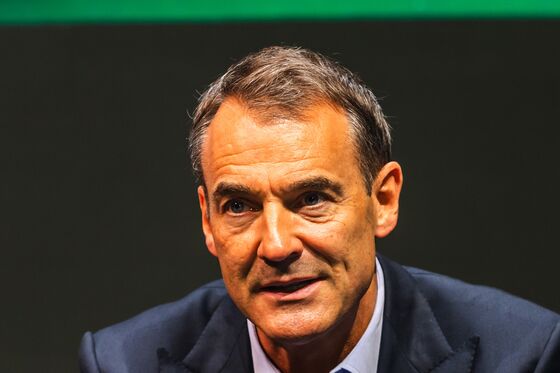 The London-based oil major began share buybacks last quarter in a bid to win back investors' support after a difficult 2020, which saw BP halve the dividend. "If oil prices stay strong, these will be material share buybacks," the 50-year-old Irishman said, adding that there is "a good chance that oil prices will be robust and high over the coming years."
In 2020, BP committed to ramp up investments in clean energy as part of its aim to slash emissions. The company came under fire after it committed to pay hefty premiums for the right to develop offshore wind farms off England's coast.
BP remains confident the project will meet its minimum 8% to 10% return threshold, and as many as seven companies have shown interest in wanting to buy into it, Looney said. Its solar joint venture, Lightsource BP, has done 31 projects that also meet the company's return targets.
Still, the company will "have to continue to invest in that hydrocarbon base" in order to fund the transition and reward investors, he said.
BP's stake in Russian giant Rosneft PSJC "is an absolute core part of our company and our strategy," Looney said. The relationship has attracted the ire of environmentalists and critics who point to Rosneft's giant Vostok project in the Arctic as being at odds with BP's climate goals.
While BP isn't relying on carbon offsets to achieve its transition plans, the company believes it's an important tool to get to net zero. BP will be active "in that space in a trading sense," but an effective market needs to be developed, Looney said.