BP Tiptoes Back Into a Permian Shale Foothold
(Bloomberg Opinion) -- BP Plc's return to the Permian basin comes via a splashy $10.5 billion deal. But the oil major is trying its utmost not to make waves — and with good reason.
BP is buying the Permian position, along with assets in the Eagle Ford and Haynesville basins, from BHP Billiton Ltd. BP left the Permian back in 2010 in the wake of the Deepwater Horizon disaster. BHP exits now in the wake of a different order of disaster — merely the performance of its foray into U.S. shale.
History haunts this deal in a more prosaic way, through the medium of BP's balance sheet. The company's leverage sits within its target band of 20-30 percent of capital (as of the end of March; June's figures drop next week) but is the highest among its peers. That reflects the billions spent on atoning for Deepwater. It also means BP must tread carefully when cutting large checks for acquisitions like this one.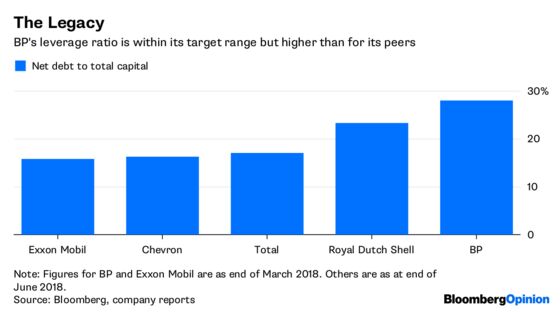 Hence, Thursday night's announcement was replete with items designed to soothe and cajole investors. First up was a synergies estimate worth perhaps $2.5 billion in present-value terms, or almost a quarter of the purchase price. Second was an equity raise to cover half the check, which will also be deferred over the six months following completion of the deal later this year. To offset that, BP is promising another slug of disposals, most likely in the upstream, on top of its existing program. BP also reaffirmed its existing capital expenditure budget, return-on-capital target, and planning price for oil of $55 a barrel (plus an additional temporary $7 discount for the Permian assets due to current pipeline constraints). Rounding it all out, BP raised its dividend for the first time since 2014.
As my colleague David Fickling wrote here, BHP has gotten a good price relative to expectations, which puts the onus on the buyer to show they haven't overpaid. So BP is doing its utmost to show it can afford this deal without breaching today's buzzword in oil circles: "discipline." Investors in the sector are touchy after the recent oil crash — and a decade of poor investments preceding it — as Thursday's reaction to rival Royal Dutch Shell Plc's lower-than-expected earnings demonstrated (despite coming alongside a $25 billion buyback program).
In BP's case, it deserves some time to prove this deal makes sense and, importantly, doesn't breach its financial framework in terms of spending, leverage and returns. On the plus side, the assets are roughly half liquids, helping to reduce the weighting of lower-value natural gas in BP's onshore U.S. operations from 86 percent to 73 percent of production. BP's existing positions outside of the Permian basin mean the potential for synergies is there. The Permian assets, meanwhile, are almost de rigueur for any major oil company with serious ambitions in the U.S. onshore. Moreover, BP's track record on disposals after the 2010 disaster gives it credibility on being able to rotate out of low-return assets to better ones.
The challenge, other than the usual risks around oil prices, will largely center on the question haunting all the majors in shale: Can they make their main competitive advantage — scale — work for them in a corner of the industry pioneered by the little guys? In theory, they should be able to as these basins mature and more-ambitious drilling and completion methods demand more capital (and negotiating power with oilfield-services contractors).
BP says it has cut production and development costs in its operations in the lower 48 states by more than a third in the past five years. That includes the deflation of the crash, however, so it will need to show such savings have stuck. Moreover, at 83,000 acres, its Permian position is relatively small and, given the benefits from being able to drill under larger, contiguous landholdings, looks more like a launchpad for further consolidation than a final resting spot.
In terms of establishing that foothold, a deal of this size involving a motivated seller like BHP was probably the best opportunity BP was likely to get anytime soon. Still, it's just as well BP is showing it has taken on board the experiences of both buyer and seller over the past decade. 
This column does not necessarily reflect the opinion of the editorial board or Bloomberg LP and its owners.
Liam Denning is a Bloomberg Opinion columnist covering energy, mining and commodities. He previously was editor of the Wall Street Journal's Heard on the Street column and wrote for the Financial Times' Lex column. He was also an investment banker.